To the world, Jon Bon Jovi is a rock star. To his four kids, he's just dad. Bon Jovi — whose real name is John Francis Bongiovi Jr. — told People that he and his wife, high school sweetheart Dorothea Hurley, tried to shield their kids from fame.
"We never really drag the kids to things," Hurley told People. "I never pointed at the TV and said, 'There's Daddy!' We try hard just to give our kids a normal life."
Now that they're grown, the world is getting to know the rocker's kids. On April 11, Bon Jovi's son Jake Bongiovi announced his engagement to "Stranger Things" star Millie Bobby Brown with a post on Instagram with the caption "forever."
The news proved to be a "shot to the heart" for some fans. For Bon Jovi lovers, the news of his son's engagement may have come as a reminder of how fast time is flying. Fans of the newly engaged couple noted their young ages, with the words "she's 19" trending on Twitter.
Still, a look at the couple's Instagram posts of their announcements proves they've got plenty of supporters on their side.
Brown has been dating Jake since 2021. When she officially becomes a part of Bon Jovi's family, she'll be a sister-in-law to the singer's three other kids: Stephanie, Jesse and Romeo Bongiovi.
Read on to learn more about Bon Jovi's four kids.
Stephanie Rose Bongiovi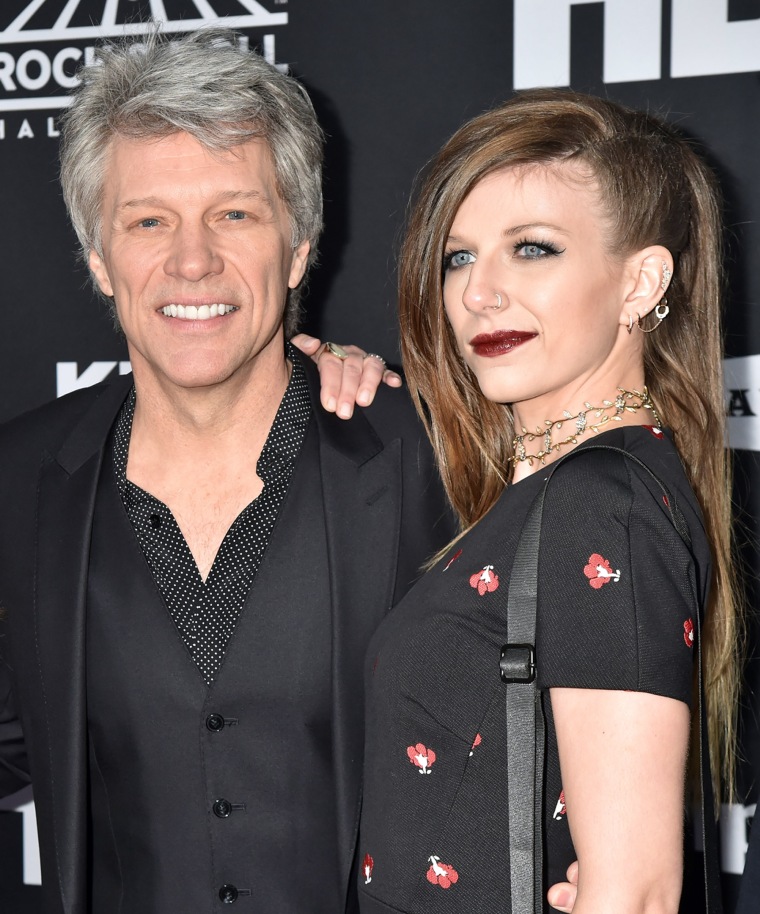 In 1993, Bon Jovi and their wife, Dorothea Hurley, welcomed their first child together, daughter Stephanie Bongiovi. According to People, the singer was inspired by his daughter to write the single "I've Got the Girl."
In 2017, she joined her father on stage for a performance of the song during one of his shows in Las Vegas.
"Everybody's got a little girl in their life," the musician said, addressing the audience during his performance of the song. "Their daughter, their girlfriend, their wife, their mamma — it all goes by so fast. And they start out as little bitty babies, and their future's looking bright. And I wrote this song for that little baby, who's now not such a little baby anymore."
The song brought the father and daughter a long way from a tough time for the pair that occurred back in 2012. At the time, Stephanie Bongiovi, then 21, found herself at a low point when she was arrested for drug possession after a suspected heroin overdose in her Hamilton College dorm room, according to E! News.
"Worst phone call ever," Bon Jovi told Katie Couric on her "Katie" talkshow of the incident in March 2013, according to E! News.
The "It's My Life" singer said the incident was a major wake-up call for him, and he didn't know how to deal with the situation.
"I'm just blessed she's healthy and whole, and we'll get through it," he said.
According to her IMDb page, she now works as a camera operator on popular TV shows like "Impractical Jokers."
Jesse Bongiovi
Almost two years after welcoming their first child, Bon Jovi and Hurley welcomed their first son, Jesse Bongiovi.
The athlete attended the University of Notre Dame in South Bend, Indiana, where he played football for the Notre Dame Fighting Irish.
During his senior year at the school, Jesse Bongiovi came up with a plan to create Hampton Water, a rosé wine brand, with his dad.
Speaking to Haute Living in 2022 for a profile about their wine company, the eldest Bongiovi son recalled how his father's love for the rosy drink inspired him to start a business.
"He always had it around the house — it was his drink of choice. He always jokingly would call rosé 'pink juice.' And one night — it was more like 2 a.m. — he offered us a glass of 'pink juice,'" Jesse explained adding that he and a college roommate began to tease the rockstar for his word choice. "We were literally like, 'Come on, you're in the Hamptons, you don't call it that, you call it Hampton water, because when you drink with us, that's what we call it.' He kind of lit up and started laughing."
He told Haute Living that the brand started off with distribution in 13 states, and it is now available in 50 states and 50 countries.
As for the greatest lesson his dad ever taught him? Jesse Bongiovi said Bon Jovi taught him patience.
"Being the young businessperson that I am, I am often expressing a desire to rush to do things. But my dad's advice has always been, 'You can't take it back. You tell someone go, you put something out, you say something, you do something, you make an agreement with something — you can't go back. There's no putting the toothpaste back in the tube, so make sure that when you are overwhelmed, when you are rushing to do something, when you're trying to hurry up to get something done, don't be afraid to say, I need 24 hours. I need another 30 minutes. I need one more look at that before we go out,'" Jesse said. "I don't always follow it, unfortunately, but I'm constantly working on it."
In July 2022, he proposed to his girlfriend of four years, Jesse Light. The couple was together for four years prior to getting engaged.
Jacob Hurley Bongiovi
In 2002, Bon Jovi welcomed his third kid, son Jake Bongiovi, with Hurley. In 2020, the "Livin' on a Prayer" singer announced Jake Bongiovi got accepted into Syracuse University when he posted a photo of the two standing next to a bunch of orange balloons.
"Congratulations to Jake Bongiovi for his acceptance to Syracuse University!" Bon Jovi wrote.
In 2021, Jake Bongiovi started dating Millie Bobby Brown, and in April 2023, the pair got engaged.
On Instagram, Brown shared a black-and-white photo of Jake hugging her from behind while they both laughed. "I've loved you three summers now, honey, I want 'em all," she captioned the pic using a Taylor Swift lyric.
In the snap, Brown also sported a ring on her left hand.
Jake, who shared a similar post on Instagram, captioned his "Forever 🤍."
Romeo Jon Bongiovi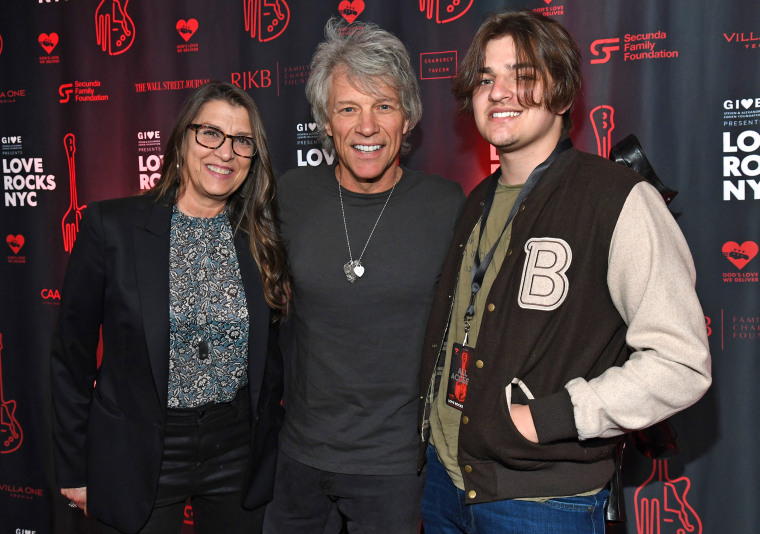 In 2004, the "You Give Love a Bad Name" singer welcomed his youngest child with Hurley, a son named Romeo Bongiovi.
In 2021, Bon Jovi celebrated his youngest's 17th birthday by sharing a picture of his son and Hurley together.
"Happy 17th birthday Romeo!!! Love, Mom and Dad," Bon Jovi captioned the snap.
In the picture, Romeo Bongiovi wore a Nirvana T-shirt, a blue face mask and brown jeans.
As the youngest of the Bongiovi clan, Romeo Bongiovi will be the last one in his family to graduate from high school. As they wait for that day, Bon Jovi and Hurley told People in an October 2020 interview that they were "definitely looking forward" to being empty nesters.
"Just not being stuck to a schedule and being able to travel," Hurley said. "But we like to see our kids. It's not like we're going to disappear."