John Malkovich is famous for his roles in big-screen hits, including "Empire of the Sun," "Dangerous Liaisons" and of course, "Being John Malkovich." But his fans may not be aware of the parts he's played off-screen, like weed puller and office-supply sales worker. 
In his first live appearance on TODAY, the actor said one job in particular stood out before he became a Hollywood standout.
"I did enjoy especially (driving) the school bus for Solomon Schechter Day School, outside of Chicago," Malkovich told TODAY's Tamron Hall, who said she was certain he must have been a fascinating bus driver.
"My students didn't agree," he smiled.
Maybe those former students will be fascinated when they see him on his latest job, "Crossbones," wherein Malkovich plays the infamous pirate Blackbeard — or rather, a reimagining of the 18th-century scourge of the seas.
"The real Blackbeard, about whom quite little is known really, factually, was killed ... when he was 38," the star explained. "The governor of the Carolinas at the time sent a party to kill him, and they did. But in our story, what (writer Neil Cross) sort of posited was that Blackbeard, in fact, had not been killed, and he was still alive and had lived 20 years on, still doing his pirate thing."
But he'll be doing that pirate thing without an actual black beard. While the rogue once might have had one, "not anymore," Malkovich said. (The actor sports a close-cropped gray goatee both on and off the show.)
Malkovich didn't just sit for a chat about his work on TODAY Thursday. He also stood for a serving of his favorite snack: bacon.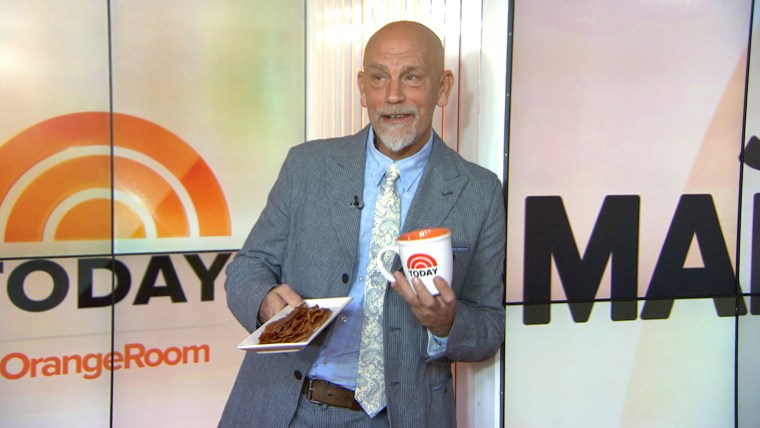 See more from Malkovich when "Crossbones" premieres Friday at 10 p.m. on NBC.