It's the most memorable and the most dangerous maneuver in 1987's "Dirty Dancing" — that moment when Baby (Jennifer Grey) takes a running leap into the arms of Johnny (Patrick Swayze), who hoists her high above his head.
In fact, it was so risky, leading lady Grey only tried once — no rehearsals!
And that's what makes Jessica Biel's "Dirty Dancing"-inspired entrance on Thursday's "Ellen DeGeneres Show" so impressive.
The actress causally sauntered down some steps to join her partner, DJ Stephen "tWitch" Boss, on stage while "Time of My Life" played. And then, as if it was no big deal at all, she ran toward him — in pencil thin stilettos — and jumped right into his arms.
"Well, that was fantastic!" DeGeneres raved. "That's the best entrance we've ever had."
Biel said it was all down to trusting her partner, which was Grey's secret back in the day, too.
"I don't know how all these people who re-enact it have the guts to throw themselves into the arms of anyone other than Patrick Swazye," she once told The Guardian. "It's insane!"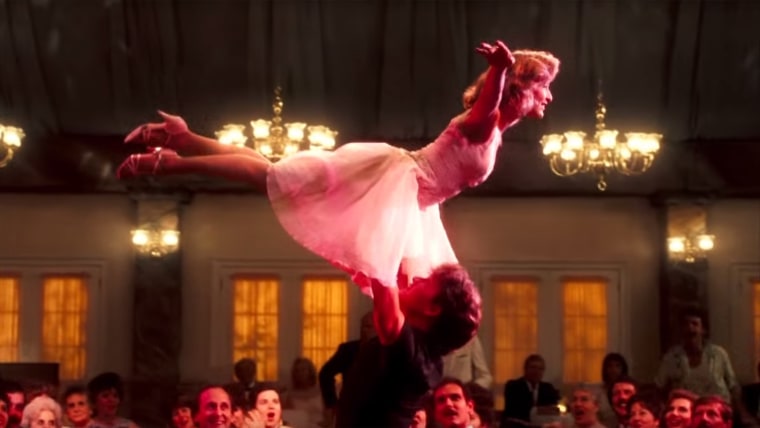 Biel has had some practice with the move back home, thanks to husband Justin Timberlake, but the results haven't been so successful.
"I make him do stuff like that all the time," she said. "His back goes out. It's a disaster."
We've only witnessed one other "Dirty Dancing" lift as good as Biel's "Ellen" effort — outside of the original — and it was right here on our plaza.
Sure, it took three tries to get it right, but back in 2011, Ryan Gosling raised Al Roker over his head — and he even threw in a spin or two.