One couple attempted to re-create the famous lift scene from "Dirty Dancing" — but rather than having the time of their lives, they ended up in the emergency room.
Sharon Price and fiance Andy Price were giddily playing around at a beer garden in Somerset, England, when they got the idea.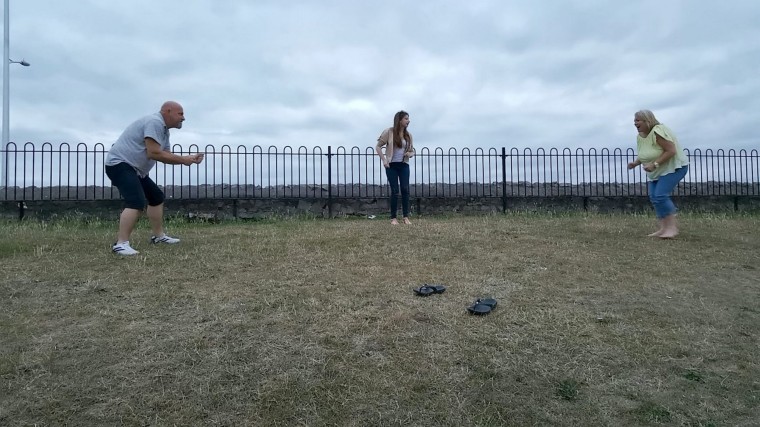 "(The) family didn't think we would actually do it, and when we were lying on the floor, (they) thought we were messing about until they heard me gasping for breath," Sharon, 52, told TODAY. In images that have since gone viral, Sharon can be seen preparing to dash into Andy's arms as her love, 51, braces for her leap.
A subsequent photo shows the pair making contact, with Andy lifting Sharon up off her feet; a third shows both Andy and Sharon down for the count as a concerned family member rushes to their side.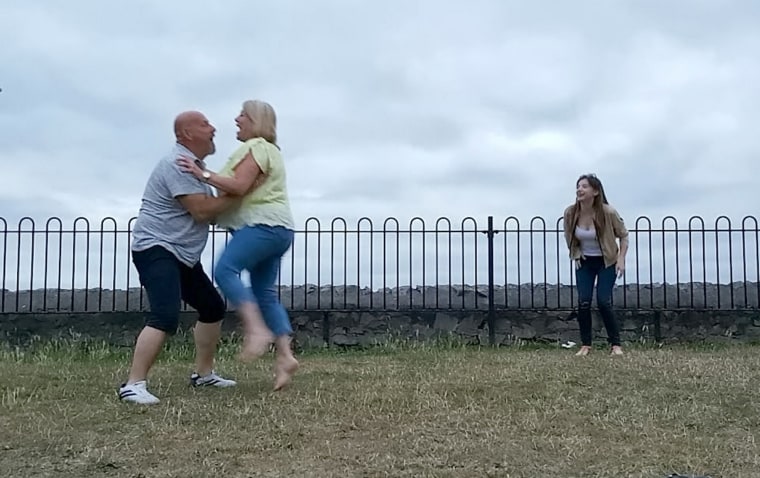 Sharon and Andy have a combined five children from previous marriages, and said they received some good-natured teasing.
"We were obviously both worried about each other and couldn't believe it had happened," Sharon said. "We can now laugh but at the time it was pretty scary."
Paramedics called to the scene rushed both parties to a nearby hospital, and according to Sharon, the doctors at the hospital had a good laugh when she explained what had happened. Luckily, both she and Andy are just fine.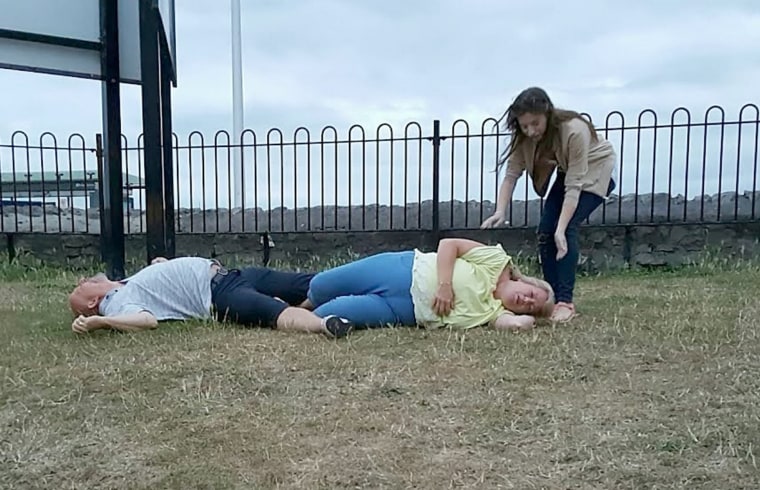 Sharon and Andy have been together for 18 months after meeting at work at Seetru Engineering in Bristol. According to Sharon, Andy proposed on Christmas Day, and the pair plan to wed before family and friends next year.
And now, she added, there will be quite the story to tell at the wedding. "The best man was with us at the time," she said.
As for the viral nature of the photos, Sharon says she can credit her family for their instant fame.
"My daughter put pictures on Facebook and my cousin decided to phone the local paper as she thought it was so funny," Sharon said. "Since then, it has gone absolutely mad. … Our heads are all over the place — we never expect anything like this. But we are now having a good laugh about it!"