Jenna Ortega and Fred Armisen had a "Wednesday" reunion during the actor's "Saturday Night Live" hosting debut.
Ortega, who portrays Wednesday Addams on the Netflix streaming hit, hosted the iconic sketch comedy show March 11 alongside musical guest The 1975.
During the night, she was joined by "SNL" alum Armisen, who plays Uncle Fester on the series, for several fun — and strange — moments, including a remake of Disney's "The Parent Trap."
In the sketch, Ortega took on the role of Lindsay Lohan's characters Hallie and Annie while Bowen Yang played the director. Armisen played a crew member named Raymond who stepped in to read lines with Ortega while her body double was out sick.
Their hilarious skit centered on a recreation of the film's cabin scene where Hallie and Annie argue over bedtime. Things seemed to be going well as they made it through several lines of dialogue without any issues. However, the "Scream VI" star was thrown off guard when Armisen's character began to improvise, adding in an expletive into the script, which immediately caused Yang to yell "Cut!," ending the scene. 
They decided to move to the next sequence, which is when the characters discovered their belongings got wet after the storm. Ortega seemed the most concerned about her photo of Shawn Mendes gets ruined by the rain.
"Wow, he is hot," Armisen commented on the photo. "You know who I like? Lisa Rinna. I would let her wreck me."
Ortega broke character, telling Yang, "Okay, I don't really know what to do here!" 
Yang instructed Ortega and Armisen to pivot to the scene where the characters continue to bond and discover similarities about each other, including when they find out they're both 11 years old and born in October.
"This is tripping me out!" Armisen said. "Let's see if we have a picture of our parents that was ripped in half to see if we're twins!"
Though Yang pointed out that they're not there yet in the script, they move to the scene where they put all of the pieces together and realize that they are twins. When Ortega pointed out that they both have only a half of a ripped photo of one of their parents, Armisen commented, "Yeah, like in that old Lindsay Lohan movie!"
They then grabbed their respective halves of the photos and put them together to make it whole. It's then that Armisen discovers that Ed Helms and Leslie Mann are portraying the roles of Dennis Quaid and Natasha Richardson from the original film, to which he asked curiously, "Is this for streaming?"
When Ortega suggested that the two are sisters, Armisen exclaimed "Sisters? Hallie, we're fricking twins!" 
"Oh my god, wow, I'm like crying now," Armisen added after the two embraced. "So they just split us up? Why would they do that to us? We got to kill them."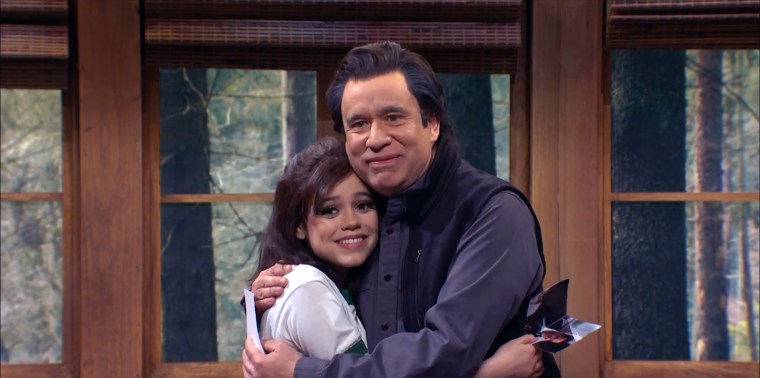 Armisen also joined Ortega earlier in the episode during her opening monologue.
He started as an audience member before the "You" actor invited him to join her on stage. He feigned shock when he stepped up onto the main stage of Studio 8H, commenting that "this is what is feels to be on 'Saturday Night Live'" before Ortega reminded him he had been a cast member on the show for 11 seasons. 
Ortega told Armisen that she was "honored" to have him there, adding that he was the reason she started to watch "SNL," noting that her favorite sketch of his was "The Californians." But when Armisen tried to tell her the origin story of the sketch, she interjected, adding, "Yeah no, we figured it was something like that, it's all good" before directing him off stage.