"Hotel Rwanda"It's impossible to imagine how any of us would react if we were placed in a situation where the lives of hundreds of people depended on our own personal acts of courage. We'd like to think we would measure up, but there's no guarantee.
Paul Rusesabagina wasn't looking to be a hero. He was content to manage the Hotel Des Mille Collines in Kigali, Rwanda, where he was the perfect host to its five-star clientele. But ethnic strife between the Hutus and the Tutsis changed his life forever.
Rusesabagina's powers of persuasion enabled him to save the lives of his own family and over 1,200 more as the Rwandan massacre of 1994 took place under the noses of U.N. peacekeepers, who were ordered to stay out of the conflict. It was one of the bravest displays of personal courage ever seen, especially given a situation in which there was little hope of the cavalry coming to save the day because the West had turned its back on the African country.
Don Cheadle plays Rusesabagina with inspired brilliance and heart-breaking effectiveness in "Hotel Rwanda," which earned him an Academy Award nomination. Noms also went to Sophie Okonedo, who plays his wife, and screenwriter Keir Pearson. Director Terry George collaborated with Pearson in a masterful effort that wisely avoids grisly scenes of slaughter. The violence is implied so the audience can focus more on the human drama.
"Hotel Rwanda" is available now on DVD. The film itself is riveting. There aren't a cornucopia of extras — it's only a one-disk release — but the ones that are present are superb. Of particular note is a making-of documentary that features a great deal of Rusesabagina himself discussing his own story as well as a piece called "Return to Rwanda," a fascinating account of Rusesabagina's return to his native country. Especially moving is Rusesabagina talking about how poor his country is, and why the lack of oil or other resources was one major reason why outsiders didn't intervene in the massacre. "There's nothing here," he laments.
"Hotel Rwanda" may or may not change your life, but it is an inspiring look at someone who changed many lives.
MGM Home Entertainment, $26.98
"Kagemusha"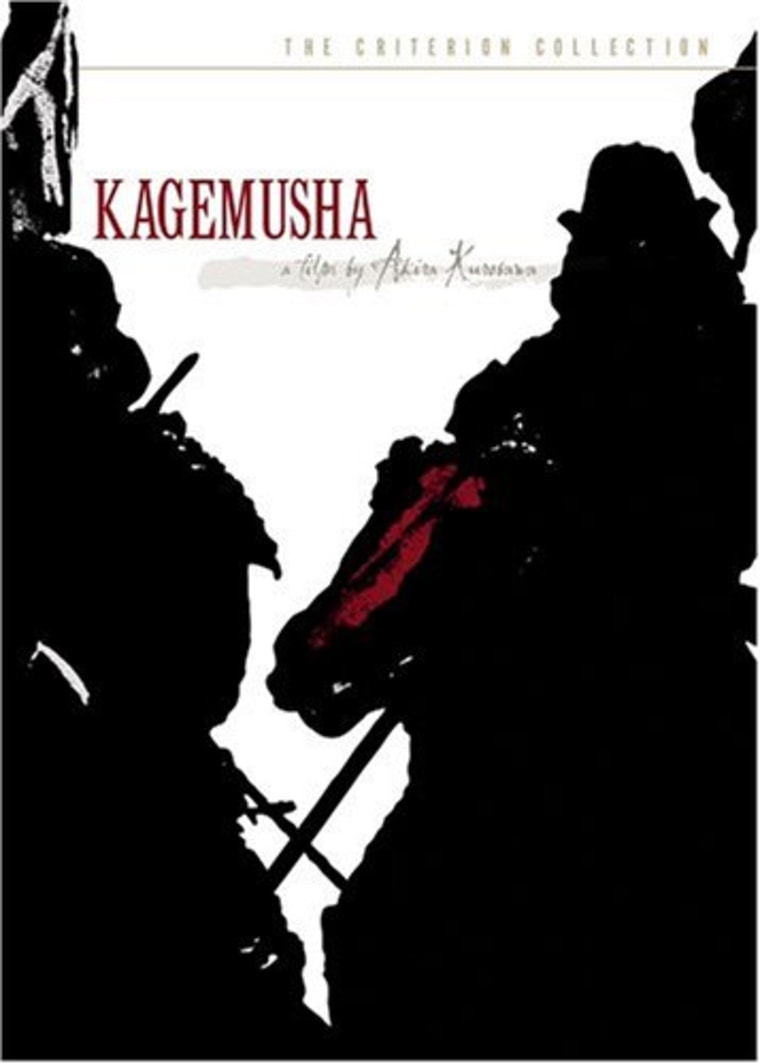 It wasn't often that George Lucas and Francis Ford Coppola collaborated to champion someone else's film. In the '70s and '80s, at the height of their success, they had loads of their own projects to keep them busy. But the lure of working with Akira Kurosawa proved too much to resist.
Kurosawa, a titan of cinema around the world, had a difficult time getting financing for "Kagemusha" within his native Japan. So Lucas and Coppola stepped in to help. The results are another unforgettable epic by the master that won the Palme d'Or at Cannes after its release in 1980.
"Kagemusha" is also known as "The Double." It tells the story of an emperor who uses a condemned thief as a body double for protection. When the warlord dies, the imposter takes over his armies and develops into a capable warlord himself. Eventually, politics intrude, and the thief's reign is brought to an unfortunate result.
Film scholars may not put this in the same lofty places as Kurosawa's "Rashomon" or "Seven Samurai," but it is breathtaking in its own right. Kurosawa based the film's color  imagery — most of his most honored works are in black and white — on a series of his own paintings that he did when he believed his vision would never make it to film. Those paintings impressed Lucas and Coppola and helped to get the project made.
Criterion Collection has released "Kagemusha" in a two-disk package stuffed with extras, which include an informative commentary by film historian Stephen Prince and a 48-page booklet with insight from other film scholars.
There is also a fine making-of documentary, a video examination of Kurosawa's glorious paintings and sketches that eventually served to storyboard the film, and some Suntory Whiskey commercials that were made on the set of "Kagemusha."
The best feature is probably an interview with Lucas and Coppola recorded last year, in which they discuss Kurosawa, his influence on them and on other filmmakers, how they got involved in the making of "Kagemusha," and the responsibility they feel successful directors have toward those colleagues young and old who occasionally need a hand.
"Kagemusha" is visual poetry by one of the greatest directors ever. If you're a film buff, this should not be missed.
Criterion Collection, $39.95