Gabrielle Union and Dwyane Wade both gave an impassioned speech last night at the 2023 NAACP Image Awards. 
Union and Wade were honored with the President's Award at the ceremony on Saturday, Feb. 25. According to the NAACP, this award is presented to individuals "in recognition of special achievement and distinguished public service."
At the Pasadena Civic Auditorium, the couple took the stage to deliver a speech that honored Wade's 15-year-old daughter, Zaya, who came out publicly as transgender in 2020. Union spoke second, using her time to address the injustices against the LGBTQ community.
"It's humbling to stand here surrounded by friends and heroes, OGs and icons, all working to advance the lives of Black people and pay respect to an organization that had led us through over a century of relentless challenge, pain, triumph, and change," Union said. "And now stands with us again at the foot of a very new era of activism, a new era that demands our collective answer to one simple question: Will we fight for some, or will we fight for all of our people?"
Union continued, adding that even though equality is "demanded," society often fails to "extend our advocacy to protect some of our most vulnerable among us." She also called out the treatment of Black transgender people, adding, "Black trans people are being targeted, terrorized, and hunted in this country every day, everywhere, and there's rarely whisper about it."
"We honestly don't approach this work as activists or leaders as much as we do this as parents," she said. "Parents who love our children and will do whatever the hell we can to keep them seen and secure and safe."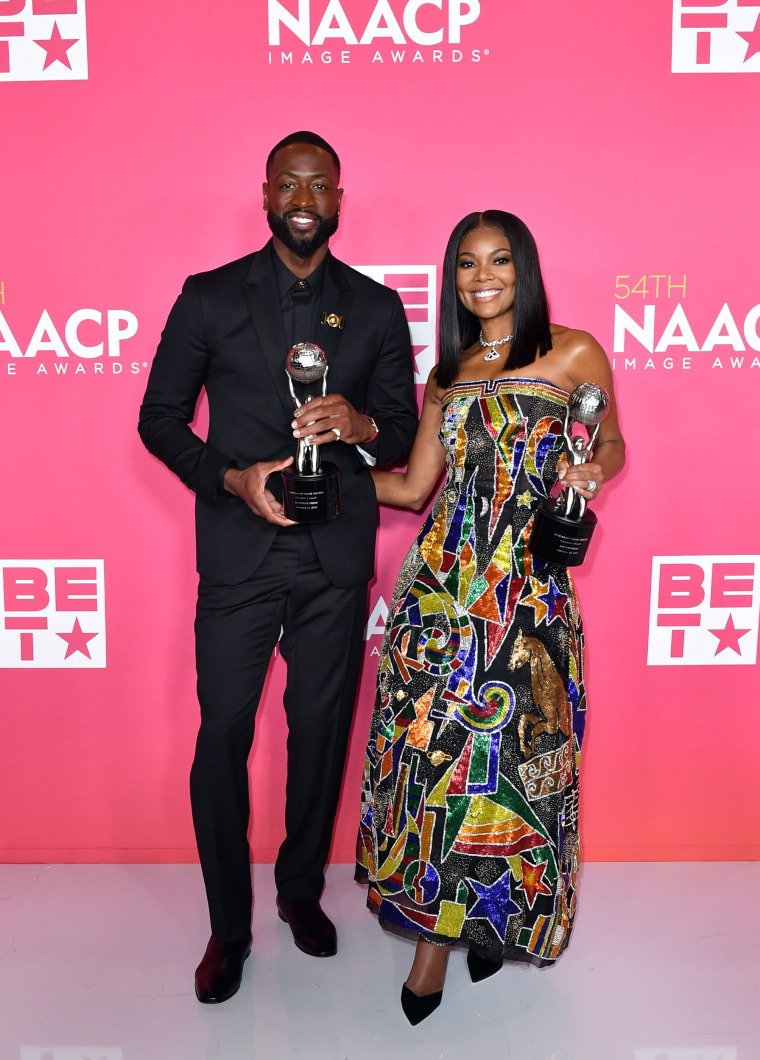 To begin his speech, Wade acknowledged that the couple's advocacy work "takes a village" and "a community" to accomplish before addressing his daughter, whom he shares with his ex-wife Siohvaughn Funches.
"I want to take this moment to publicly speak to our daughter Zaya," the former NBA star said. "Zaya, as your father, all I've wanted to do was get it right. I've sat back and watched how gracefully you've taken on the public scrutiny. And even though it's not easy, I watched you walk out of that house every morning as yourself. I admire how you've handled the ignorance in our world."
Wade continued, telling Zaya that her "village" was proud of her before thanking her for the lessons she has been able to teach him in parenting.
"Thank you for showing me that there's more than just one way to communicate effectively," Wade explained. "You told me that communication with my mouth isn't enough. I have to also communicate with my two ears and my two eyes. As your father, my job isn't to create a version of myself or direct your future; my role is to be a facilitator to your hopes, your wishes, your dreams."
After a months-long process, on Friday, Feb. 24, Zaya was granted an official gender and name change after a Los Angeles County judge signed off on the petition which was initially filed in August 2022.
Since Zaya came out three years ago, Wade and Union have been supportive parents to their daughter and step-daughter, but admit they are still learning how to be the best parents day-by-day.
In a December 2022 interview with TODAY.com at the People's Choice Awards, Wade explained, "I feel that we all have our own styles and our own way that we parent from our childhood, from what we were told."
"But I guess my biggest thing would be, what I was told and what I knew growing up, that's not the world I live in today," he added. "So understanding that opened up my eyes, opened up my ears, opened up my heart and opened up my mind to something that's bigger."