Dwyane Wade's 15-year-old transgender daughter has been granted an official name and gender change.
According to court documents, on Feb. 24, a Los Angeles County judge signed off on the petition, first filed by the former NBA star in August 2022.
The teen is now legally recognized as female and her name was changed from Zion Malachi Airamis Wade to Zaya Malachi Airamis Wade.
Wade shares Zaya with ex-wife Siohvaughn Funches. The two divorced in 2010 after eight years of marriage.
Funches-Wade and Wade's reps did not immediately respond to TODAY.com's request for comment.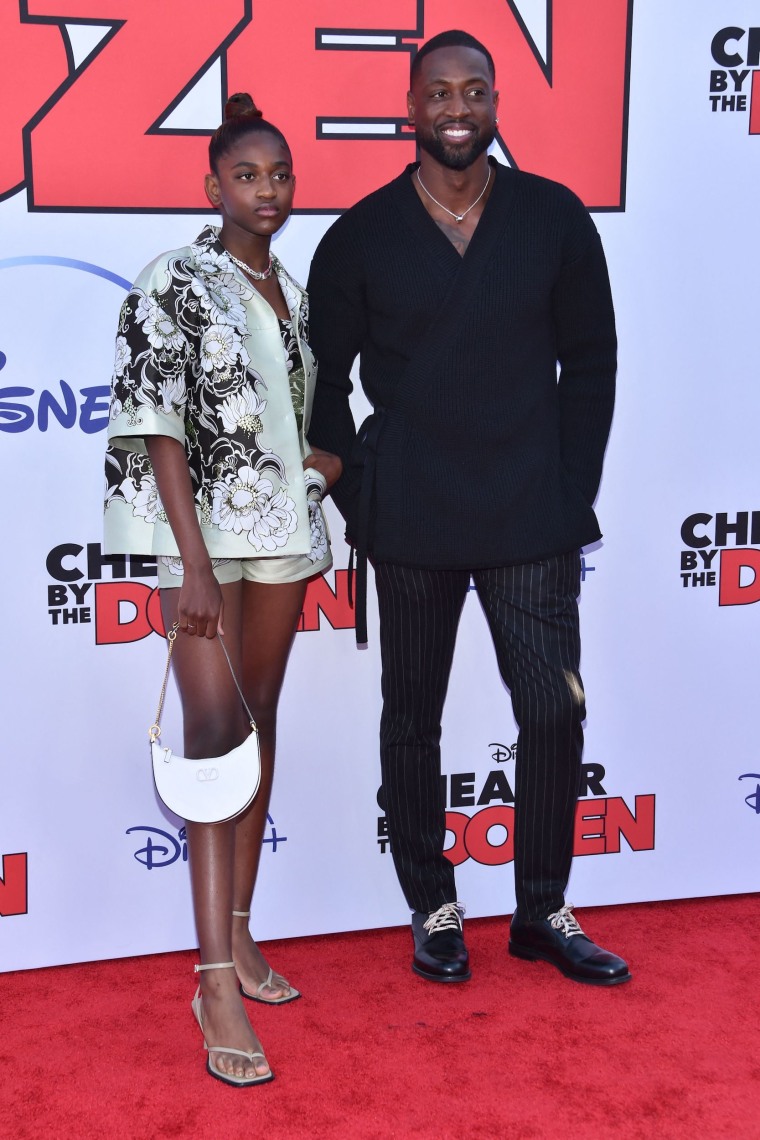 In a 2020 appearance on "The Ellen DeGeneres Show," the retired athlete recalled his daughter coming out as transgender.
"Our (then) 12-year-old came home ... and said, "Hey, I want to talk to you guys. I think going forward I'm ready to live my truth and I want to be referenced as she and her and I would love for you guys to call me Zaya," Wade said, adding that they were "trying to figure out as much information as we can to make sure that we give our child the best opportunity to be her best self."
However, Zaya's mother attempted to prevent her former spouse's petition to go through.
In November of last year, Funches-Wade submitted an objection to a Los Angeles County court that requested Zaya wait until "the age of majority" to make permanent changes to her identity, documents obtained by TODAY said.
In the court documents she added, "I contend that our child should be given the opportunity to decide for themselves at the age of majority if they want to move forward with changing their name and/or gender."
At the time, Funches-Wade argued that her ex-husband was using his celebrity to make a profit off of their daughter's brand partnerships.
Wade would go on to release a statement on Instagram, denying the claims.
"Since this must be the new way of parenting, I guess I have to address these allegations here, which is a damn shame," Wade wrote in part on Nov. 3. "While I'm on a life-changing trip in our motherland, Africa, I've received a social media post about me forcing our 15 year old child to be someone she's not and to do something against her will. These are serious and harmful allegations that have hurt our children."
Weeks later, Wade would go on to file new documents asking the Los Angeles Superior Court to allow Zaya to legally change her name and gender, stating it was " in her best interest."
"This Petition is not about Siohvaughn or Dwyane or their prior marriage, it is about what Zaya wants and what is in her best interest. This Petition is about empowering Zaya to live her truth," read the court documents filed by Wade's legal team and obtained by TODAY.com, on Nov. 28.
The former Miami Heat did note that he had "sole care, custody and control of Zaya," adding that he should have final say in his child's choices.
"While it certainly would have been preferable for Zaya's mother to be supportive of this important part of Zaya's journey, Zaya should not be forced to put her life on hold while she waits for Siohvaughn to acknowledge and accept her truth," he concluded.
Wade also shares 21-year-old son Zaire Wade with Funches-Wade. He is also father to 9-year-old son Xavier, whom he had with ex-girlfriend Aja Metoyer, and 4-year-old daughter Kaavia, with wife and actor Gabrielle Union.