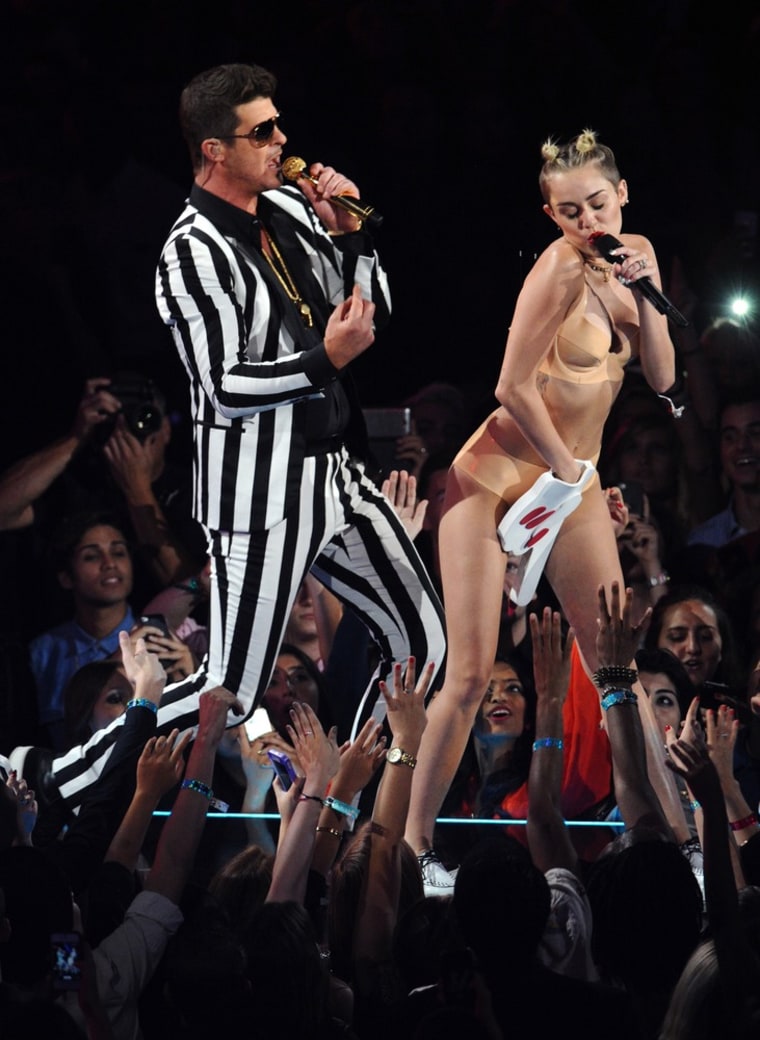 After all the finger wagging in the wake of Miley Cyrus' Video Music Awards performance, one giant foam finger (and the man who created an early version of it many years ago) is getting some attention.
Cyrus, you'll not soon forget, created a ruckus Sunday for being extra provocative at an event that rewards people for being extra provocative. During a duet of the summer hit "Blurred Lines" with singer Robin Thicke, Cyrus, 20, used a large finger prop to touch herself and Thicke in areas that are usually hands off on TV. Monday morning twerkerbacking ensued.
Fox Sports tracked down Steve Chmelar, who as an Iowa teenager created what he calls the original "No. 1 hand" to support his high school basketball team back in 1971. An Associated Press photograph of Chmelar wearing his version of the big hand made the rounds, but eventually a man named Geral Fauss gained credit for creating the first actual foam No. 1 finger in 1978. The Fauss-style prop has become ubiquitous at sporting events around the country.
Chmelar, now 59, told Fox Sports he had fun creating his "finger" in his parents' garage all those years ago and holds no grudges about not receiving any fame or fortune.
But Chmelar did have a point to make about Cyrus, and her giant white hand with painted red nails.
"For people that like that kind of entertainment, I'm sure that it met their needs," Chmelar told Fox Sports. "If I had a choice between Julie Andrews singing 'The Sound of Music' and Miley Cyrus doing 'Can't Stop,' I'd go the Julie Andrews route, but everyone has their choice and their decision.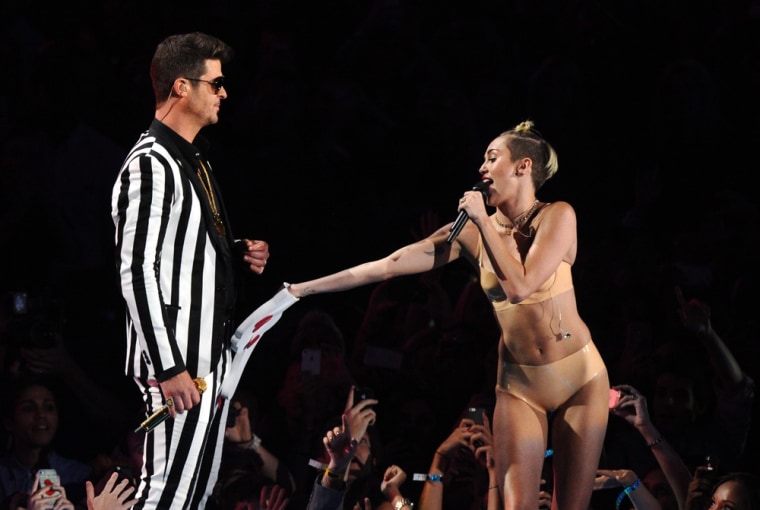 "I would say that it certainly misrepresented its intent to encourage team support. She took an honorable icon that is seen in sporting venues everywhere and degraded it," Chmelar said. "Fortunately, the foam finger has been around long enough that it will survive this incident. As for Miley Cyrus, let's hope she can outlive this event and also survive."
Cyrus has no regrets about any of what went down at the VMAs, and has tweeted assorted words of encouragement from sources ranging from her father to Rolling Stone magazine.