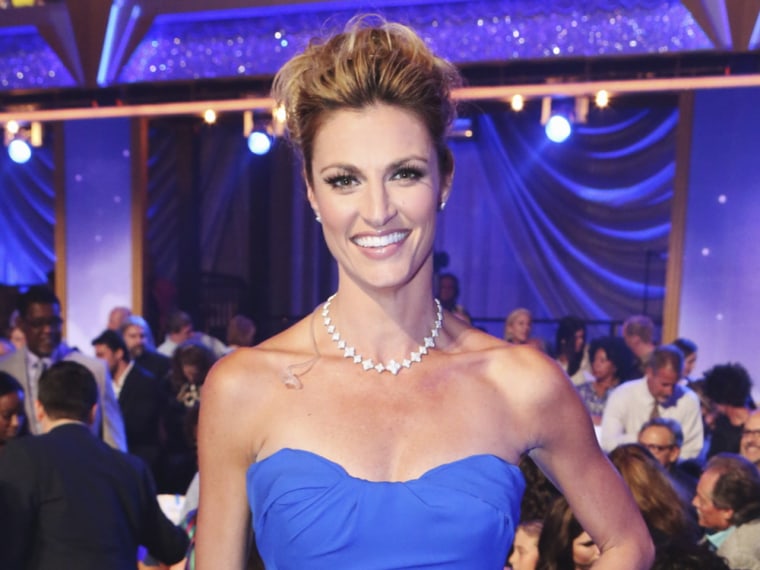 The celebrities aren't the only ones learning new moves on "Dancing With the Stars" this season. Sports reporter turned ballroom co-host Erin Andrews is learning her way around the ballroom too, and the process hasn't been without missteps.
Andrews, who now fills the role once held by Samantha Harris and later Brooke Burke-Charvet — both of whom received plenty of criticism for how they performed during their one-on-one moments with contestants over the years — now finds herself in the spotlight for her own stumbles, at least one of which she is eager to address.
"From a sports broadcaster perspective, it was bad on me," Andrews told TODAY of her decision two weeks ago to ask season 18 contestant James Maslow and his pro partner Peta Murgatroyd about their personal relationship.
"Can you tell us you're dating?" she asked of the duo at the time. "I want a 'Dancing With the Stars' baby! You're so adorable."
"I like Erin on a personal level, (but) on a professional level, she could be a little bit more creative," Maslow told TODAY after the incident. "We've expended that whole Peta-and-James thing. I'm (only) 23-years-old. I think Erin's going to have a baby long before I will."
In her defense, Andrews explained that she wasn't really serious with her inquiry.
"I wasn't even asking a question," she said. "I was just making a statement. Peta's a really good friend. I was just being a girlie-girl fan of the show. I think that's what girls are (thinking) when they're watching."
In fact, Andrews is no stranger to that sort of attention on the show. Long before she became a co-host, she was a contestant herself, dancing alongside fan-favorite pro Maksim Chmerkovskiy back in season 10.
"Maks and I, every single week, had to answer if we were dating or not," she said.
But the questions Andrews has asked since taking on her new role on the show aren't the only things some ballroom fans have taken issue with. Just last week, as she interviewed "Real Housewives of Atlanta" star Nene Leakes and a very vocal Tony Dovolani following their foxtrot, Andrews made a comment to the veteran pro that didn't sit well with some.
"Do you want to just take my mic and do the job for me?" she said after Dovolani offered a lengthy explanation of how both he and Leakes were feeling that night.
Andrews came to her own defense, stating that she meant her comment as a compliment since Dovolani offered up such great answers.

As for Dovolanni, he applauded Andrews efforts on the show and asked fans to "be nice" to her.

If Maslow or Dovolani want to talk about the "Dancing" drama with Andrews over a drink, she's buying. Andrews recently signed on as a spokesperson for Florida Orange Juice. ("An 8 ounce glass a day and I'm good to go," she said.)

But Andrews has had a little harder time swallowing recent reports that suggest "Dancing" producers are unhappy with her performance on the show.
"I'm the idiot who buys these magazines and believes everything (in them) is true, but I quickly learned that those people have absolutely no sources," she told TODAY. "The producers said (they) don't make comments about (stories), and we came out and said, 'This is absolutely wrong.'"
Andrews also has a supporter in long-time "Dancing" host Tom Bergeron.
"Erin's funny, quick, intelligent and gorgeous," Bergeron told us. "She's at her best when she's just having fun."
"As long as the producers, Tom and the veteran dancers are happy, then I'm fine with it," Andrews said. "Tom told me not to change. He said the show wants me to be here because I'm me and to have fun with it. The head of (the production company) came to my dressing room and said they couldn't be more overjoyed with how this has worked out.
"I'm good," she added. "I just have to look at the (negative) stuff and laugh. It must a slow week if they're talking about me!"
See what else Andrews has to say when she's back in the ballroom Monday night at 8 p.m. on ABC.