Ellen DeGeneres made TV history 20 years ago — twice.
First, in February of 1997, she sat down with Oprah Winfrey and spoke openly about her personal decision to come out as a lesbian on Winfrey's self-titled daytime talk show.
Then, just two months later, Ellen sat down with Oprah again — and came out again, this time in character — on her own self-titled sitcom.
Now the two talk-show titans are taking on the topic again, as DeGeneres celebrates the anniversary of that groundbreaking episode of "Ellen."
"It was called the 'Puppy Episode' because we wanted to keep it a secret until it aired," DeGeneres recalls in a sneak peek. "And because 'Ellen Throws Her Career Away' seemed too on-the-nose."
RELATED: Ellen Page thanks Ellen DeGeneres for coming out during 'scarier' time
Of course in hindsight, it's clear that the episode, in which Winfrey played her therapist, didn't end her career at all. In fact, it helped put her on a different path and ushered in a new era of LGBT characters on the small screen.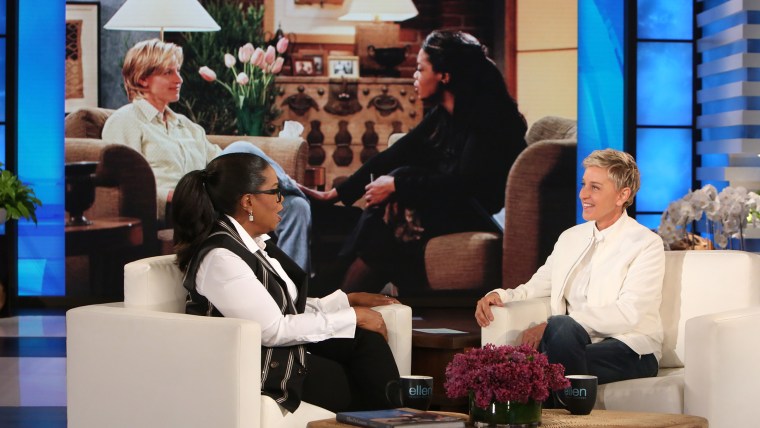 "Your whole calling is about you being who you were meant to be," Winfrey tells her in the clip. "You would not be who you are ... had you not had the courage to (come out). And 20 years ago, you had no idea it would put you in this seat."
Winfrey isn't the only star sharing the celebration. Lauren Dern, who played an important part in the "Puppy Episode" will be there, too, as will "Ellen" regulars Joely Fisher, Clea Lewis and David Anthony Higgins — who are reuniting for the first time since the sitcom went off the air.
The special episode of the "Ellen DeGeneres Show" will air Friday, April 28.