A near-death experience inspired firefighter Rip Esselstyn to create "The Engine 2 Diet," a groundbreaking plan to help people lose weight and lower cholesterol in just four weeks. When Esselstyn learned that some of his fellow Engine 2 firefighters in Austin, Texas, were in dire physical condition, he sprang into action and created a lifesaving plan for the firehouse. Everyone who followed his plan lost weight and lowered their cholesterol. An excerpt.
Chapter one
The evening of January 5, 2000, was bitterly cold, a night no one in the Austin, Texas, Fire Department will soon forget. At the time I was working at Central Station, the city's largest. Central was called "The Animal House" because we firefighters were notorious for our bizarre antics, from launching water balloons at passersby from the second-story rooftop to breaking rookies down until they burst into tears. There were no barriers and no boundaries.
The weather was bad when we went to bed in the firehouse dorm that night, but by early morning it was worse: A freezing rain was falling, and temperatures were heading toward record lows. Then, at 4:20 a.m., a heavy box alarm sounded. (The word "box" refers to a home; a regular box alarm signals that a single-family house is on fire, but when a heavy box alarm sounds, it means a fire at a larger building, such as an apartment complex.)
Just as at the start of an athletic competition, all my senses went into overdrive — my heart rate jumped, my stomach churned, my mind raced. Normally I'd leap right out of bed, jump into my bunker pants, and pull up my suspenders, but because I was going to be driving this shift, I had only enough time to stumble into my station pants and cotton shirt before sliding down the eighteen-foot brass fire pole.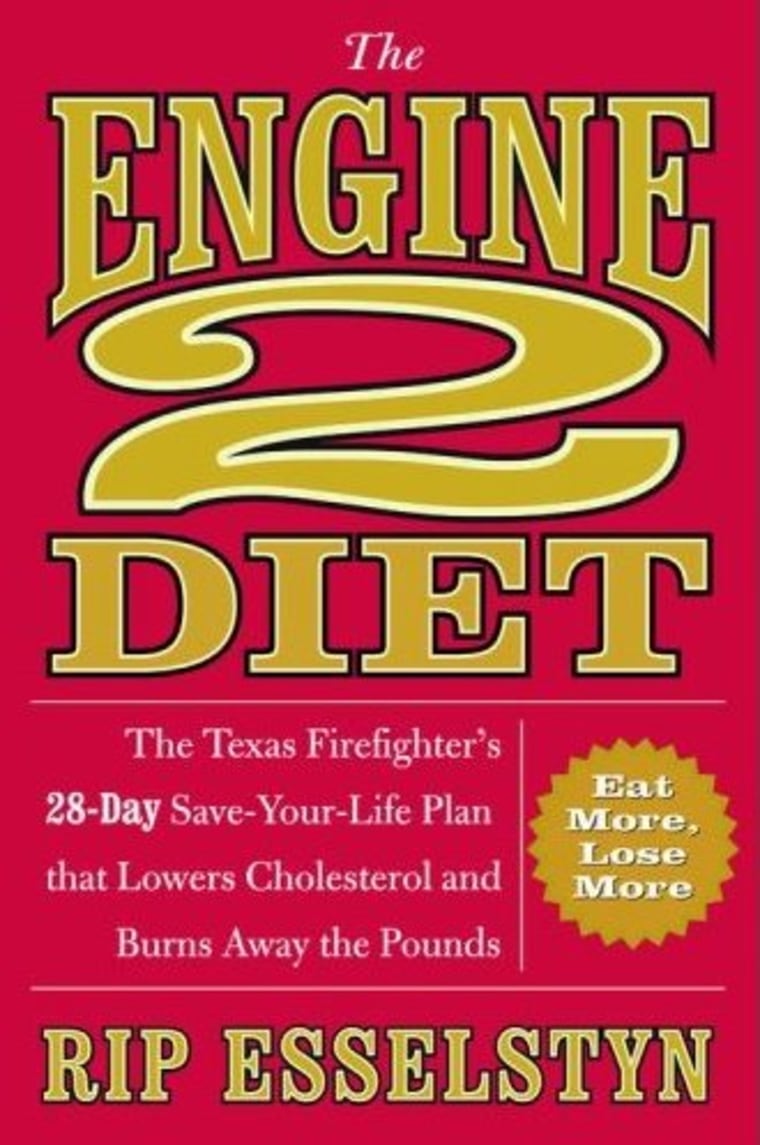 I was also preparing for the worst. The real burners generally occur between midnight and 6 a.m., when people have gone to sleep but a stovetop is left burning, an electrical wire shorts out, or a smoldering cigarette butt ignites.
The fire turned out to be at the Lake Shore Apartments, two-and-a-half miles from the station. Sirens blaring, we pulled up to the scene, the third engine in. (Each arriving engine has a specific duty. The first engine attacks the fire, the second backs up the first, and the third hooks up to a hydrant to bring an unlimited supply of water to the first.)
Just as we were arriving, we heard a radio message from Engine 22, announcing that they had put out the fire. For a moment we relaxed, and from where we stood, looking up at the building's second-floor balcony, the problem seemed to be nothing more than a little hibachi fire.
Then my good friend, fellow Engine 1 firefighter Josh Miller, said, "Rip, put your bunker gear on." I didn't understand why he'd told me that, because things seemed to be under control. Perhaps he'd had a premonition — all firefighters have them — so I listened, scuttled around to the driver's side compartment, and donned my full gear.
Sure enough, moments later that little fire exploded into enormous flames — larger than I had ever seen. They climbed up the side of the building, curled onto its top, and engulfed the roof.
Scared and nervous, I approached the fire, my pulse pounding. The next few minutes were a blur; time warps under severe pressure. I remember that a firefighter named Alphonso Dellert, known as Ax, stepped in front of me, and as he did, I heard the kind of bloodcurdling screams you hear only in movies: "Help me, I'm burning up!" I wasn't sure I'd heard correctly, but then the cry came again: "Help me, I'm burning!"
I sensed this scream was coming from the apartment with the balcony — but how could someone still be alive inside that inferno? The flames were rising even higher and their radiant heat was overwhelming, even from two hundred feet away.
Ax and I were the only ones who heard the screams. Ax sprang into action. He put on his face piece, went on air (we all carry bottles supplying forty-five minutes of air so we can breathe during the worst fires), grabbed a rack line (a preconnected two-hundred-foot hose), and scrambled up a ladder. Right behind Ax, I also went on air, then steadied the ladder for him, although he was too preoccupied to realize I was watching his every move.
Ax reached the window's edge, opened the hose, and sprayed torrents of water into the left side of the apartment, the heart of the flames. Then he hung the hose's nozzle on the ladder's top rung and entered the window, disappearing into the inferno.
All I could think was: I have to protect him. So I climbed the ladder and looked in the window. It felt as if I were peering at a secret passage into Hell.
A friend of mine once served as the medical director at Yosemite National Park, where, a few years ago, a lunatic had beheaded several women. My friend went out to locate the victims, but all he found was one headless body. At that point his reality changed; he'd come to believe in true evil. That's how I felt then, seeing the fiery monster raging, laughing at us: "I'm loving this, and you guys are screwed."
Because it was difficult to see, I had no idea who was trapped inside the apartment. Later we discovered it was Fire Captain John Butz. John belonged to the first-arriving ladder company, which was responsible for search and rescue. John had entered the apartment with his crew, but as they had forgotten to bring a fan along to ventilate the room, he'd sent them back to get it and had gone in alone — even though we're always supposed to bring a partner and a charged hose line (one that holds water at the appropriate pressure).
Before John had had time to exit the room he was investigating, the living room next door flashed (anything reaching 1,000 degrees or higher will burst into flames). If John had been inside, he would have died on the spot. Instead, the explosion threw him to the ground, where he lay paralyzed and could only scream for help. The flames and smoke were so dense that Ax couldn't find John until he spotted his flashlight at the end of the bed. Ax knelt down and asked, "Can you make it to the window?" John whispered, "I'll do what I can."
Ax turned around, trying to orient himself amid the smoke and flames. At that moment I entered through the window, waving my arms — Ax saw my silhouette and headed for it. Later he called me his angel.
The distance from the floor to the bottom edge of the window was four feet, so the two of us began struggling to raise John's limp 300 pounds up and over the sill. (John weighed about 225 pounds, but was also wearing 75 pounds of equipment.)
Meanwhile, the freezing rain was still falling, and the smoke was impairing our vision. I slipped on the ladder, John's helmet fell off, and we still couldn't pull his limp body past the windowsill.
Finally, we got the front half of his body to dangle over the sill. Ax yelled, "Do you have him?"
"I got him," I yelled back, yanking John as best I could out and over the window so I could lower him. At this point I wasn't sure if he was still alive. I bear-hugged the ladder with my left arm, lowering John until my right arm was fully extended, and then let him fall. He dropped eighteen feet to the ground, missing an enormous air-conditioning unit by inches.
Next, I climbed back up the ladder looking for Ax, who, in the confusion, I mistook for my friend Josh Miller — at this point I was so befuddled I didn't know who was who. But I was not going anywhere without the other firefighter, and because I was convinced he was inside, I was about to reenter the room. Then something inside me said, "Look down and see what's on the ground."
I did, and lying eighteen feet below were both John Butz and Ax. Their bodies were smoking.
At this point I had no idea how Ax had landed there. I later learned that he was so hot, and suffering from such severe injuries, that to save his own life he had dived over the ladder and fallen to the ground. I had been so busy wrestling with John's body that I didn't see him.
I made my way down the ladder to Ax and John. Incredibly, both were still conscious. Ax had third-degree burns to his calf, hands, and neck. John was not as lucky; third-degree burns covered close to 70 percent of his body. People seldom live if more than 65 percent of the body is burned.
Finally, the fire was contained. John was taken by ambulance to Brackenridge Hospital, then airlifted to Brooks Army Burn Center in San Antonio, where he spent almost a year in recovery. Shortly afterward, he was promoted from captain to battalion chief. He is lucky to be alive, and he knows it.
Although two later sweeps of the apartment revealed no other victims, the third sweep found a man dead in the bathtub. The shower curtain had melted over his body, which was barely recognizable as human. The apartment had been his, and his little hibachi had caused the deadly blaze.
That fire's fury spooked me to the core. In the short time all these events took place, I realized how fleeting our time on earth is. Since that night, I've appreciated the importance of my job, as well as the other firefighters with whom I work, more than ever before. I never take a single shift for granted — and after twenty-four hours, when we're relieved by the next crew, I heave a sigh of relief knowing that we'll all go home safely.
That terrible fire also confirmed my belief that we can't take anything for granted — especially our health. Obviously, preventing and staying away from fire is one way to stay healthy. But the most basic, profound, and powerful way to take care of your health on a day-to-day basis is to eat a healthy, plant-based diet. This regimen is the best way to fight the dangerous fires raging inside us — fires that create all the chronic Western ailments including heart attack, stroke, cancer, Alzheimer's disease, and diabetes. That's why I created the Engine 2 Diet, and why I wrote this book.
Excerpted from "The Engine 2 Diet" by Rip Esselstyn. Copyright (c) 2009, reprinted with permission from Hachette Book Group.