With over 4,000 episodes of "Late Show" behind him, outgoing host David Letterman has sat across from plenty of famous faces. But there are few faces that have affected the funnyman quite like Julia Roberts.
Roberts and Letterman developed a flirtation on-air relationship over the years, with the host always giving her a kiss on the lips before she leaves. And there was no exception on Wednesday night, when the actress visited the show one last time.
After playing a compilation of their past smooches, Letterman stood up for one last lip lock with her before his retirement.
"I just want to say, David Letterman, I love you," Roberts told him afterward. "I thank you for all of the joy and the laughs and the intelligence you have brought to us for 33 years."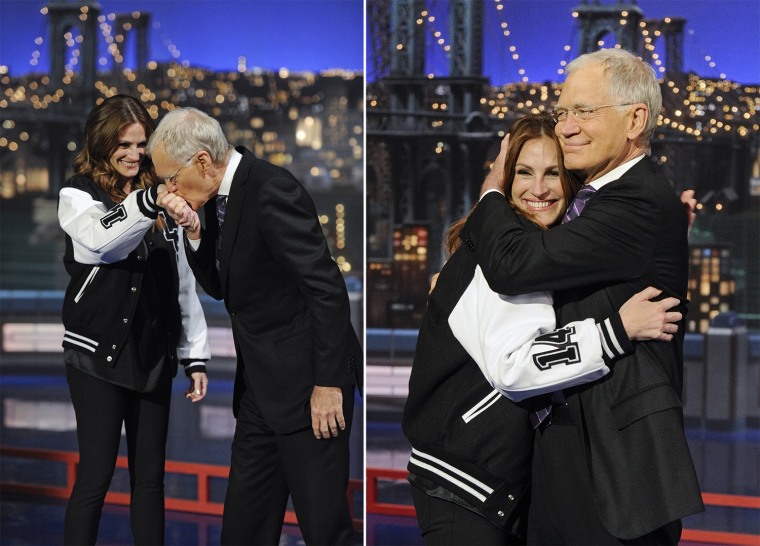 That sweet exchange should could as no surprise to anyone who's watched them together in the past. Even Adam Sandler made a mention of that special relationship during his farewell song to Letterman on Tuesday's show.
"No one gets Julia Roberts' face redder than ... a flirty David Letterman," he sang.
WATCH: Tina Fey strips down in sweet send-off to David Letterman
Of course, the "Pretty Woman" star isn't the only one showing affection to Letterman these days. Howard Stern stopped by the show to try to get a kiss of his own earlier this week.
Letterman's final episode of "Late Show" airs May 20 on CBS.
Follow Ree Hines on Google+.