"Dancing with the Stars" pro Val Chmerkovskiy could be heading back to Port Charles.
"General Hospital" Executive Producer Frank Valentini confirmed to AccessHollywood.com they are looking to get the ballroom hunk back on the ABC soap.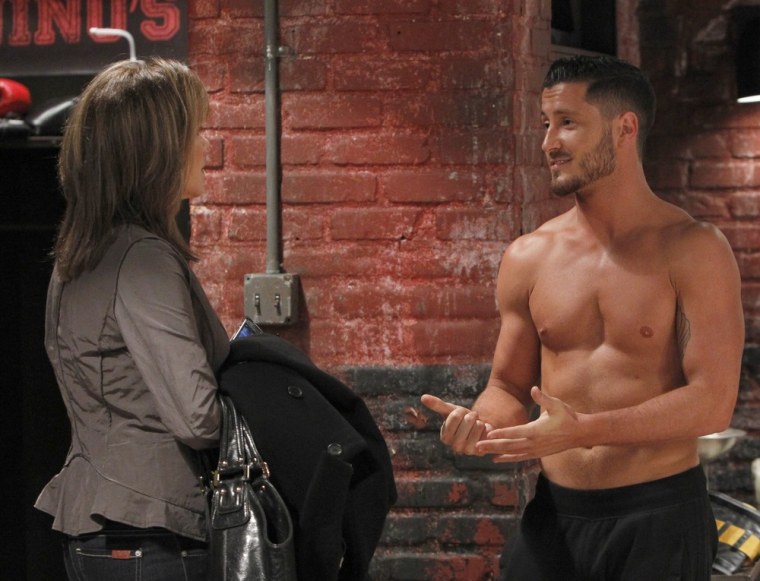 VIEW THE PHOTOS: Dancing's Val Chmerkovskiy 
"Yes, we would love to bring Val back," Valentini told Access at the ABC post-Television Critics Association Winter Session 2013 bash in Pasadena, Calif., last week. "It's a little trickier because of scheduling, but if we can bring back Val, you may see him do a little dance with Kelly Monaco." 
Val previously appeared on the soap alongside Kelly's on-screen mom, Alexis, played by Emmy winner Nancy Lee Grahn. 
VIEW THE PHOTOS: General Hospital Beauty Kelly Monaco 
This time around – if the scheduling works – the "DWTS" pro will appear at the Nurses' Ball, the function spectacle-wearing nurse Sabrina Santiago (Teresa Castillo) is working hard to revive. 
"Yep," Valentini confirmed of the proposed storyline. "We're crossing our fingers. That one is totally based on schedule. We love Val, he loves us, he had a lot of fun [last time on the show] working with Nancy." 
"Why not have Kelly and Val dance at the Nurses' Ball," actress Lisa Lo Cicero, who plays the newly-psychic Olivia Falconeri, told Access, when we ran into her at the ABC party. 
VIEW THE PHOTOS: General Hospital: Cast Photos & More 
Lisa said Val was on set when she filmed one of her more dramatic moments of Fall 2012 – when Heather Webber (Robin Mattson) threw Olivia down the stairs. 
"What a doll," Lisa said of the "DWTS" hunk. "He was there watching the day that I did the stunt where I got thrown down the stairs. It made us all nervous because we didn't want to look like douches in front of Val. ... He's pretty cool." 
VIEW THE PHOTOS: The Shirtless & Nearly Shirtless Pros Of 'Dancing With The Stars' 
Beyond the potential Nurses' Ball dance with Kelly Monaco's character, Sam McCall, the EP is open to having Val return as an occasional guest star. 
"Totally. He's got charisma to spare," he said. 
While it's unlikely Val's character will mend Sam's broken heart, Valentini said some joy is on the way for Kelly's character, who is in mourning for her husband, Jason Morgan (Steven Burton), who is presumed dead on the show. 
"She's had a lot of misery and I think now she's going to have some fun. She's gonna have a little bit of fun," he said. 
Kelly's Sam has been looking after Michael Easton's John McBain, who was stabbed with a wooden stake by Lucy Coe (Lynn Herring) who mistook him for his former role – Caleb – a vampire on the canceled "GH" spinoff, "Port Charles." And, addressing Kelly and John's on screen chemistry, Valentini said, "It's ridiculous. We have to tell them to hold back in the studio!" 
"General Hospital" airs weekdays on ABC. 
Would you like to see Val back on "General Hospital"? Share your thoughts on our Facebook page!
Related content:
More in The Clicker: