Anyone who has ever been to a Bruce Springsteen show knows it can be an epic event stretching for hours.
That's why fourth-grader Xabi Glovsky, 9, came prepared when he went with his dad, Scott, to the The Boss' sold-out show at Los Angeles Sports Arena on Tuesday night.
Xabi brought a sign that read "Bruce, I will be late to school tomorrow. Please sign my note :)"
The marathon show lasted nearly three and a half hours. Springsteen played 35 songs, taking his final bows at 11:40 p.m.
But before leaving the stage, he spotted Xabi's sign and decided to give him a tardy note he'll never forget.
"Dear Ms. Jackson,'' the note read. "Xabi has been out very late rocking and rolling. Please excuse him if he is tardy!"
RELATED: Behind the Interview: Bruce Springsteen gives Matt Lauer a glimpse at the real Asbury Park
"Bruce sat down on a couch and started to talk with Xabi, asking for the name of his teacher and how Xabi spelled his name, pulling out a piece of paper and a pen,'' Scott Glovsky told Backstreets, a website devoted to Springsteen.
"As Xabi sat next to him on the couch, Bruce thoughtfully and artistically created this beautiful note. It was very interesting to watch the artist at work. They talked for a few minutes, and Bruce was incredibly nice, caring and gracious."
RELATED: Dad writes hilarious notes to excuse his kids' tardiness to school
Xabi and his dad aren't the first Springsteen fans to come clean to a school about kids bitten by a little E Street flu.
Last month, Springsteen fan Patrick Pipino, 48, took his wife and two daughters to a show in Albany, N.Y., and fessed up to his daughters' schools with an honest letter about the concert the next day.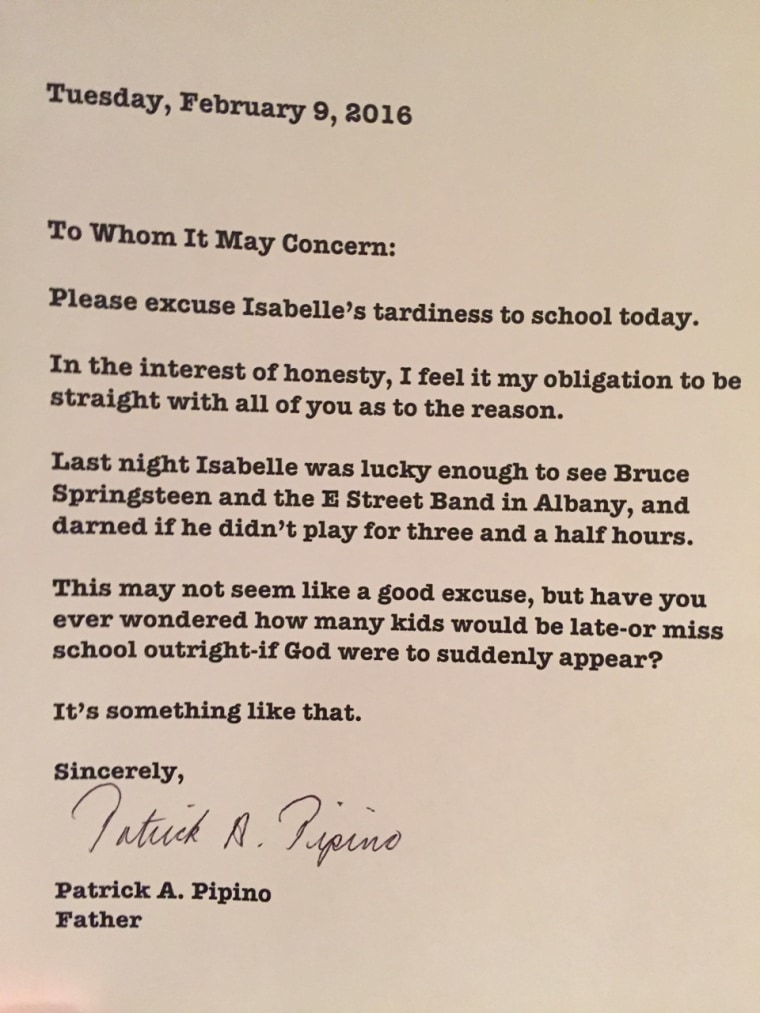 "It went far past their bedtimes, but this opportunity doesn't come often, so I decided it was worth it to let them stay out late and sleep in a bit," Pipino told TODAY.com.
Follow TODAY.com writer Scott Stump on Twitter.