Brie Larson already nabbed a Golden Globe, Critics' Choice award, BAFTA and SAG honor for her performance in the harrowing film "Room." And her Oscar buzz couldn't be bigger.
But did you know that long before she made a name for herself on screen, her name wasn't even Larson?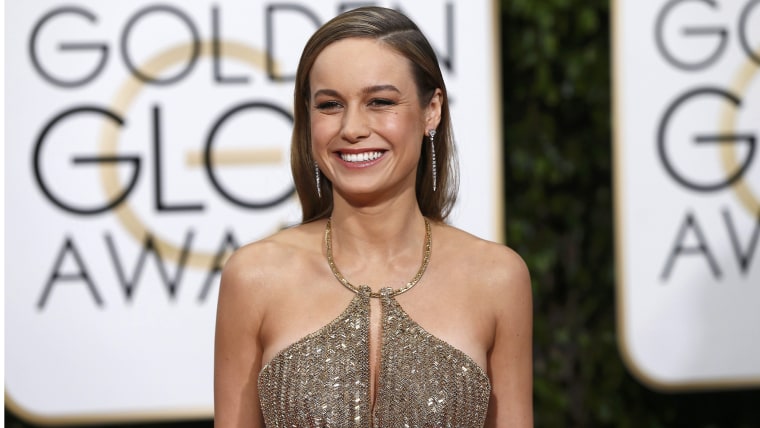 The moniker is just a stage name, and we absolutely love the story behind it!
A new video on People.com notes that before launching her career at age 9, the star-to-be decided to take the name of her favorite American Girl doll.
It's a tidbit Larson first shared with Jimmy Fallon back in October — but with so many great moments from that visit, we somehow missed this one at the time!
RELATED: 'Room' star Jacob Tremblay strikes a pose, imitates Brie Larson's Elle cover
"Her last name is Larson," the actress said, gesturing to the Throwback Thursday Instagram photo above. "The doll is an American [Girl] doll, Kirsten Larson, and my last name is French and very hard to say."
Larson's given name is Brianne Desaulniers, but even as a child she'd grown tired of hearing others mispronounce it.
"I was sick of it, and as a result I'm, like, 'I'm changing my name!" she recalled. "I'm changing it to Larson, so Kirsten can be in our family.'"
And that? Could not be cuter.
Brie Larson got her start in Hollywood at just 9 years old. See the Oscar-nominated actress' journey to becoming a red carpet regular.
RELATED: Brie Larson reacts minutes after Oscar nomination for 'Room' on TODAY Show
But while there's nothing controversial about her chosen screen name, some of her followers on Instagram took exception to her claim that the doll pictured is actually a real Kirsten Larson.
As one dolly detractor noted, "I have the Kirsten Larson AG doll....that's not it."
We say why nitpick what might just be the sweetest screen-name story we've ever heard? That little Larson was real enough for a real star.
Follow Ree Hines on Twitter.