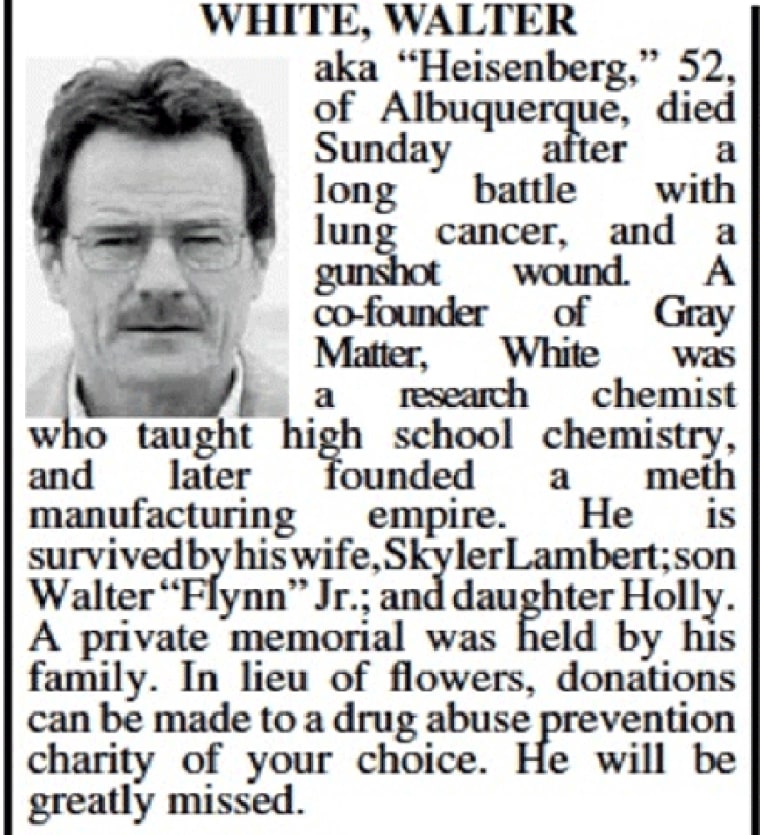 Spoiler alert! People still run obituaries in actual printed newspapers! Oh, and one showed up in the Albuquerque Journal this week for Walter White, the "Breaking Bad" character who finally died in that show's series finale on Sept. 29.
The notice, on page A4 of Friday's Journal, is the work of Los Lunas, N.M., resident David Layman and members of the Facebook group "Unofficial Breaking Bad Fan Tour." A picture of White (actor Bryan Cranston) appears with the short tribute.
"I've been a humongous 'Breaking Bad' fan since the beginning," Layman told the newspaper. "I was actually in the pilot, and putting the obit in the paper was fitting, because the series was based in Albuquerque and it provides some of us some closure."

Layman also told the Journal that he is a high school science teacher and has a student named Jesse. On "Breaking Bad," which was set in New Mexico, White partners with student Jesse Pinkman for five seasons of meth and mayhem.
Here's to hoping Layman's similarities to White end there.