When E.L. James said her marriage vows, she probably couldn't predict that one day, she and her husband, Niall Leonard, would be choreographing a sex scene in broad daylight in the front of a parked Mini Cooper. But that's exactly where life took them.
"We were fully clothed. I said, 'All right, I'll sit on your lap.' This was on a Saturday afternoon. People were walking by to the football ground at the end of the road. They were thinking, 'What are these two doing?'" James, whose real name is Erika Mitchell, tells TODAY.com over a Zoom call.
Turns out, what they were doing was bringing James' now famous "Fifty Shades of Grey" characters, billionaire businessman Christian Grey and his love Anastasia Steele, to life (though those two had their tryst in the back of an Audi R8).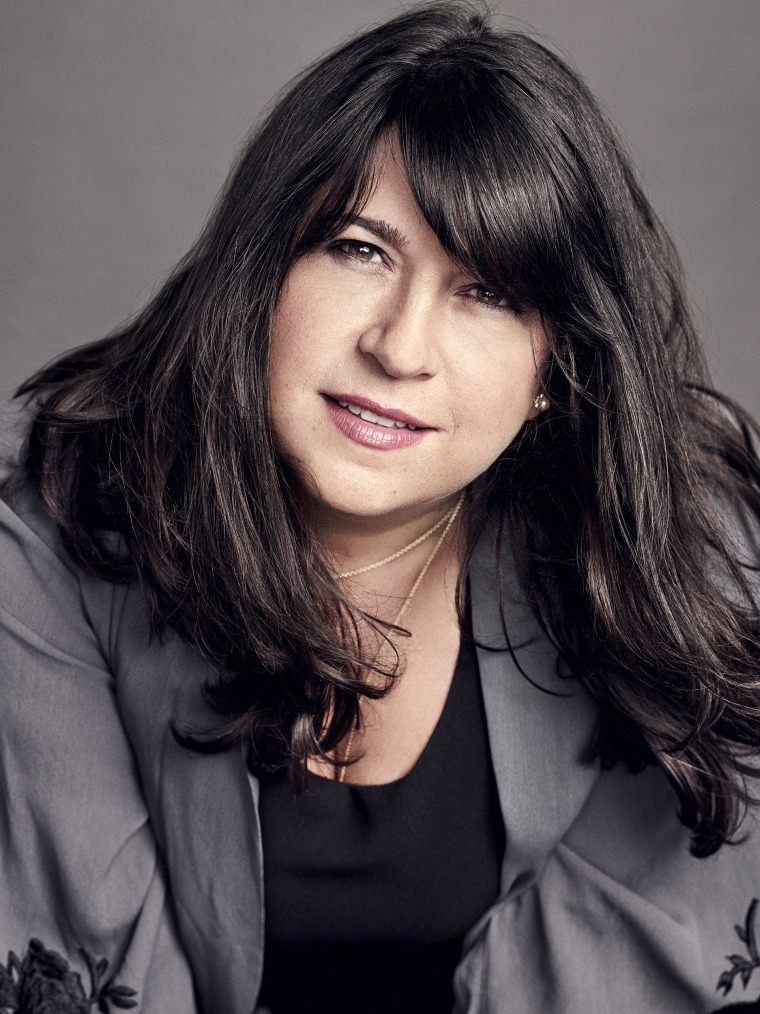 The incident is one of the many unexpected detours James' life has taken. Most notably? Becoming one of the world's most successful writers in her middle age and being thrust into the world's spotlight — a position she still finds uncomfortable over a decade later.
During her interview with TODAY.com this June, 12 years after the publication of her first "Fifty Shades" novel, James remembers her wedding, where she was inherently the center of attention. While she was "happy" to get married, James says the pressure made her "bad tempered."
"The last thing I said to my dad as we walked down the aisle, and what people heard, was 'Get off my f---ing dress,'" she says, with a laugh. 
On the cusp of her new book's publication, James says she feels the same way. 
"I'm terrified and ecstatic and very, very anxious. I don't want to let anyone down. I want to provide people with something to escape to," she says. 
A new story
After writing three "Fifty Shades of Grey Novels" and a follow-up trilogy told from Christian's perspective, James launched a new romance series, starting with "The Mister," in 2019. Its sequel — "The Missus" — is out June 20. 
"I always think of Ana and Christian as 'Beauty and the Beast.' 'The Mister' is more like 'Cinderella," she explains. 
In the book, Maxim Trevelyan unexpectedly inherits his family's hereditary earl title after his brother dies suddenly. He also falls for Alessia Demachi, the woman hired to clean his London apartment. Whereas the central conflict in "Fifty Shades" is arguably how Christian Grey's psychology and childhood trauma manifests, Alessia and Maxim have external obstacles to deal with — like the Albanian mafia.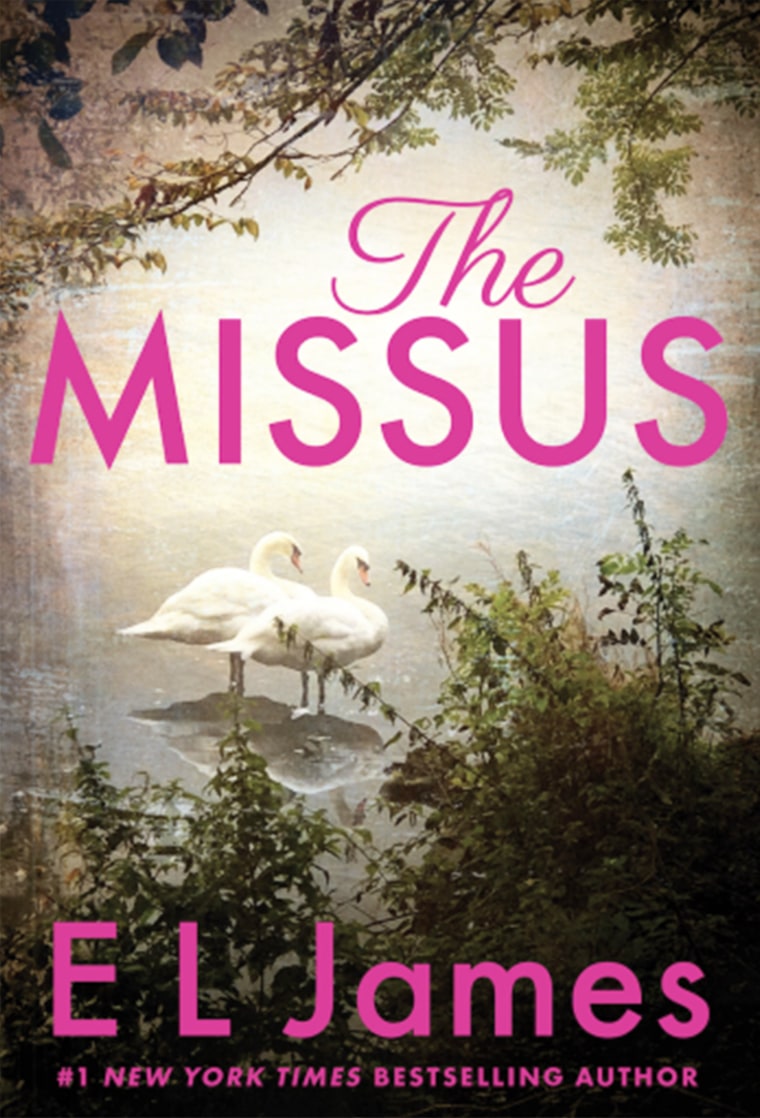 The story had been stuck in her head "for a long, long time," she says. It began on an airplane, when she opened a British magazine to a story about life in an aristocratic household.
She says she started writing the series because she "wanted a break from Christian and Ana." 
This time around, the leading man is far more princely than he is beastly. James says she thinks the lost but kind-hearted scion is a better romantic prospect than the terse businessman Christian Grey.
"I would marry Maxim. He's a reasonable human. I think you'd have to have the patience of a saint to marry someone like Christian," she says. "I just find Christian mentally exhausting. physically exhausting. Utterly exhausting. Maxim is much more reasonable."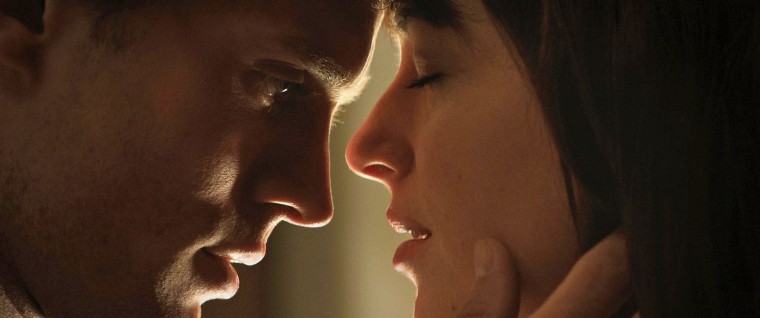 But so what if Christian, with his penchant for bondage and punishment, isn't necessarily everyone's ideal romantic match? James doesn't see her books as manuals for living, but for escapism, and that should be obvious, she says. 
"It's fantasy," she says. "What are you saying about the people reading these books? Are you saying women aren't intelligent enough to realize that this is for escape? You're effectively infantilizing women and not letting them have a good time. Feminists have fantasies too." 
"It's about disappearing into a world and getting swallowed up in it," she adds. "That is one of the best things you can do: If you find a book and it doesn't let you go. If you're consumed by it."
The awakening of E.L. James
James knows the feeling of being "consumed" by a book better than most. She describes reading Stephanie Meyer's "Twilight" books, the inspiration for "Fifty Shades of Grey," as an awakening. The vampire YA novels unlocked her inspiration, dormant after 25 years in television production. 
"I read those books over Christmas. It was like a vacation. I sat down and started writing after that," she says.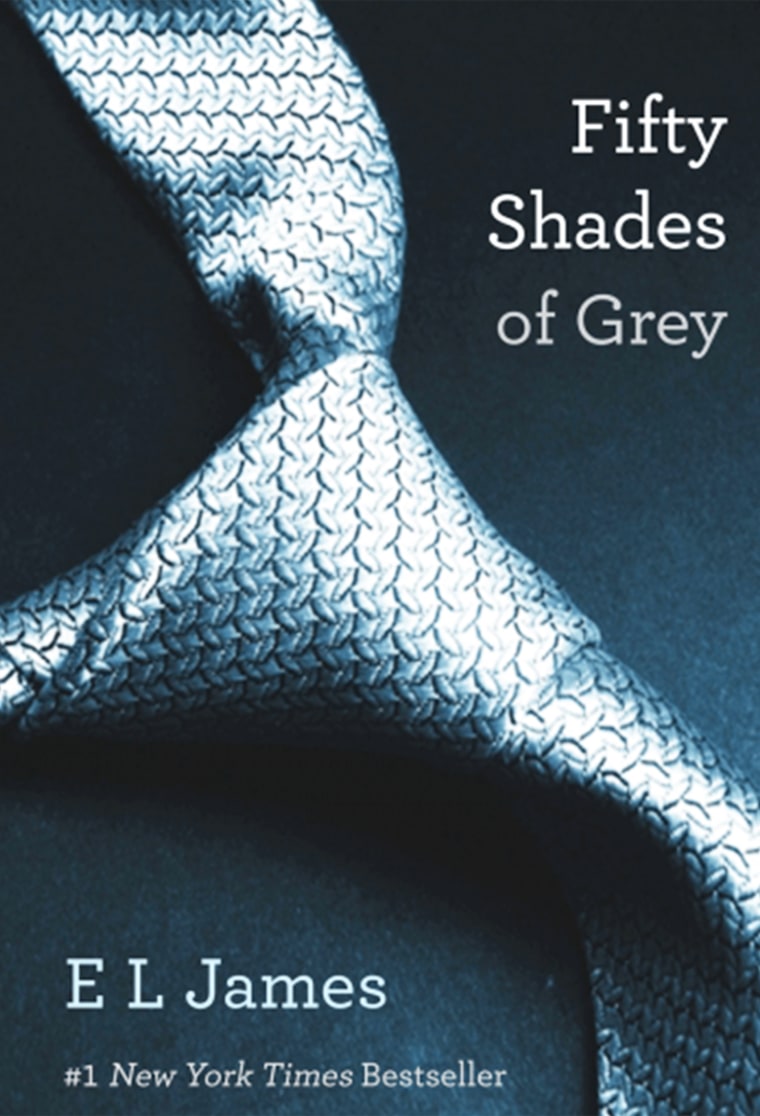 From there, she "discovered" fan fiction and tried out a few usernames (a pen name in the world of fan fiction), before settling on SnowQueens IceDragon and self-publishing the steamy, S&M-filled story that became "Fifty Shades of Grey." 
"That was such a high. I've been very lucky that I've been chasing that high since," she says. 
Her friends were "stunned" to see her "writing project" became this, and so was she. 
"I completely surprised myself," she says. 
While she's since broken publishing records and sold millions of copies, James says her day-to-day life isn't all that different than it was before fame. 
"I just have more than one house," she laughs. "We dip into that kind of life and it's lovely, but we're still the same people. Success came late. It's very unexpected. And my kids have kept me grounded."
An ordinary life
The mom-of-two describes her life as "mundane." Most of the time, she's writing. 
"I come in, sit down. I read what I've written the day before. Make changes. Edit that, and it springboards you into the next part. I just go and see where we end up. I absolutely love it. I hate it as well, because it's very hard," she says. 
However, her desk is littered with proof of her where her writing has taken her. She has a "Fifty Shades of Grey" branded sex toy ("A funny story for you: My son once asked to get the sex toys off the table because his chemistry teacher was coming over"). There's also a custom phone case her husband made with a quote that inspired "The Mister": "What happens when the glass slipper fits?" 
Her husband is neither Christian nor Maxim, but he is arguably better: He is her first reader and is "a man who will listen," she says.
"He writes far better than I do. He'll read a chapter once I've finished it and is very helpful in putting it all right," she says. "He's someone I can bounce ideas off of. I don't always take his ideas, though." 
Next up, James is considering giving "The Mister" and "The Missus" the big-screen treatment, even after her experience with "Fifty Shades of Grey." 
Dakota Johnson, star of the movies, called making the movie a "battle" with James in an interview with Vanity Fair. Trouble, Johnson said, was around editorial control of the movie's script, especially the first. James' husband wrote the subsequent two movies. (Johnson also called James "a very nice woman" and "very kind" in the same interview.)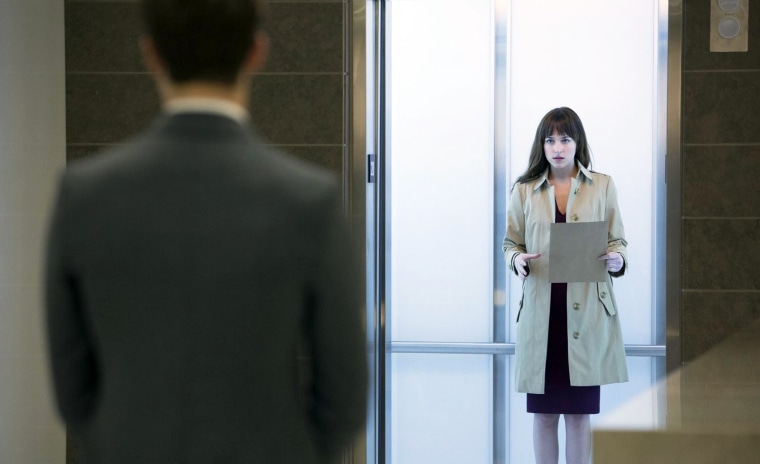 When asked to give her side of the story on the creation of the movies, James considers how to answer. 
"One day," she says.
"I do have a platform and I could use it," she adds. "Sometimes, it's best not to say anything. If you've got nothing nice to say, it's best not to say anything. And keep it that way."
For now, she'll focus on her own work.
"I've got too many stories to tell. I'll concentrate on that," she says. "I'd love to have a serial killer, or something like that. But he will be in love."