"Airplane!" is one of the most beloved and influential comedies to ever hit the silver screen. Surely you want to know more about it.
The new book "Surely You Can't Be Serious: The True Story of 'Airplane!,'" on sale Oct. 3, is an in-depth, behind-the-scenes look at how the iconic 1980 movie was made. It was written by the film's writers and directors, David Zucker, his brother Jerry Zucker and Jim Abrahams, a trio known as ZAZ, who've known each other since they were growing up in Wisconsin. Their efforts making "Airplane!" not only steered it to becoming a hit, but also redefined the comedy genre.
The film came out 43 years ago, yet strongly retains its foothold in pop culture, as well as in the bellies of people who laugh when watching it. ZAZ say writing a book about their experience only made sense.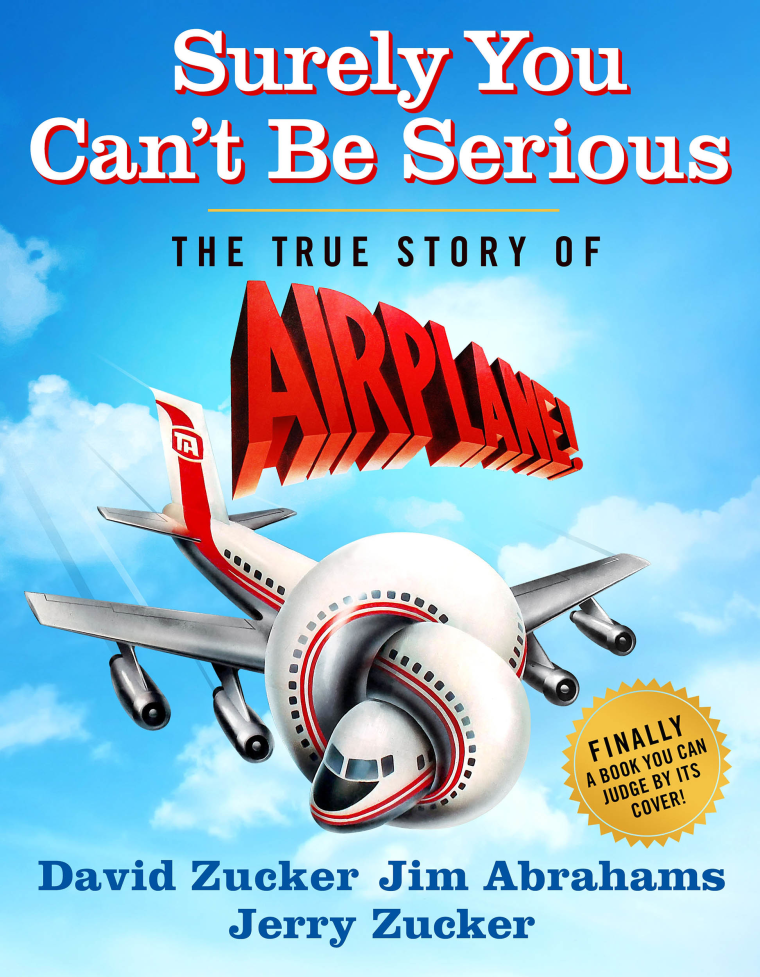 "The movie keeps going on and on. And it never kind of lost its audience and its audience has continued to grow," Abrahams tells TODAY.com in a Zoom interview that also includes David Zucker and Jerry Zucker. "And I think each of us wanted to document what had happened, so that our kids and their kids and their kids, if they're curious, can figure out what went on back in the '70s."
There is no landmark anniversary for "Airplane!" so fans may wonder what prompted ZAZ to write the book now and how it took shape.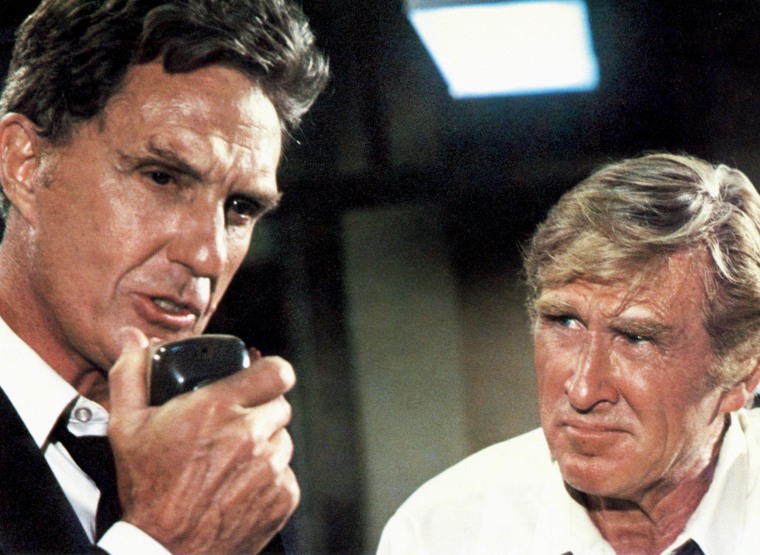 "It's actually it's not so much 'Why now?' but because we had this idea 10 years ago, and so it's just taken us this long to actually finish it. We've been working on this for a long time," David Zucker says.
"When we first started talking about this, we didn't know what kind of a book, like a crazy, funny coffee table book or a satirical book so it's a satire on a book about 'Airplane!' or whatever," Abrahams says. "And then, actually, it was David who kept saying, 'No, we should do it seriously. We should tell the real story.'"
"Airplane!" sits at No. 10 on the American Film Institute's ranking of the 100 funniest movies ever made. AFI also ranked Robert Hays' "Surely, you can't be serious," which leads to a play on the name Shirley — and inspired the book's title — as one of the 100 greatest quotes in movie history.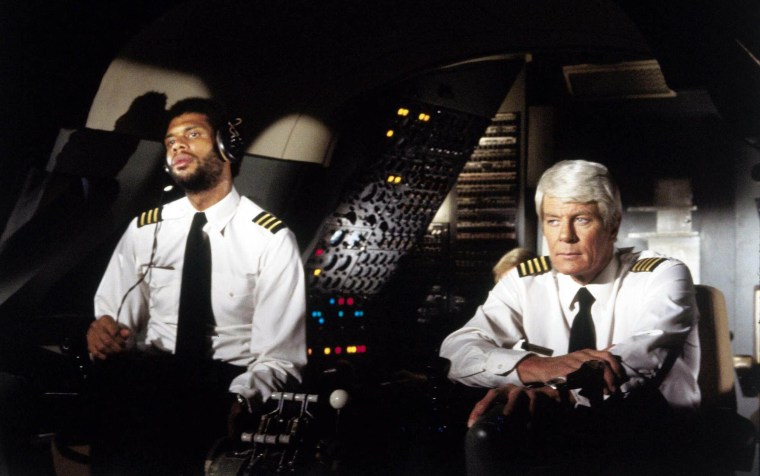 Along with the rapid-fire sight gags, it's one of many classic lines that, even if you don't recite any, you probably know someone who does.
In 2010, "Airplane!" was also inducted into the National Film Registry. It's all pretty heady stuff for a film that was made to poke fun at B movies.
For the uninitiated, "Airplane!" is a parody of the 1957 disaster film "Zero Hour!" that focuses on a flight that is seemingly doomed after everyone who eats the fish for their meal falls ill. Former fighter pilot Ted Striker (played by Hays) is forced to try and land the plane after he gets on it to work out his failed relationship with flight attendant Elaine Dickinson (played by Julie Hagerty).
Just about everyone in the movie is serious, which makes it that much funnier. In the process, "Airplane!" relaunched careers. Peter Graves, Lloyd Bridges, Robert Stack and Leslie Nielsen were dramatic actors, but they played it straight in "Airplane!" — casting coups that paid major dividends. Kareem Abdul-Jabbar, who had a memorable part in the movie, was not the original choice to play Capt. Roger Murdock. Baseball star Pete Rose was the man the creators had in mind, but the movie was shot during the baseball season, rendering him unavailable.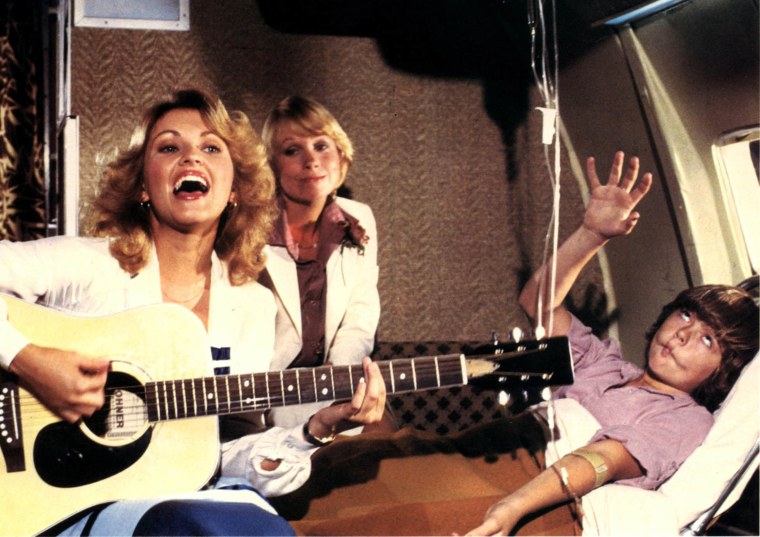 Nielsen would go on to enjoy further success with ZAZ in "The Naked Gun" movies, while Bridges would reunite with Abrahams in the "Hot Shots!" movies, cementing late-career legacies as comedy stars.
"Surely You Can't Be Serious" takes a deep dive into the setbacks and triumphs that went along with making "Airplane!" The book is chock full of fun facts and stories that fans will no doubt find fascinating. It also peels back the curtain on just how steadfast ZAZ were when it came to getting the film on the big screen. The troika are forthright about their perseverance, determination and ideas, as well as an appreciation for the lucky breaks they got along the way.
"We just were totally committed to the concept of doing a comedy with all these great actors and no comedians, and making it look like a B movie," David Zucker says.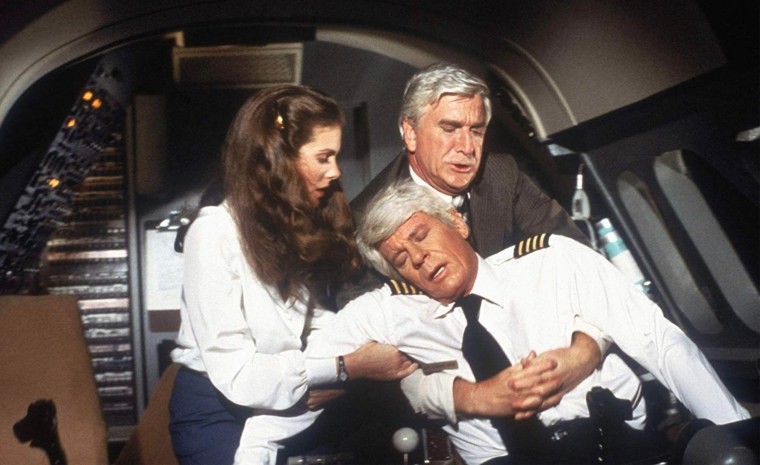 "And so we had that vision, that goal in mind, and everything had to align with that — sets, costume, casting, the whole thing. And, fortunately, as we say in the book, we landed at Paramount and they were OK with it."
"Surely You Can't Be Serious" touches on how ZAZ broke into comedy with their troupe, Kentucky Fried Theatre, which led to their first big-screen offering, 1977's "Kentucky Fried Movie." That comedy was well received, but their follow-up was "Airplane!" and making that was like, well, lifting a plane off the ground before it landed at Paramount Pictures.
The jokes in "Airplane!" hit with the swiftness of a 747 preparing final approach. There are many classic scenes, including a few that may raise eyebrows today, like the one where "Leave It to Beaver" star Barbara Billingsley has to translate two Black men speaking jive or when Graves talks suggestively to a minor passenger in the cockpit.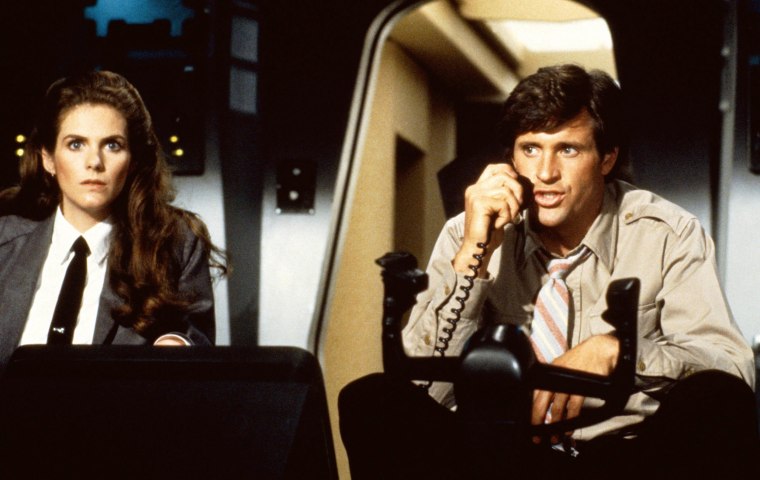 David Zucker wrote an op-ed piece for the New York Post in 2021, saying how hard it would be for something like that to fly in today's world.
"It would be tough to get 'Airplane!' into the studio boardrooms today, because they would say, 'No, you can't do the Black dudes. You can't do the pilot talking to the kid. You can't do this. You can't,'" he tells TODAY.com.
"I mean, everybody's so sensitive. They don't want to be tagged with, 'Oh, I'll be considered a bigot,' this or that. So it's gotten very political in the upper echelons, but I think the rank-and-file humans just want to laugh."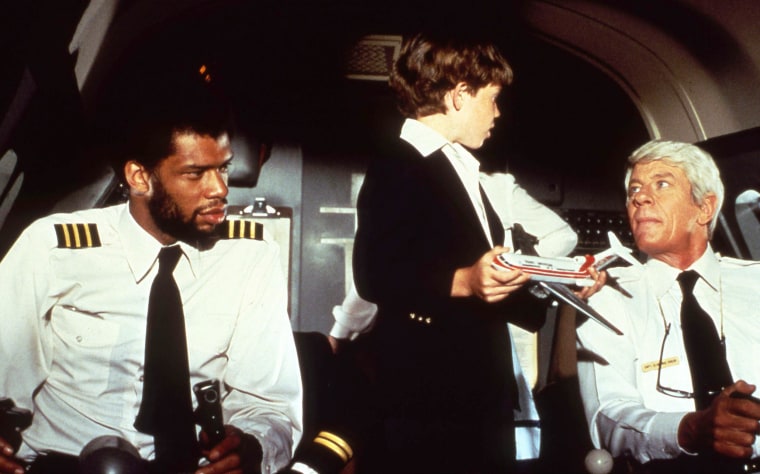 Despite all the success they've had with "Airplane!," "The Naked Gun" movies and other films they made not as a trio ("Ghost," "My Best Friend's Wedding" and "Rat Race," among them) that followed, ZAZ still don't feel like they're part of the Hollywood establishment.
"I think that's still in us," Jerry Zucker says. "When we came out to Los Angeles, because we had each other, we didn't really integrate into Hollywood that much. We didn't have a ton of friends with stand-ups or anybody making movies or anything like that.
"We had each other and so I think it was probably helpful that we never got into what everybody else was doing. And so I think even though now we've all made a lot of movies, we all still have that kind of mentality of outsiders."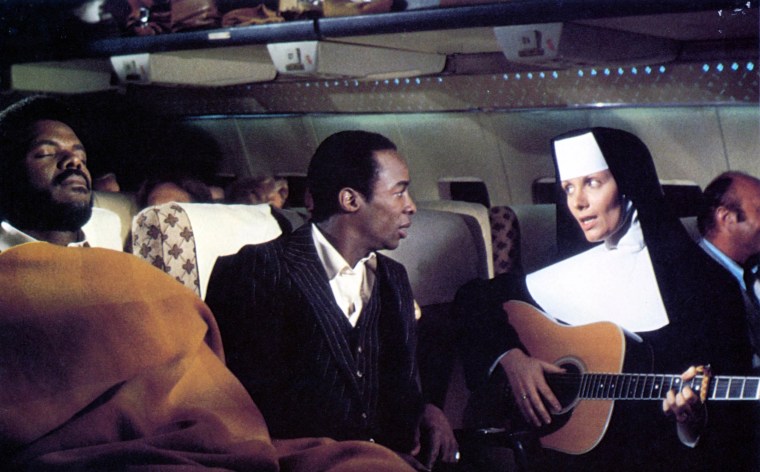 "Airplane!" led to a sequel that ZAZ did not make (they've never even seen it), but the trio did have their own idea for a second installment that never came to fruition. ZAZ are relieved they never went down that road.
"Quite honestly, I'm glad we didn't do it," Abrahams said. "And as the years go by, it would be more impossible to do it because the movie, and we talked about it in the book, people who are influenced by 'Airplane!,' the movie has almost become more iconic and much more difficult to duplicate today than it would have been 40 years ago."
ZAZ have not written a movie together since the first "Naked Gun," and while Jerry Zucker says "it's not completely impossible" they'd collaborate again, he takes pleasure in teaming up to tell the story of "Airplane!"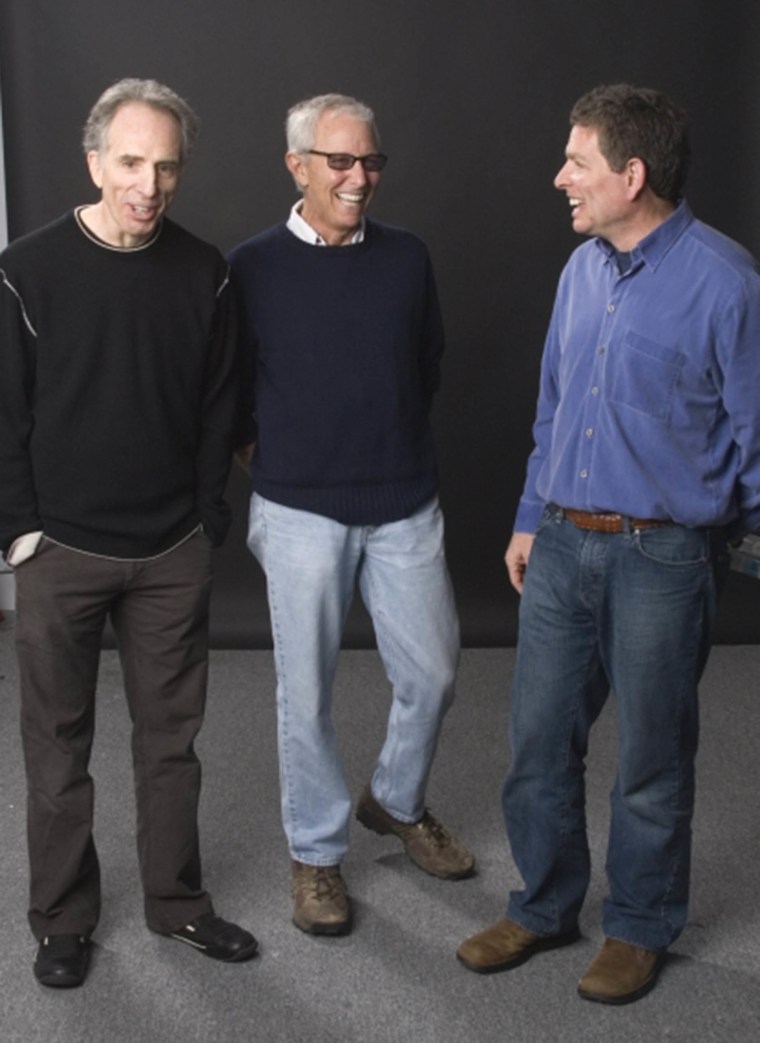 "One of the great things I think for all of us about doing this book was being in a room together working on something, creating together, which we love. It's like a drug. We just so enjoyed it," Jerry Zucker says.
It's simplistic and redundant to say "Airplane!" had an impact, but it is so true. The book is filled with comments from celebrities saying just how important the movie was to them and what it did for comedy. ZAZ remain awed by that.
"I can guarantee that our goals didn't include back then, that 43 years later, we'd be writing a book about the movie," Abrahams says. "What kind of kids think 43 years down the line, anyway, but I think we've all been sort of stunned and grateful for the reaction it's had and it just keeps lasting and lasting."