If you ever won the office Oscar pool by picking Marisa Tomei or Anna Paquin, then you're fully aware that best supporting actress can be a tough call.
If there's a single category where an out-of-nowhere choice comes from behind to take the prize, it's this one, so tread carefully when making your selections.
This year, it's the supporting actresses who offer perhaps the most diverse mix of performers: The oldest and youngest acting nominees are represented in this category, along with the most first-time nominees and the only African-American nominee as well. Oh, and the only-cross dresser.
Predicted winner: Cate Blanchett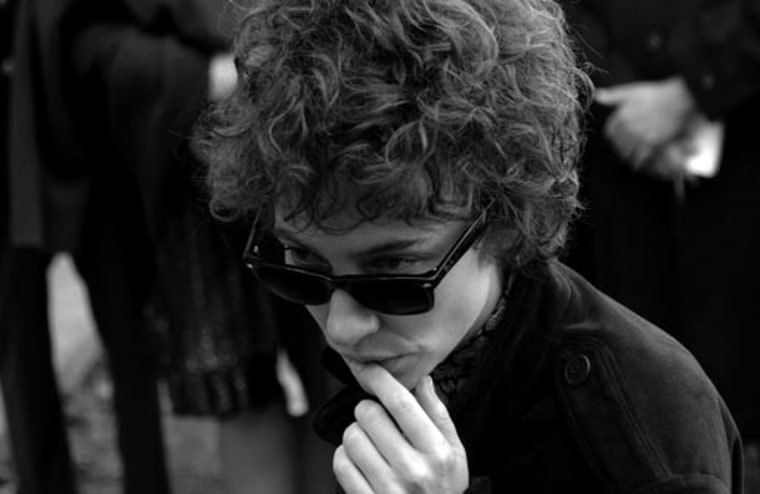 Oscar buzz has been deafening around Blanchett's performance as the "Don't Look Back"–era Bob Dylan in Todd Haynes' "I'm Not There" ever since clips started popping up online in late August. (Yes, technically, Blanchett is playing "Jude Quinn," but let's not kid ourselves.) Blanchett's performance isn't just a masterpiece of mimicry, though; she perfectly captures the struggle of an artist yearning to break out of the stranglehold of public expectation, refusing to give the public or the media what they expect and dealing with the inevitable backlash. But it's not just merit that makes Blanchett the favorite here; the actress has three Academy indicators on her side.
First, there's the fact that she's playing a real-life celebrity; actors portraying Truman Capote, June Carter, Virginia Woolf and Ray Charles are recent examples of Oscar voters enjoying that sort of thing when it's done well. Add to that the fact that Blanchett is seamlessly playing a man without any sort of wink to the audience; that kind of gender cross-over brought Linda Hunt an Oscar in this category for her portrayal of Billy Kwan in 1982's "The Year of Living Dangerously."
Finally, she's got the whole multiple-nomination thing going for her. Blanchett is the eighth woman in the history of the Academy Awards to be nominated for best actress and best supporting actress in the same year; of the previous six, three of them (Fay Bainter, Teresa Wright, Jessica Lange) won the supporting actress Oscar, while one (Holly Hunter) took best actress and three (Sigourney Weaver, Emma Thompson, and Julianne Moore) went home empty-handed. Despite a dry spell for recent double nominees, I still expect Blanchett to take home a second supporting actress trophy (she previously won for "The Aviator"). But this is still the category where anything can happen.
Ruby Dee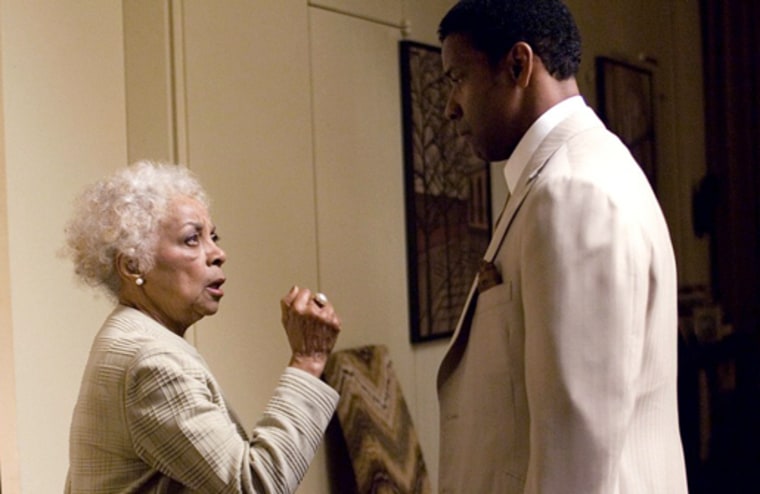 Not to take anything away from the extraordinary stage, theater and television career of this legendary actress — to say nothing of her accomplishments as a civil rights activist — but does anyone really remember anything Ruby Dee did in "American Gangster" besides slap Denzel Washington?
Granted, the members of the Screen Actors Guild obviously felt compelled, but it's worth pointing out that of the five SAG-nominated performances for supporting actress, "American Gangster" was the only film that had screeners sent to the entire membership of the group. And with all due respect to Dee, that's the sort of detail that wins awards these days. (Just ask the marketers of "Crash.")
It's fair to say that if Dee wins the Oscar this year, the award will be an acknowledgment of her 50-plus years in the movies (one of her first roles was as the wife of the legendary baseball player in 1950's "The Jackie Robinson Story") and of her many achievements with her late husband Ossie Davis both on and off the screen. The Emmy- and Grammy-winner is due all honors for her meritorious life, but her all-too-brief appearance in "Gangster" may not be enough to put an Oscar on her mantle.
Saoirse Ronan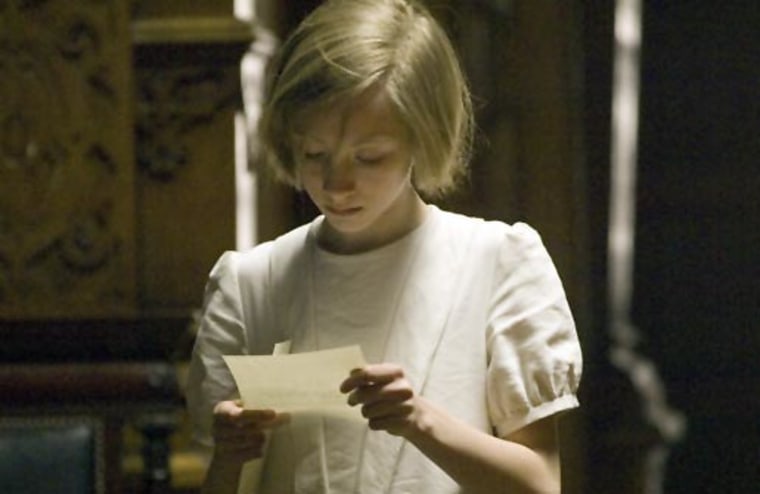 At the other end of the life spectrum from Ruby Dee is 13-year-old actress Saoirse Ronan, nominated as one of three actresses playing the role of Briony Tallis in "Atonement." (And in case you were wondering, it's pronounced "SEAR-shuh," and it's an Irish word for "freedom.") Being the only acting nod among the seven nominations for "Atonement" puts Ronan in a good or bad position, depending on which Oscar prognosticator you ask, but the fact that she's an adolescent and a new face to Americans makes it an uphill battle for her. (Not an impossible one, however — just ask Anna Paquin.)
I'm willing to say that the lack of nominations for any of Ronan's co-stars spells a certain cooling of the initial enthusiasm for "Atonement," and that this young actress is probably the longest shot in this category. (Which, perhaps, makes her the surest winner? This is where Oscar-predicting drives relatively sane pundits into madness.)
Ronan will next be seen opposite Michelle Pfeiffer and Paul Rudd in Amy Heckerling's new comedy "I Could Never Be Your Woman" which, for reasons known only to its untried distributor, is bypassing theaters and coming out on DVD in mid-February.
Amy Ryan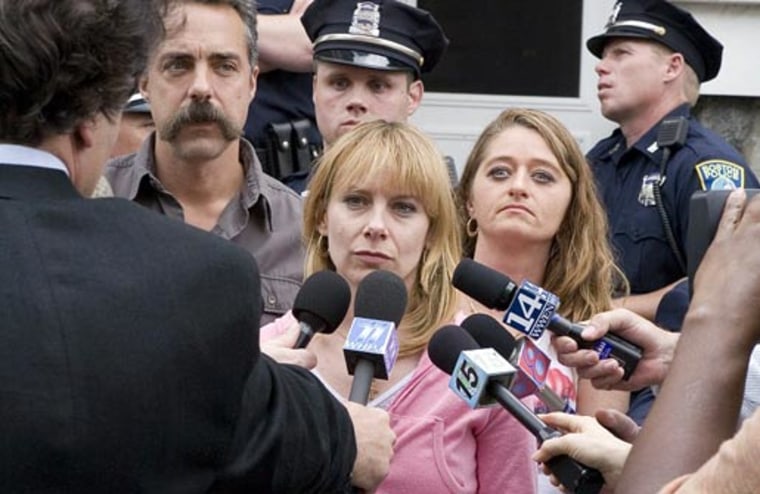 Blanchett's got strong Oscar mojo in her favor, and Dee has history and goodwill. But if there's a clear critics' favorite in the bunch, it's Amy Ryan and her unforgettable portrayal of a messed up mom with a missing child in Ben Affleck's powerful directorial debut "Gone Baby Gone." Thirteen critics' groups honored Ryan this year, making her the toast of ink-stained wretches literally from coast to coast.
It also helps that she's been involved with two other critically beloved projects of late: Ryan played Ethan Hawke's estranged wife in Sidney Lumet's "Before the Devil Knows You're Dead," one of 2007's best-reviewed films, and she's also got a recurring role on the HBO series "The Wire," which TV journalists everywhere consistently list when writing those "Why aren't you watching these shows?" articles.
The two-time Tony nominee has appeared in just a handful of films so far — including "You Can Count on Me" (opposite best actress nominee Laura Linney), "Capote" and "Dan in Real Life" — but her "Gone Baby Gone" performance has turned a lot of the right heads; Ryan will be appearing in the next films from directors Clint Eastwood, Paul Greengrass and Spike Lee. Even if she winds up Oscar-less at the end of this year's festivities, she's probably got many more trips to the Kodak Theater in her future.
Tilda SwintonIf you're a fan of film festival fare, you've probably adored the work of Tilda Swinton for years. From her numerous collaborations with British queer underground filmmaker Derek Jarman to her championing of offbeat and challenging fare like "Female Perversions," "Orlando" and "Love is the Devil," Swinton has been something of a pin-up girl for audiences who liked their movies to be complicated and visionary.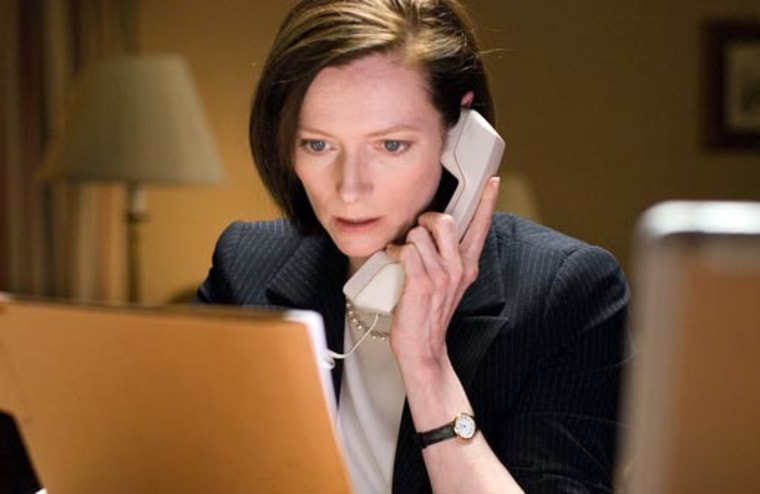 Her nomination for "Michael Clayton" confirms that Hollywood has finally caught up to this fair-skinned and fiercely intelligent screen goddess. The last few years have seen Swinton applying her combination of old-school glamour and an off-putting thousand-yard stare to good use in mainstream movies like "The Chronicles of Narnia: The Lion, The Witch and the Wardrobe," "Vanilla Sky," "Adaptation" and "Constantine" while still taking on edgy projects like "Young Adam" (which featured Swinton in a fairly explicit sex scene with Ewan McGregor) and Sundance fave "Stephanie Daley."
In "Michael Clayton," Swinton veers from her usual onscreen persona by playing a corporate drone who's involved in a massive cover-up, but her gifts for digging through a character's multiple layers is very much on display. One wordless scene in which she tries on an outfit before attending a conference reveals everything about this woman and  how uncomfortable she is in her own skin.
Hollywood comes calling for Tilda Swinton with greater frequency these days, but she remains as riveting and unpredictable onscreen as ever. And while she's not likely to win an Oscar this year, the Academy is likely to eventually catch up with the connoisseurs who are her longtime admirers.
Should have been nominated: Margo MartindaleThis journeyman character actress is probably more recognizable by face than by name — you saw her play moms in "Walk Hard" and "Million Dollar Baby," and she has a recurring role on FX's "The Riches" — but she's always terrific. And her work in Alexander Payne's segment of the anthology film "Paris je t'aime" absolutely deserved to be cited as one of the best of the year.
Inspired by David Lean's "Summertime," Payne's short film "14ème Arrondissement" features Martindale as Carol, a letter carrier from the U.S who spends a week in Paris. Carol narrates the film (in brilliantly broken French) as a report to her night-school French class, and we see this solitary American alone and adrift in one of the world's great cities. Ultimately, she has an epiphany about Paris — and her life — that is both uplifting and heartbreaking.
Martindale keeps the fireworks to a minimum, but in just a few short minutes she nails the character in a much deeper way than many performers could manage with hours of footage. Never condescending, Martindale offers a window into Carol's crushing solitude and her moment of reckoning in a way that is absolutely devastating. I've shown the Payne film to friends on DVD on many occasions, and Martindale's moving performance never fails to bring tears to my eyes.