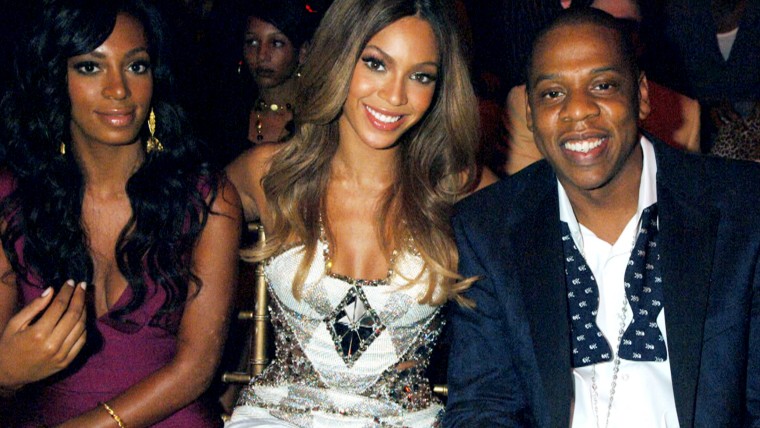 Unafraid to press buttons, Beyoncé surprised fans Saturday night when she released a "Flawless" remix that seems to reference the May 5 elevator skirmish between her husband, Jay Z, and her sister, Solange Knowles.
"We escalate, up in this (expletive) like elevators. Of course sometimes (expletive) go down when there's a billion dollars on the elevator," Beyoncé sings on the track she shares with rapper Nicki Minaj. (The original version on "Beyonce" features Nigerian writer Chimamanda Ngozi Adichie.) The lyric — with the money amount an allusion to the trio's supposed net worth — is repeated and followed by a maniacal laugh and the sound of a cash register. 
In May, TMZ posted a 3-minute security-camera video of the three recording artists' incident in an elevator of New York's Standard Hotel, which was hosting an after-party for the star-studded Met Gala. In the footage, Solange punches and kicks Jay Z before another man separates the two. Beyoncé remains on the opposite side of the elevator during the fight.
The three have mostly been mum on the topic, but 10 days after the incident, they issued a statement to the Associated Press.
"As a result of the public release of the elevator security footage from Monday, May 5th, there has been a great deal of speculation about what triggered the unfortunate incident. But the most important thing is that our family has worked through it," reads part of the statement. "Jay and Solange each assume their share of responsibility for what has occurred. They both acknowledge their role in this private matter that has played out in the public. They both have apologized to each other and we have moved forward as a united family."
In the August edition of Lucky Magazine, Solange chose to focus on the resolution rather than "that thing" that happened on their way to the Met Gala after-party.
"What's important is that my family and I are all good," she told the magazine. "What we had to say collectively was in the statement that we put out, and we all feel at peace with that."
Now, with Beyoncé weighing in on — and apparently laughing at — the incident through song, listeners are wondering what to make of her and her husband, who, in recent weeks, have been battling rumors that they're splitting up.
TODAY anchors Natalie Morales, Tamron Hall, Carson Daly and Savannah Guthrie offered their reactions to the remix Monday morning.
"I don't know that we've learned anything more than she's at least talking about it in one line of a song," Morales said.
Hoping to solve what she called "The Beygency Code," Hall agreed: "I kept saying, 'What does this mean? What does this mean?'"
Daly, a former host of MTV's "Total Request Live," wondered about the way the singer chose to deliver her side. "We're looking for answers between Jay Z and Beyoncé," he said, "and we're going to the lyrics to their songs."
Guthrie focused on another struggle, adding, "'Elevator' is a tough word to rhyme."
Beyonce and Jay Z are currently on the road for their "On the Run" tour.
Follow TODAY.com writer Chris Serico on Twitter.