It's a time of reckoning in Tinseltown.
More than a month after sexual assault and harassment allegations against former Hollywood heavyweight Harvey Weinstein made headlines, stars are still opening up about their own experiences with the movie mogul and shining a spotlight on misconduct from a growing list of other big names in the biz.
For actor-director Ben Affleck, who's worked closely with Weinstein in the past, that means finding a way to move forward in movies while reconciling the past.
"It certainly feels like a really important moment," Affeck explained during a sitdown with TODAY's Savannah Guthrie. "It feels like a time when survivors are finding their voice and people are sort of — and I include myself in this — really discovering the terrible extent of this problem here in our country."
Now, he's reexamining the extent to which his own career has benefited from working with Weinstein — on films like 1997's "Good Will Hunting," which earned Affleck his first Oscar — all while Weinstein's behavior caused trouble for so many others.
"I knew he was sleazy and kind of a bully, but unfortunately, that wasn't that uncommon," he said looking back on those early days. "I was brand new to Hollywood, 24 years old. I had never made a movie; I didn't know much of anything really.
"And, you know, it really is a shame because although I stopped working with Harvey a long time ago, those movies hold a special kind of place in my heart and to now look back on it and think like, 'Gosh, some other people were going through something really ugly and disturbing (experiences)."
But he's found something that's helped him navigate those mixed feelings. The "Justice League" star has said he will give his residual checks from the movies he did with Weinstein and Miramax to anti-sexual violence organizations like RAINN, which runs the National Sexual Assault hotline.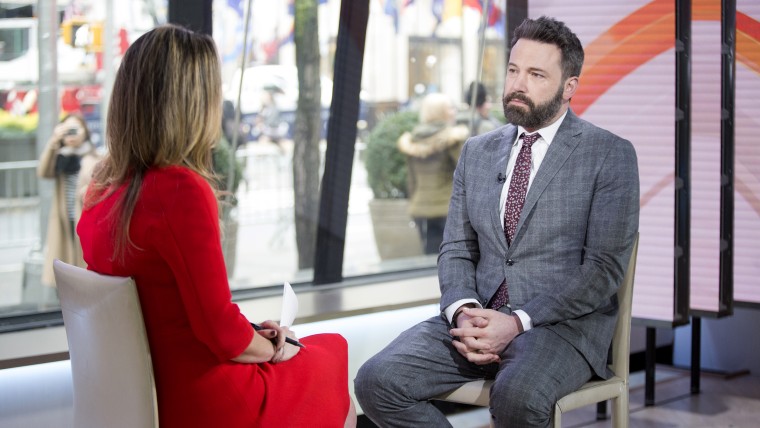 "And it's sort of a way for me to feel better about that early stage of my career when I made those movies with him," he said.
In the wake of the claims against Weinstein, Affleck found himself the focus of an allegation that made headlines. Former "One Tree Hill" star Hilarie Burton said the star groped her while shooting a 2003 spot for MTV's "TRL."
Affleck was quick to apologize for acting "inappropriately," and he continues to reflect on his own behavior and strive to be "part of the solution."
"There's plenty of jokes I wouldn't have made or things I wouldn't have done," he said. "It's just a time when ... there's just a heightened level of awareness, and that means one of the good things about that is the self-consciousness of, 'How am I fitting into the world here? How are my actions affecting other people? How is this interaction going to leave this person feeling?'"
"It's easy to sort of gloss over that stuff and get self-involved," he added. "The hard thing is to really, as I said, be mindful and live in the present moment."