A Banksy mural that was removed from a Hollywood gas station wall fetched $209,000 at the first U.S. auction of the reclusive British street artist's work, an auction official said on Friday.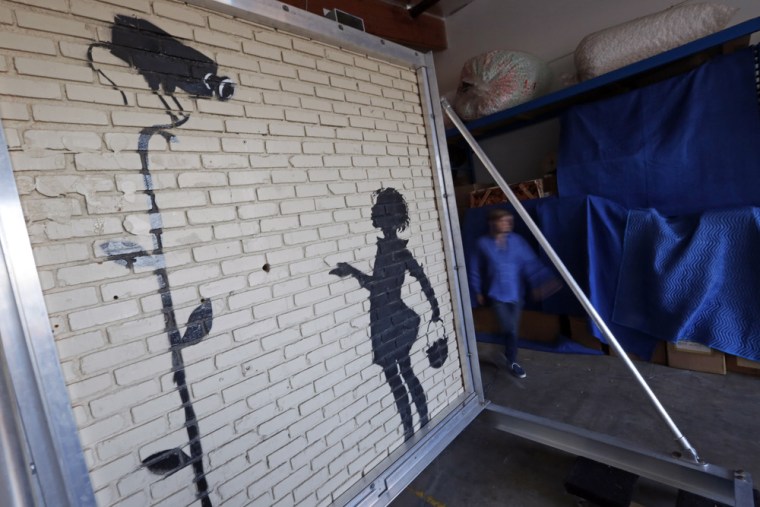 Beverly Hills-based Julien's Auctions sold the Banksy piece, on a 9-by-8-foot slab of beige brick wall, weighing close to four tons, to an anonymous bidder on Thursday, spokeswoman Caroline Galloway said.
"Flower Girl," completed in 2008, features a spray-painted stencil image of a young girl staring up at a surveillance camera posted atop an over-sized flower stem. The piece was removed from the wall of a Chevron station in Hollywood by the station's owner, Julien's Auctions said in a statement.
Banksy, whose graffiti and stenciled paintings appear as social commentary in public spaces and private property around the world, emerged in Bristol, England, in the early 1990s.
Despite having worldwide notoriety and being featured in the 2010 Oscar-nominated documentary "Exit Through the Gift Shop," the artist has kept his real name a secret. In October, he concluded a month-long "street residency," where he placed artwork around New York.
"Banksy has been one of our most provocative yet entertaining subjects to auction to date," said Martin Nolan, Executive Director Julien's Auctions in a statement.
"The excitement in the room when Flower Girl went up for auction was electrifying," he added.
Julien's Auctions "Street Art" show, which featured works by 33 artists, sold four other works by Banksy, including the 2003 "TV Girl" stencil of a barefoot child cradling a television set, which sold for $137,000. The additional Banksy sales totaled $248,250.
The sale comes on the heels of a London auction that pulled in $1.1 million for a Banksy mural known as "Slave Labour," which depicts a young child producing Union Jack patches on an industrial sewing machine.
More of Banksy's artwork is due to go on sale in Miami later this month.