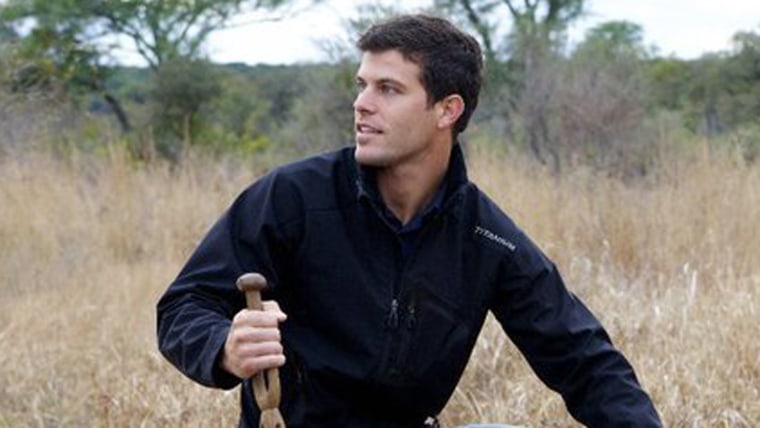 Goodbyes are never easy, but this one stings more than most. Week four of "The Bachelorette" was an emotional one, as Andi Dorfman and Bachelor Nation said a teary farewell to contestant Eric Hill, who died not long after leaving the show in a paragliding accident in Utah. Eric's exit during Monday's episode was unexpectedly dramatic and contentious — but we'll get to that. Let's recap. (Beware of spoilers ahead).
The episode kicked off with Andi and Dylan embarking on a railroad-themed one-on-one date through the Connecticut River Valley. Andi wanted Dylan to open up to her, and he sensed that — but his story may have been a little more than she bargained for. He alluded to it briefly when he mentioned his brother's funeral during their ride on the Essex Steam Train, but it wasn't until they were at dinner that he really unloaded.
Speaking slowly and at times holding back tears, Dylan revealed that he'd lost both his sister and brother to drugs. His sister died when he was in college, about four years ago; his brother died last November, just before Dylan's birthday. "I was kind of a wreck, to be honest," he confessed, wiping his eyes. "I had to be there for my mom, and my mom could barely move."
Andi was moved by his openness but felt bad that she had made Dylan relive all those terrible memories on their date. She cried, too, at the table and in her confessional, and then presented Dylan with the date rose, assuring him that she was giving it to him not because she felt bad for him (even though she did), but because she felt closer to him and honored that he had been so candid with her.
The next day, she met up with Eric, Nick, Brian, Cody, Andrew, Marquel, Josh, JJ, Chris, Patrick, and Tasos for a group date at the Mohegan Sun arena, where a team of WNBA superstars was waiting to school them on the court. "These girls are smoking us," Nick admitted. "We are running around like a bunch of little infants, and they are barely trying."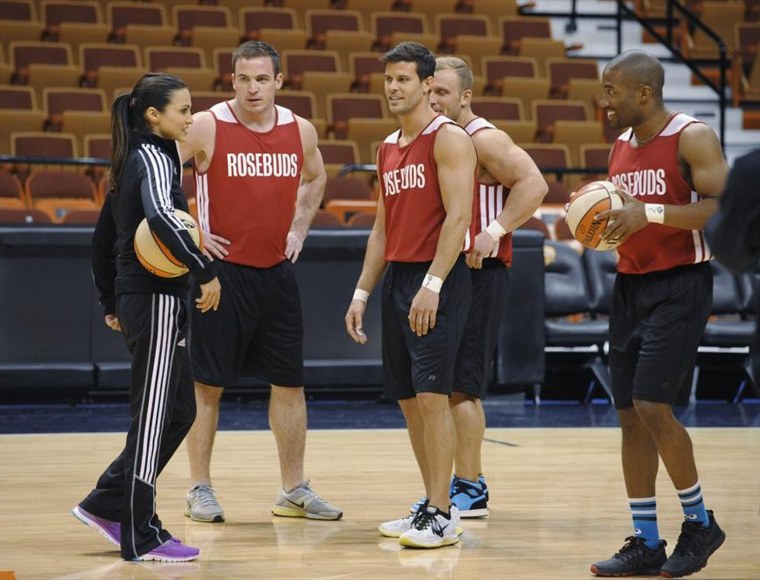 To even the playing field a bit, Andi took the WNBA players out of the game and split the guys into two teams, the Rosebuds and the Five of Hearts. Whichever team won the game would get to finish the date with a cocktail party; the losers would be sent back to the suite early. Thanks to Brian — a high school basketball coach by trade — the Rosebuds won handily, leaving the Five of Hearts players seething in the locker room. "I'm pissed," Josh said. "I'm fired up right now. I hate losing."
PHOTOS: Big moments in Bachelor history
Later that night, Team Rosebuds — Eric, Nick, Brian, Cody, Andrew, and Marquel — joined Andi for a nightcap and some one-on-one chats, during which she confronted Eric about the "stalled" pace of their relationship. She pressed him to be more open with her, so he told her about his family, his faith, and his decision to leave the Mormon church when he was 26. "I feel like we cleared the air," she said after their talk. "The spark is reignited."
Things heated up between Andi and Brian, too, especially after he impressed her with a flawless half-court shot back in the arena. "When he made that shot, there was a part of me that was just like, 'Kiss me now,'" she quipped, fanning herself. Unfortunately, Brian didn't read the signs very well and went in for a hug instead. His lack of game off the court apparently didn't matter as much as his game on the court, though, as Andi gave him the group date rose at the end of the night.
The next day, for her one-on-one with Marcus, Andi decided to tackle her fear of heights with a daredevil-themed date: rappelling down the side of their 30-story hotel. "This is that leap-of-faith day," she explained. Marcus admitted that he, too, was "petrified" of heights, but when Andi froze at the top of the building, he set aside his own fears to literally talk her off the ledge. "I'm not gonna freak out," he said. "I need to be the man in the relationship."
PHOTOS: Bachelor stars' scandalous pasts
Andi was charmed, and promptly rewarded him with a kiss, the coveted date rose, and a primo spot at country singer Jon Pardi's concert later that night. "I'm falling for you quicker than I ever imagined," he confessed as they danced onstage. "I think I'm falling in love with you. It's the scariest thing in my life right now."
Back at the hotel, Andi received an anonymous love letter from one of the guys. After reading it, she readied herself for that night's rose ceremony, gushing that she felt "a sense of calmness." Cue the storm.
The cocktail party started out well enough — Brian even got a second chance at that first kiss! — but things took a turn when Eric pulled Andi aside to talk about their last conversation. He disagreed with her earlier complaint that he hadn't been open enough with her, telling her he felt that it was actually the opposite — she hadn't been open enough with him. "I came on this to meet a person, not a TV actress," he said.
Andi took his words hard and to heart, ultimately bursting into tears and telling him to leave. "I think at this point, you and I both know that this is not gonna work," she said, crying. I think you see it, I see it, right now, in this moment. I cannot fight for somebody who doesn't believe in me, and I don't think you do."
PHOTOS: Celebs who love the Bachelor
Eric countered by saying he believed in what they had on their first date, but that everything between them since then had been so formal. After he left, she confronted the remaining 12 guys about what he'd said, telling them through tears that anyone who thought she had a "poker face" could "walk [their] ass on out" the door. "I am so exhausted, and I am trying so hard," she cried.
Normally, this is the point in the evening when Chris Harrison would appear to announce the commencement of the rose ceremony. Because of Eric's death, however, producers opted not to show the ceremony (during which Tasos was eliminated), and instead aired a conversation between Chris and Andi about the way Eric left the show, and how his passing had affected her and the rest of the "Bachelorette" family.
"To be honest, the way Eric left and my last conversation with him is not ideally the last conversation that I would want to have with somebody," Andi admitted, noting that usually she'd get a chance to smooth things out during the "Men Tell All" special later in the season. "I can't have that [other] last conversation with Eric. I can say I feel like if I had that last conversation with him, he'd probably say something, I'd probably laugh, and it'd be water under the bridge. But unfortunately, we don't get to have that last conversation, and that's a tough pill to swallow."
More on TODAY.com: