Megan Thee Stallion is putting to bed speculation of an MTV VMAs feud with Justin Timberlake that began to spread last week.
While promoting her collaboration with Flamin' Hot as Hot Girl Dean of Admission for Flamin' Hot University, the rapper took a moment to give fans a lesson unrelated to her latest academic effort.
Speaking to People, Megan dissected the highly scrutinized interaction between her and Timberlake at the awards show. The rapper underlined that she loves the "Mirrors" singer and emphasized that fans read too much into the video that showed them interacting backstage.
"First of all, I do not have any apps on my phone social media-wise except for TikTok," she explained. "But when somebody asked me, 'Were you fighting with Justin Timberlake?' I said, 'Why would you say that? In what world would Megan Thee Stallion be fighting with Justin Timberlake? What are you talking about?'"
"I just talk with my hands," she explained. "So I was telling him, 'No, I didn't really get to meet you. This does not count.' I had my in ears in. I couldn't hear what he was really saying, but we talked after and I was like, 'Oh man, they think I'm back here tussling with Justin Timberlake.'"
Megan called assumptions that the two had a heated exchange "foolish."
"I'm like, 'Dude, we're just back here trying to bring sexy back. Y'all think we fighting and s---?'" she replied.
It's not the first time Megan or Timberlake have addressed their alleged beef on the night of the MTV VMAs
"I just talk with my hands," Megan Thee Stallion wrote in a caption on an Instagram post. "@justintimberlake love ya." In a TikTok of the same video, she wrote, "See ya next time (Justin Timberlake)."
In the front-facing camera video, she and Timberlake sit next to each other and laugh. While their words are drowned out by the sound of Fukai Mori's "Do As Infinity," the duo's warm, intimate body language is meant to refute whatever was interpreted by spectators during Sept. 12's VMAs.
The rapper and the former 'N Sync member were captured talking on an MTV backstage camera, which was included in a live feed.
In the short interaction, Megan is getting a make-up touch-up as 'N Sync's five members pass by. Justin Timberlake seemingly leans toward her. She takes a step forward and raises her arm, shaking her hands and pointer finger back and forth. Joey Fatone appears to chime in after. As they finish walking, she turns away and rolls her eyes.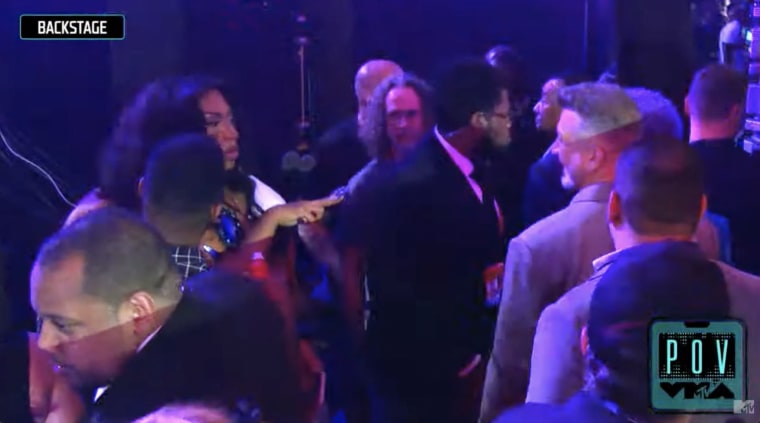 It's unclear what words were exchanged between Megan and Timberlake, as audio was not included in the clip. But that hasn't stopped fans from debating what, exactly, was said, and whether an argument had taken place.
"A Megan Thee Stallion and Justin Timberlake backstage vma fight was not on my 2023 bingo card," tweeted @seanlofficial.
"an argument between megan thee stallion and justin timberlake is not what i expected tonight, what do you think this was about??" another wrote.
Some fans were quick to "stand with Megan." Others said people were quick to "manufacture beef" between the two stars before knowing the full story.