Horse racing wasn't the only spectator sport at the Kentucky Derby. The crowds there were treated to a screaming fight between Anna Nicole Smith and Kid Rock, says a source.
"Anna Nicole had a video crew and was filming everything," says a witness to the clash. "Kid Rock got upset and asked her if she had to have cameras following her every move. She snapped back at him and said, yes, she did. It really escalated, and he flipped the bird at her, and then she said, 'I can do that, too,' and flipped the bird back at him. It got pretty ugly, then afterwards, Kid Rock apologized to Anna Nicole's son for making an obscene gesture in front of him."
The source also says that Smith was "the life of the party" at the famed Barnstable-Brown bash in Louisville on Friday night, and that fans were breaking down barricades trying to get in to meet her. Smith upstaged Nick Lachey and Jessica Simpson, says the insider, who says the reality couple was "being kind of aloof" while Smith was cozying up to fans. The source says that Kid Rock was also at the Barnstable-Brown party that night, "and they seemed really friendly. So who knows what happened between them?"
Carey clothing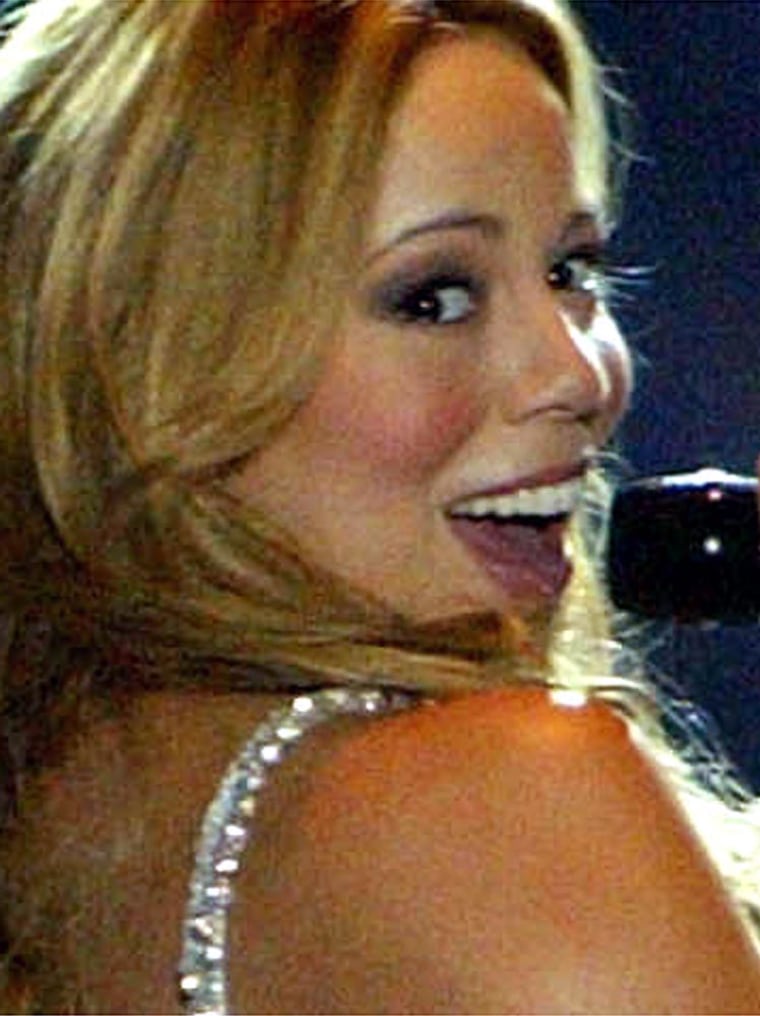 Mariah Carey is known for her skimpy stage outfits — and now she says she wants to start a line of children's clothing.
The diva has been developing a line of jewelry and accessories, and she says she wants to design clothes for kids. "She says she wants to have children, too, but first she needs to find the right man," says a source. "But she doesn't need kids to design clothes for them."
The kiddie outfits will be less provocative than Carey's own clothes, says the source, "but still a lot of fun."
Notes from all over
Britney Spears has a new tattoo, but apparently, something was lost in translation. The singer had some Hebrew symbols put on the back of her neck, but "they are absolute gibberish," according to the London Sun. "She had hoped it would say 'new year' or 'new era,' " a source told the paper. "It seems she's got the words the wrong way round."  . . . Brad Pitt is smoking again. The actor had kicked the habit while getting in shape for his film "Troy."  . . . .Boy George says a concertgoer was silly to sue Courtney Love for bonking him on the head with a microphone. "You go to a Courtney Love gig, you know you're going to get jumping around, that people are going to be spitting at you and throwing things at you," the aging rocker told the Dallas Voice. "And that's what you go for,"
Mondays through Thursdays on MSNBC.com