A bonkers ending! That's what "Scandal" executive producer Shonda Rhimes is promising for the two-part winter finale that begins Thursday. But isn't "bonkers" par for the course when it comes to ABC's hit? At this point, it would be more shocking if the producers gave their characters a little serenity and their whiplash-stricken fans a bit of a break.
But that's not going to happen. So grab your popcorn and your wine and let's take a trip down bananas memory lane to see just how "Scandal" has managed to cram loads of cray cray into eight episodes this season. 
Warning: do not keep reading if you are not caught up.
How Mellie became Mellie
Probably the biggest elicited WHAT came in "Everything's Coming Up Mellie," the season's seventh episode. In a flashback, we saw younger Mellie (Bellamy Young) and President Fitz (Tony Goldwyn) way in love before he was even governor. It was all very Camelot and sweet until Fitz's father Jerry Grant, the former California governor and state Senator, raped his daughter-in-law. Why? Because he could? We're not really sure. We just know that Mellie pretended it didn't happen and this seemed to birth the steely First Lady we all know now. Not to mention, it may have birthed a human. You know, the kind that cries and needs milk. Was the President's first-born fathered by his own father? Ew.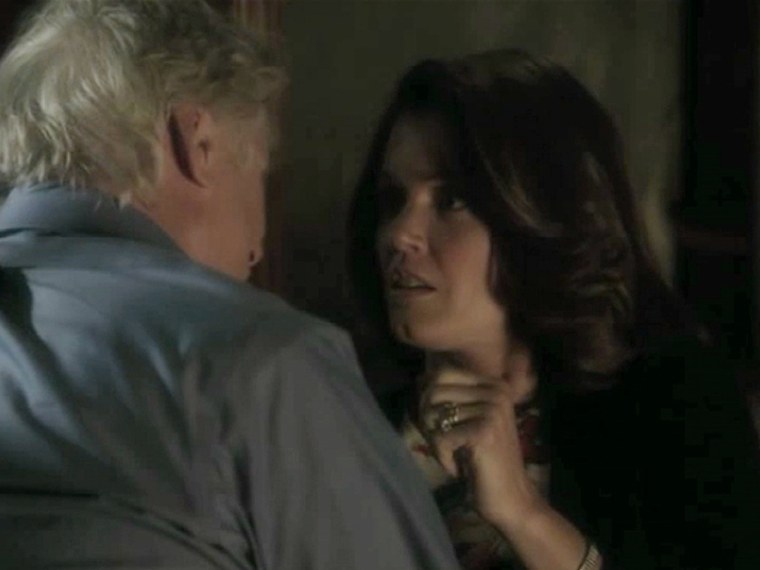 Mom's alive?
But let's not get carried away with indignation because there's Mama Pope in the mix. Maya Lewis (Khandi Alexander) died in a plane crash when Olivia (Kerry Washington) was 12 and it scarred her for life. But now, suddenly, she's alive and (sort of) well and goes by the name of Omar Dresden as she rots in a secret prison cell, where her husband Eli Pope (Joe Morton) periodically visits her and reminds her he'll never set her free.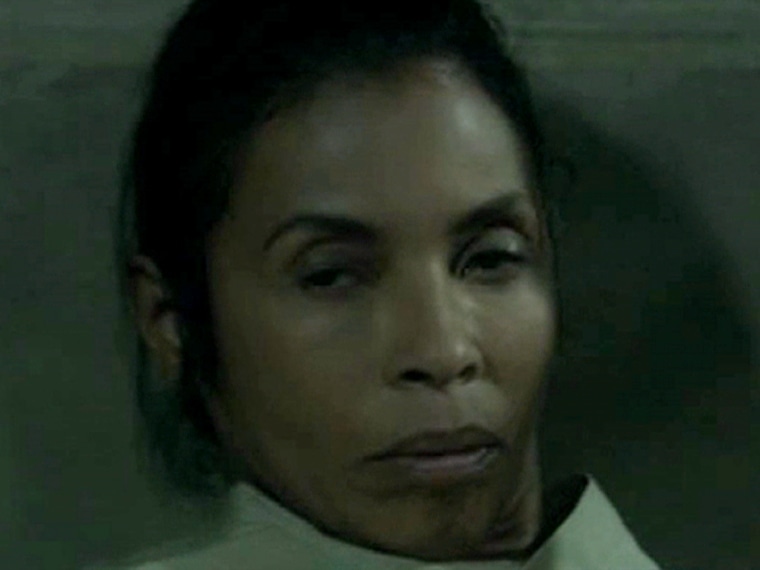 Mom, seriously?
Which brings us to the grossest thing to ever happen on "Scandal." Because Eli was going to transfer her to another facility, and Maya Lewis/Omar Dresden really, really, really longs to see her daughter, she made sure she got sent to the infirmary. By gnawing on her own wrist. Yeah. Exactly. Mission accomplished. Maya/Omar then knocked a doctor out with the sedative that was intended for her and escaped the prison. Where did she go? Olivia's house, of course! The second season ended with "Dad?" Of course, we needed a "Mom?" to go with it.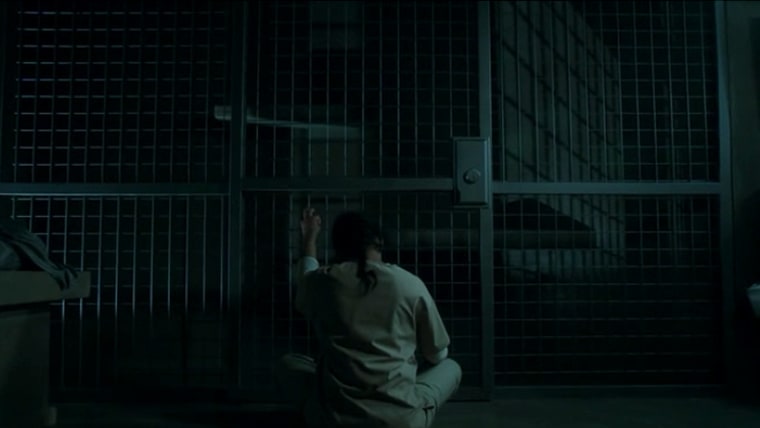 The things we do for love
Speaking of sedatives, in one of the nuttiest character turns ever, sweet nerdy Quinn (Katie Lowes) wants to be like the B613 soldiers that commit murder willy nilly. She was digging Huck (Guillermo Diaz) but he rejected that side of her so now she's hooking up with Charlie (George Newbem) who definitely likes who's she becoming. So he got her to unwittingly murder a security guard and key player in Operation Remington (which is what again?). Girlfriend thought she was just sedating him. Oops.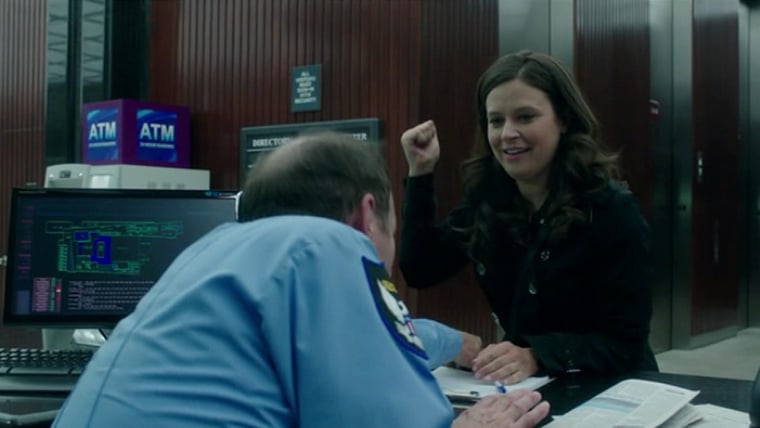 Secrets of a teenage mom
If "Scandal" reminds us of anything, it's that politics is ugly. Take Congresswoman Josie Marcus (Lisa Kudrow) who wanted to challenge Fitz's second term. She seemed like the real deal until something personal got in the way. Something that kind of reminds us of shows like "All My Children" and "The Young and the Restless." When she was a teen, she got pregnant. But her sister turned out to be her daughter so the Congresswoman had to head back to Montana. Yes, sister/daughter.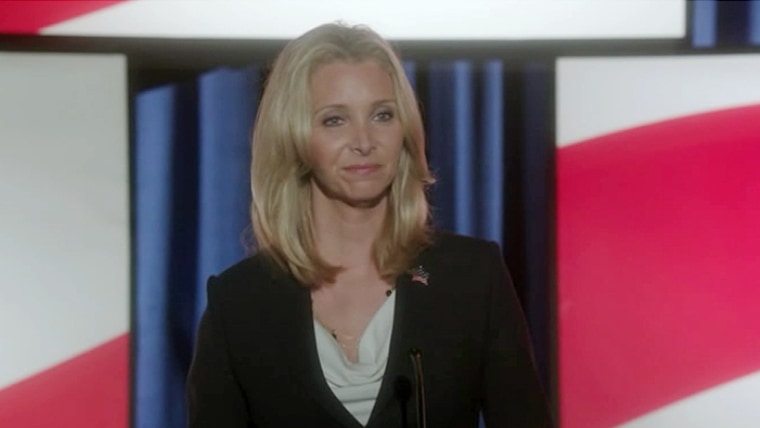 You asked for it, you got it
Is that not ugly enough? How about Cyrus (Jeff Perry) pimping his own husband to ruin the Vice President's (Kate Burton) chances of running against the President? Oh, it was an easy breezy plan. The only thing that needed to happen was that the VP's wandering-eyed husband (Jack Coleman) needed to make a pass at Cyrus' husband James (Dan Bucatinsky) who was interviewing him for a magazine article—an interview that Cyrus orchestrated behind-the-scenes to get the two men alone together. Cyrus encouraged his unknowing husband to ply the VP's husband with booze and wear a sexy V-neck sweater to the interview. What Cyrus didn't count on was that the two men would figure out they'd been set up and slept together anyway. At least, that's how those cell phone pictures made it look. Ta-dam.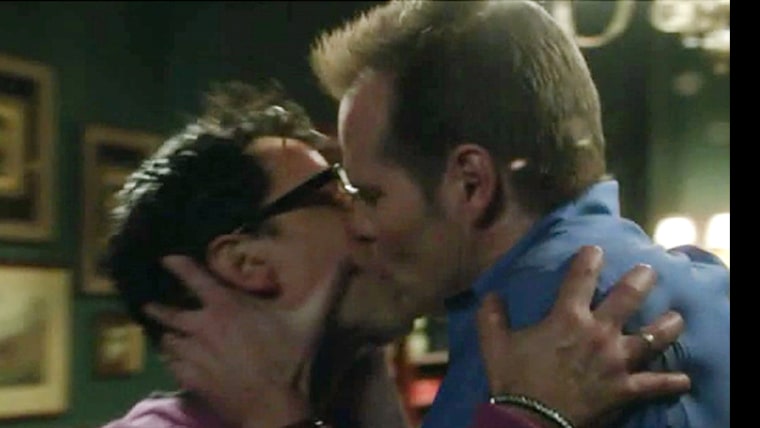 Slow jam
They have rigged elections and murdered people, but they're oh-so in love. Of course, we're talking about "I love you" Fitz and "So what?" Olivia. After many, many, many stops and starts, after she stomped on the FitzPhone, and vowed to stay away from him, he found a way to "summon" her to the Vermont House. Wait, the what? The love nest he built for her back when they were planning to forego ruling the world in favor of making some jam. No, that's not a metaphor. They really wanted to make jam. In Vermont. Now, it's just a dream that's behind them. Except he got her to sleep with him. Again. And afterwards, she told him not to sell the house. Not yet. First, she must figure out the role he played as a Navy pilot in shooting down the plane that her mom allegedly died in (read: Operation Remington). For his part, Fitz must figure out what to do about Papa Pope. If Fitz takes care of him the way he did Supreme Court Justice Verna Thornton (Debra Mooney), the upside is that Olivia will be free for Sunday dinners.