A 28-year-old woman battling brain cancer recently got to live out a major fantasy, one she didn't dream she'd get to experience in real life.
Courtney Gessford's good friend brought her to Sacramento's public animal shelter where, surrounded by friends and family, she was covered in every single puppy the shelter had.
"Being showered with puppies was nothing short of incredible," Gessford told TODAY. "I never thought I would have an experience like that in my life."
Three and a half years ago, at the age of 24, Gessford — who lives in Sacramento, California — was diagnosed with a brain tumor. She'd been experiencing debilitating migraines and other neurological symptoms. Tests showed "that I had a cancerous tumor the size of a lemon growing in my brain," Gessford said.
Through the diagnosis and treatment — which has involved three brain surgeries, radiation and, currently, chemotherapy — Gessford has taken comfort with her family's dog, Clyde.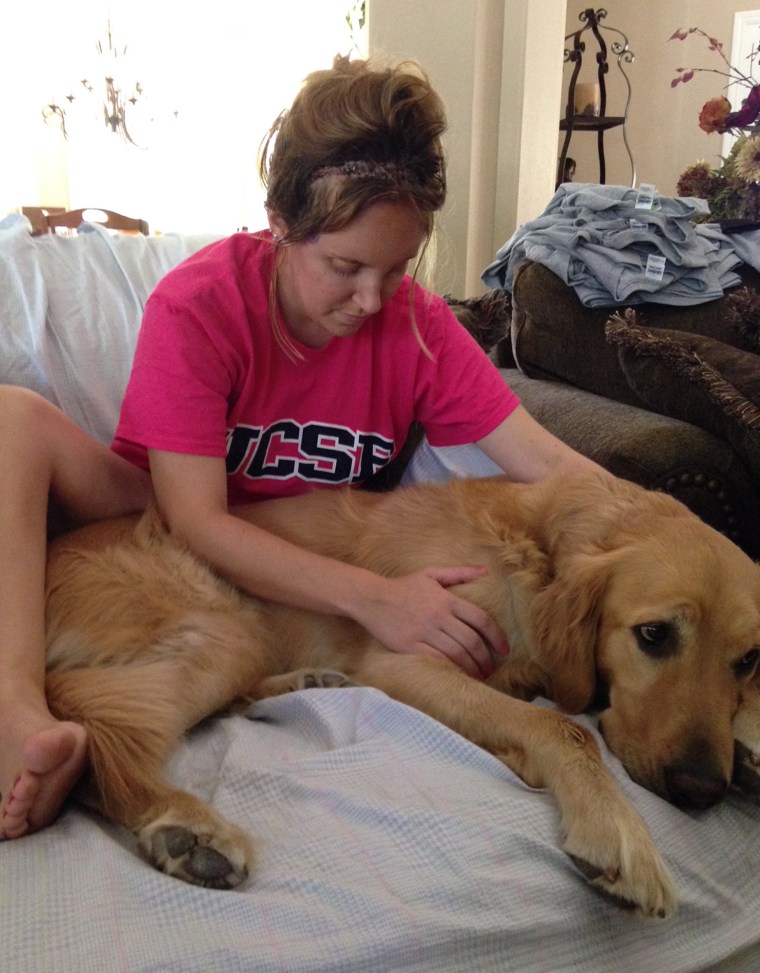 "He became such a healing presence in my recovery, treatment and coping," Gessford said. "Simply being around him made me happier."
Gessford and a childhood friend, Maris Loeffler, got the idea that if one dog was therapeutic, then lots of dogs would be truly transcendent. They began trading videos back and forth of people experiencing joy while being totally covered with pups.
"Someone was in a pool filled with dogs or a room filled with puppies, and things like that," Gessford said. "I never thought it would happen. I never asked for it. Maris just knew, along with everybody else that knows me, that I have a huge love for dogs and puppies."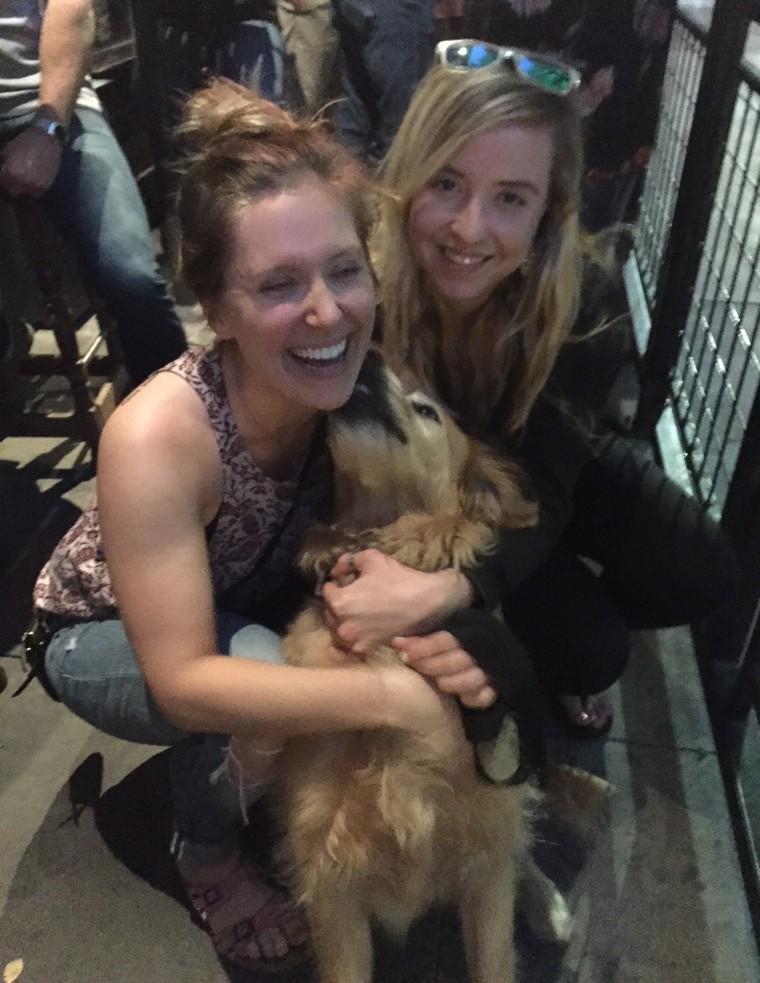 For nearly a year, Loeffler has been trying to set up what she describes as "the puppy ambush surprise."
"I secretly started to manifest and plan my vision for Courtney because she is beyond obsessed with dogs," Loeffler said.
She'd reached out to some local breeders, with no luck. Loeffler floated the idea to Ryan Hinderman, the Front Street Animal Shelter's social media coordinator. Hinderman immediately gave an enthusiastic yes.
"We're always looking for ways to make magic through the connection between people and animals," Hinderman told TODAY. "Our shelter's mission is to improve the lives of both people and pets. This was a fantastic opportunity to not only bring joy to a remarkable young woman, but also to raise awareness for shelter pets and brain cancer."
On the afternoon of Jan. 7, Loeffler told Gessford to wear cute and comfortable clothes, then placed a blindfold and earphones on her friend while they drove to a mystery location.
While Gessford didn't know where she and her friend were going, she could smell animals. Loeffler led Gessford inside, and guided her to lie her down on a pillow-filled kiddie pool.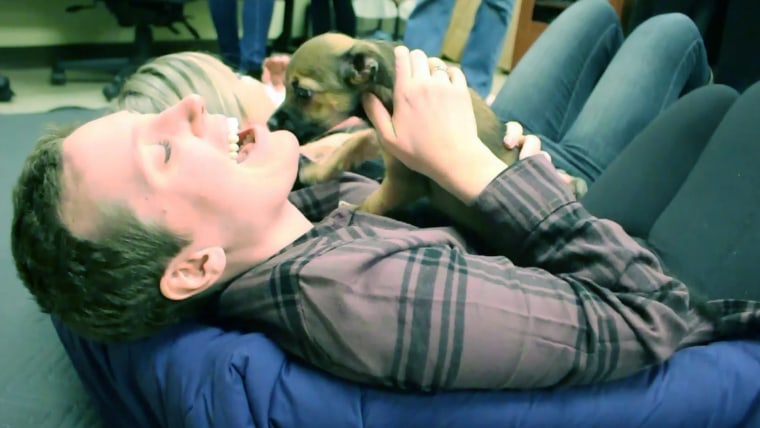 "Then the blindfold came off and earphones out," Gessford said. She saw more than a dozen of her friends and family in the room while, one by one, puppies were placed on top of her.
"I immediately broke down," Gessford said. "I felt so overwhelmed and grateful all at the same time. I had only imagined something like this in my dreams and Maris made it a reality."
"The puppies had a great time as well," added Hinderman. "They got to make lots of new friends and take a nap in the puppy pool."
As for her condition, these days, Gessford describes her prognosis as "good; it's positive."
"If you look up 'average life expectancy Grade II diffuse astrocytom' it can be discouraging. But there are so many factors that I don't even bother with those statistics," she said.
Gessford has dedicated herself to raising awareness about brain tumors, and to raising money for the National Brain Tumor Society. She is a runner, and while her racing schedule is on hold because of chemotherapy, she still works as the event manager for the Sacramento Business Journal. She says "the disease has not debilitated me in any way, and I'm the luckiest person in the world for that."
She hopes that folks seeing her covered in puppies will be reminded that shelter pets are cute and appealing — and also to feel hopeful for themselves.
"We are all fighting different battles and if I can inspire people to keep pushing through their own personal challenges, I have succeeded," Gessford said. "Life is hard, for all of us, in different ways at different times. We have to persevere."