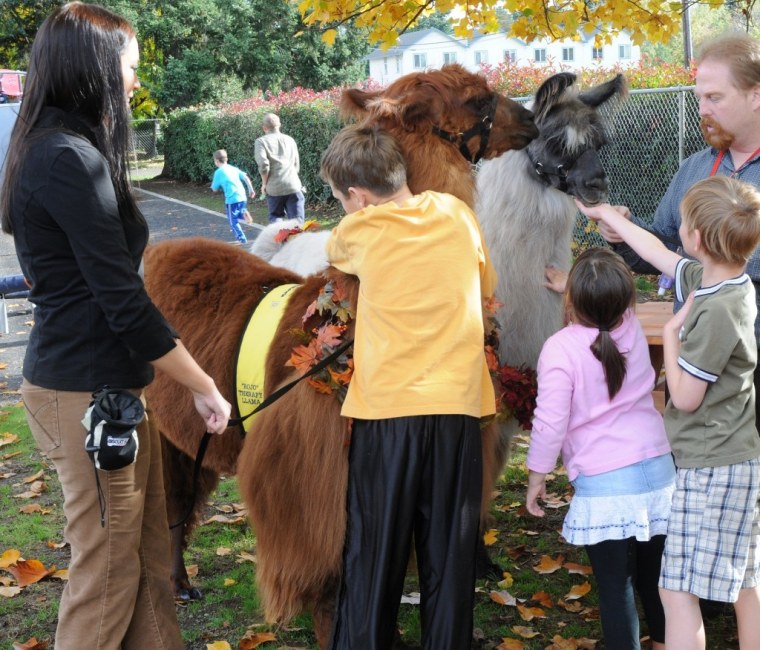 Whether they've earned it or not, it's no secret: Llamas don't have the best reputation. They're more often portrayed as unapologetic spitters and capricious kickers (or hat-loving, homicidal maniacs) than the kind of animal you might want to wrap your arms around.
But therapy llama Rojo and his buddies in Vancouver, Wash. are showing off their kind's softer side. In over 600 visits to senior centers and children's hospitals in the area, they've received hugs, cuddles and countless carrots — all while dressed up in costume. And they've never once spit.
"I've had people 100 years old cry because they're just so happy to meet our animals," owner Lori Gregory, who runs Mountain Peaks Therapy Llamas & Alpacas, told TODAY.com. "It's pretty wonderful to give them that experience with such a large animal."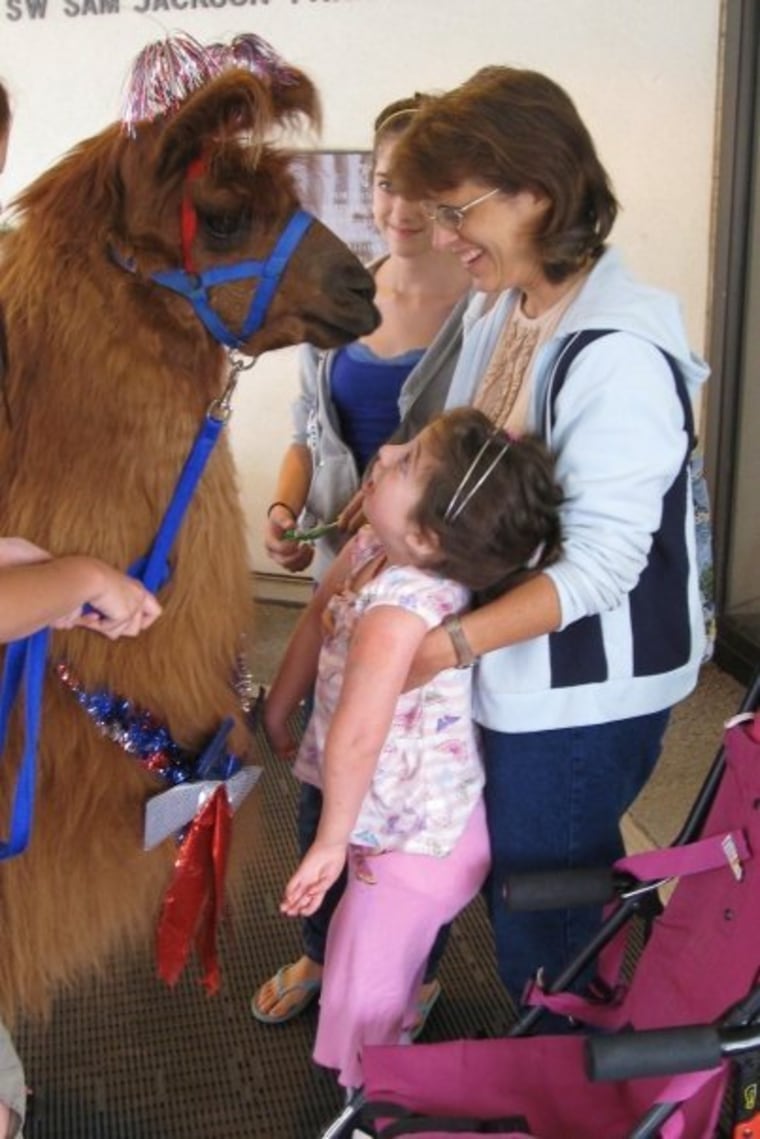 From birth, it was apparent that Rojo was a little different than the rest of Gregory's brood of llamas. While the others were out to pasture, Rojo never strayed far from the family and demonstrated an unusual tolerance for people.
"His personality never changed," she told TODAY.com. "He grew up to be this huge, loveable guy. He just stands there like a tree."
A visitor at a local fair recognized his ability to keep cool, especially around children, and suggested Gregory get him certified as a therapy animal. An experience with a wheelchair-ridden boy the next day made her decide to follow through.
"There was a little boy with no arms or legs, and he got so excited to see Rojo," she said. "He threw his nubby arms around his chest and shouted, 'I petted a llama!' There was a voice in my head that said this llama has a gift and you need to use him for therapy. From that point there was no turning back."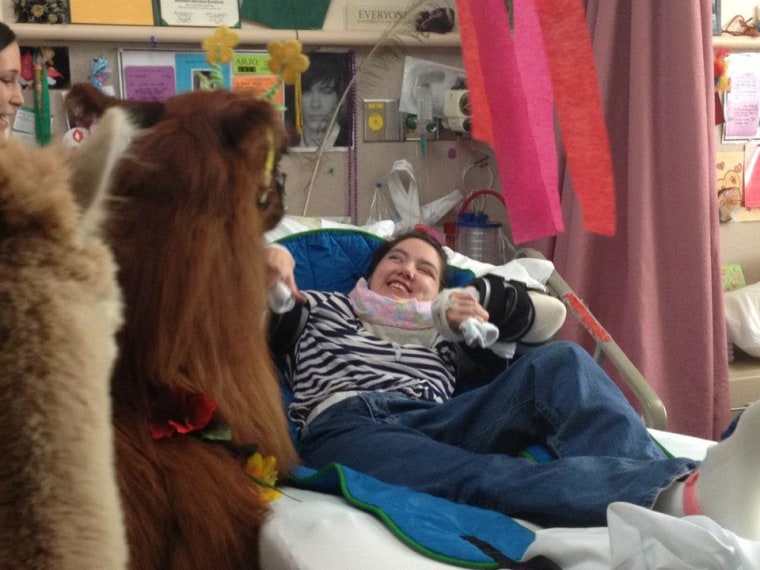 Since getting Rojo certified as a therapy animal at DoveLewis Emergency Animal Hospital in 2007, Gregory has started caring for five more therapy animals, including three alpacas and two additional llamas. They've become local celebrities of sorts, showing up in schools, community centers and even a fashion show or two.
But the real reward for Gregory is watching her animals put smiles on the faces of people young, old, sick or just in need of a friendly face, like one man in a senior community known as "Mr. Grumpy" because nothing seemed to make him happy.
"We said let's go check it out to see, and he couldn't get enough of Rojo," Gregory said. "He got on his scooter to follow us all over the place — I was just amazed."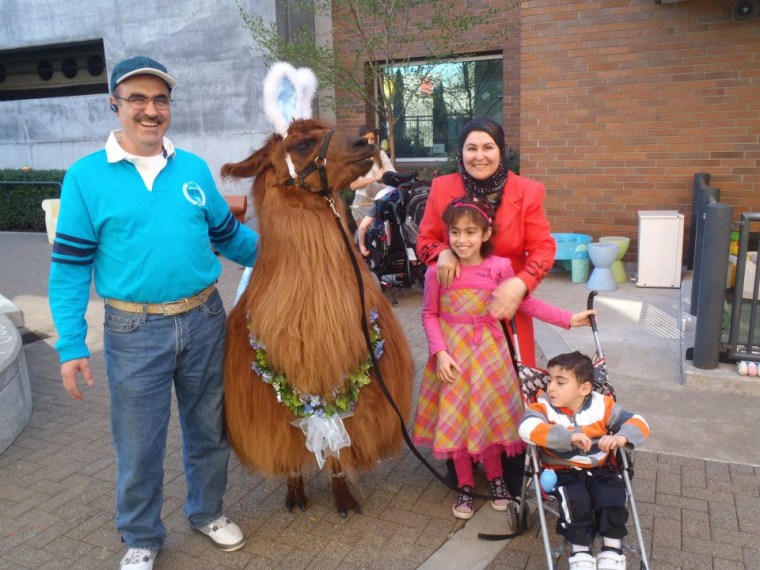 She's also seen the animal therapy benefit children who have trouble connecting emotionally with other humans. The first time she visited the Serendipity Center in Portland with Rojo, many of the children ran out the door to hide. Now they run in the room and clamor to take him for walks or read him a story.
Gregory hopes other pet owners, whether they care for chickens or ferrets, consider getting their animals certified as therapy animals — especially if they show a particular affinity for humans.
"To see the power your animal has to bring joy and healing to people, it makes you feel really wonderful," she says. "It will change your life."
Of course, not all llamas are destined to work with people. Kate Goudschaal, a spokesperson for DoveLewis, said Rojo and his friends are unusually equipped for the task.
"It's hard to explain, but for some reason Rojo and his gang were born with a special gift for being around and working with people," she told TODAY.com. "They are truly special animals, clearly matched with Lori and her crew to fulfill a 'higher llama purpose' in life."
Check out more amazing photos of Rojo and his friends below: