For some relationships to flower, it's best to take it slow. So when it came to deciding to offer marriage to his girlfriend, that's exactly what Walter Mccann did — just with a bit of a twist.
Mccann knew his girlfriend, Carly Corbin, adored sloths. Like on a Kristen Bell level (in 2012 the actress recalled on "Ellen" about how she had a joyful panic attack when presented with the chance to play with one of the lackadaisical creatures).
MORE: Sloth gets help from police after getting stranded on a highway in Ecuador
So when they went to Busch Gardens in Tampa recently, he arranged for them to get a special chance to feed Harry the sloth.
But there was a little more preparation to it than that!
Mccann got the theme park's employees to prepare a plate of veggies and that spelled out "Will you marry me?" and when it came for their chance to feed Harry, the big reveal (and Mccann going down on one knee) told Corbin everything she needed to know.
If you've ever wanted to see pure joy, be sure to watch Corbin first while she's in proximity to the sloth ... then the slow reveal where she figures out what is going on.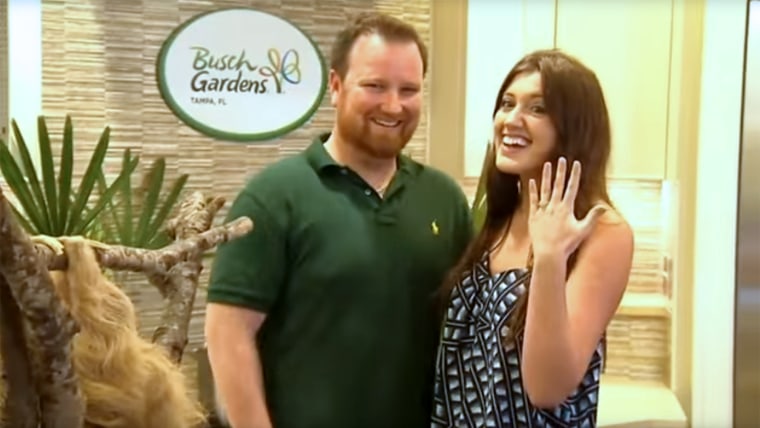 MORE: Kristen Bell cries hysterically over sloth birthday present
"I told him before that if he proposed with a sloth, there was no way I could say 'no,'" she told Fox 13 after all was said and done. "So, he took my good advice."
Plus, she got to feed Harry!
"This is literally the best day of my life for ... everything!" Corbin laughed.
Follow Randee Dawn on Twitter.