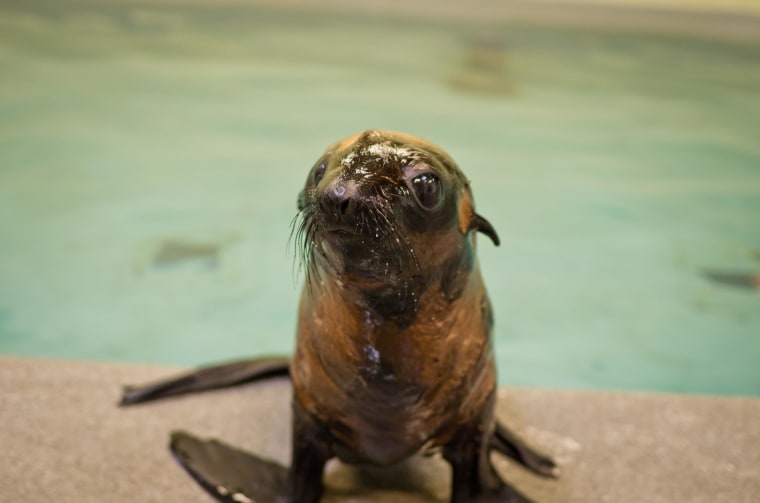 Though he's only 10 months old, this northern fur seal pup has already had a rough life. When he was discovered in a tangle of seaweed on a California beach, he weighed only 13 pounds, was blind in one eye due to an injury, and had a mottled coat that could not keep him warm in cold ocean waters. Happily, after two months of rehab at the Santa Barbara Marine Mammal Center, he's in better shape. But the poor pup has remained nameless until this week.
Now living at the New England Aquarium, the baby seal was given a name this Wednesday thanks to a contest on the Aquarium's website. Choosing from more than 1,500 entries, the marine mammal staff chose the name Leu (pronounced like Lou) which is short for the Aleutian Islands off the coast of Alaska, a prime habitat for northern fur seals.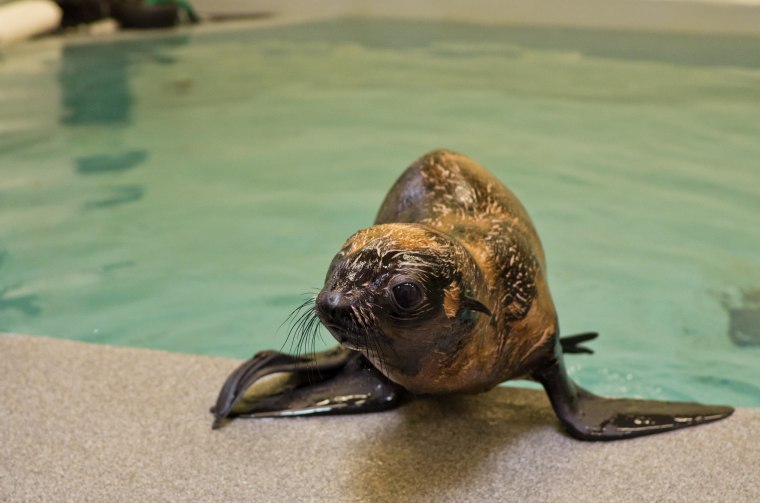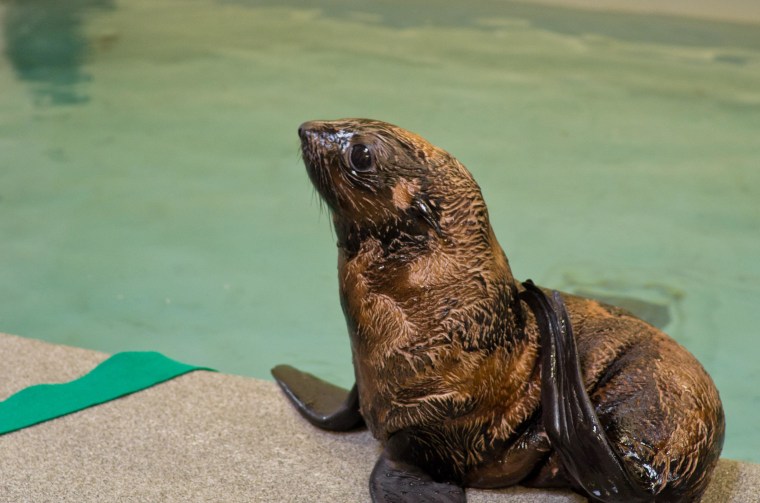 When Leu arrived at the aquarium at the beginning of May, finding him a name became a high priority. Much like dogs, seals rely on name recognition to learn new behaviors, so as marine mammal trainers worked intensively to teach the pup how to come up on deck and eat from their hands, having a moniker to call him by was key.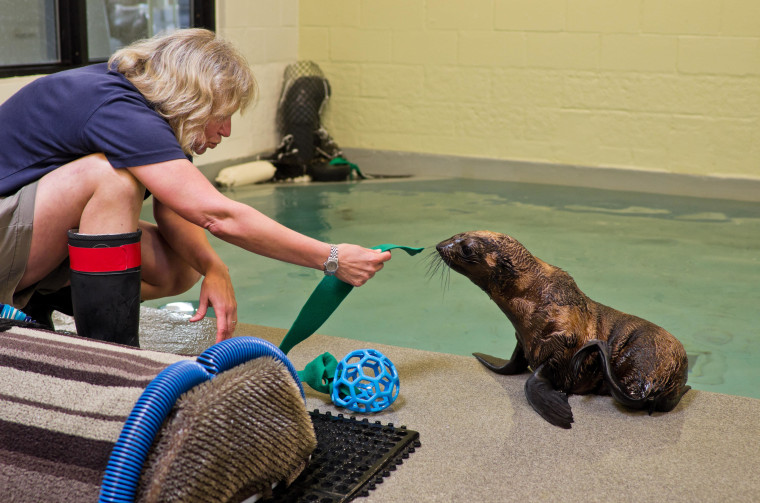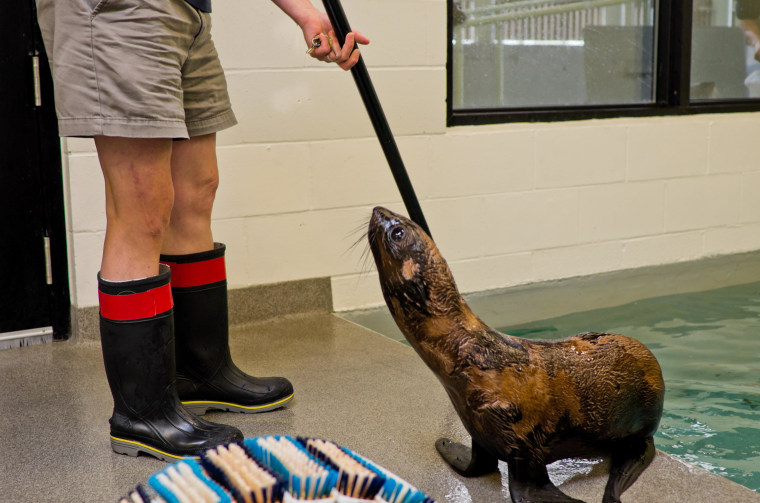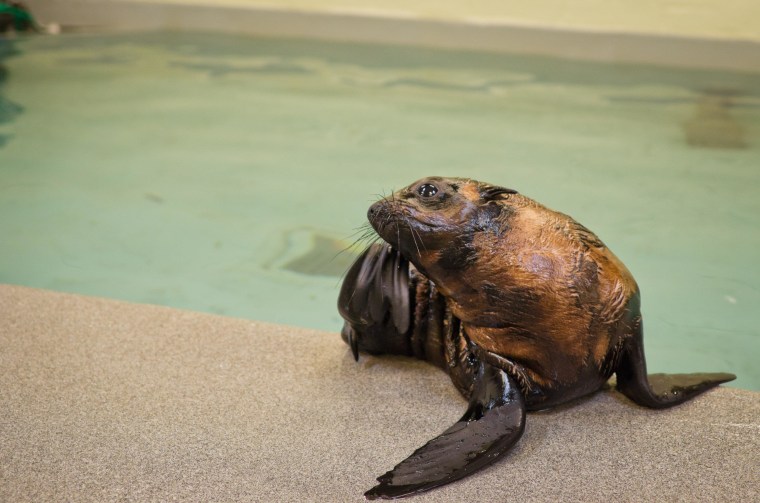 According to the aquarium, Leu is adapting well to his new home. His fur is still patchy but the darker outer coat is filling in and slowly covering his peach-colored undercoat. He's also gained weight and is now up to 20 pounds. When he is ready, he'll join the five adult northern fur seals and both 2-year-old sea lion pups at the exhibit in the harborside New Balance Foundation Marine Mammal Center.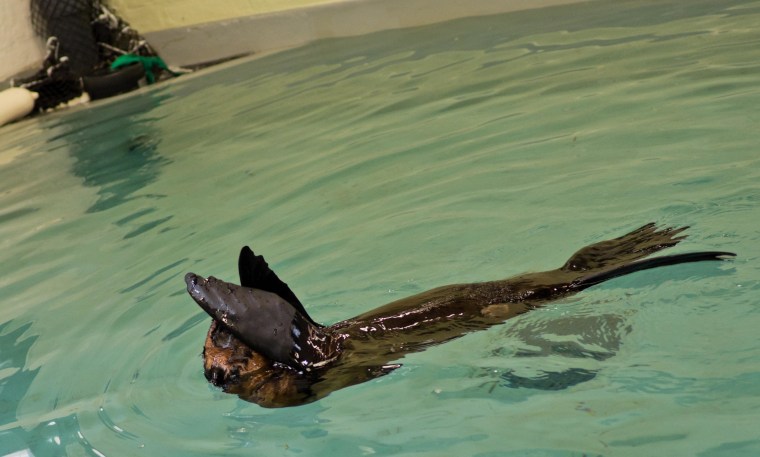 Northern fur seals in zoos and aquariums are rare; the New England Aquarium is home to six of the 11 found in North America. The population of northern fur seals is currently declining due to a combination of factors, from overfishing and pollution to climate change and entanglement in fishing gear.
Watch some of this baby seal's antics in the two video below:
More:
Want more cute animal photos? Follow us on Pinterest!