Humans aren't the only ones who like to have some fun in the sun. To help our pets get the most of the summer months, Animal Planet pet expert Andrea Arden visited TODAY Tuesday to share the coolest and most unique dog gadgets to get now.
1. Car travel harness
Solvit, $19.99-$34.99
Modeled by: Chase @sometimescarl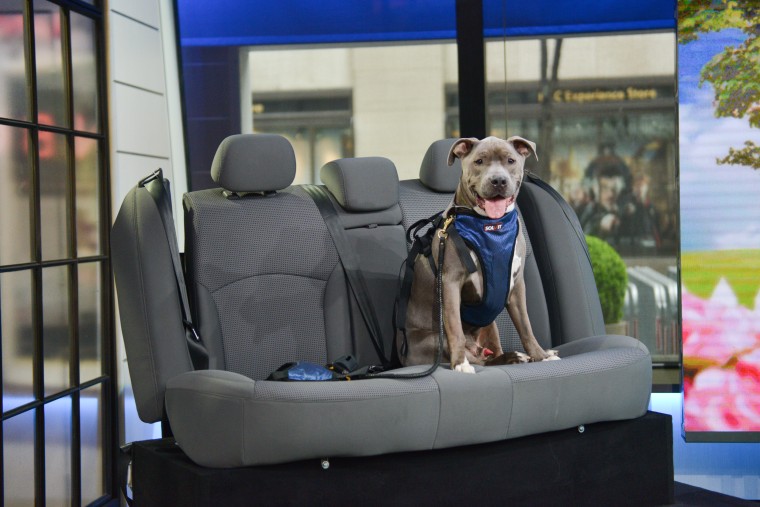 Keeping your pet comfortably restrained in the car is safer for both of you: an unrestrained pet can be distracting to the driver or a sudden stop can result in injury to your dog. The Solvit Deluxe Car Safety Harness has been crash tested in a certified facility and undergone extensive testing to ensure strength and durability. Similarly to a car seat, the harness integrates into your vehicle's seat-belt system and it's fully padded for comfort.
2. Dog umbrella leash
Amazon.com, $15.99
Modeled by: Ella Bean @ellabeanthedog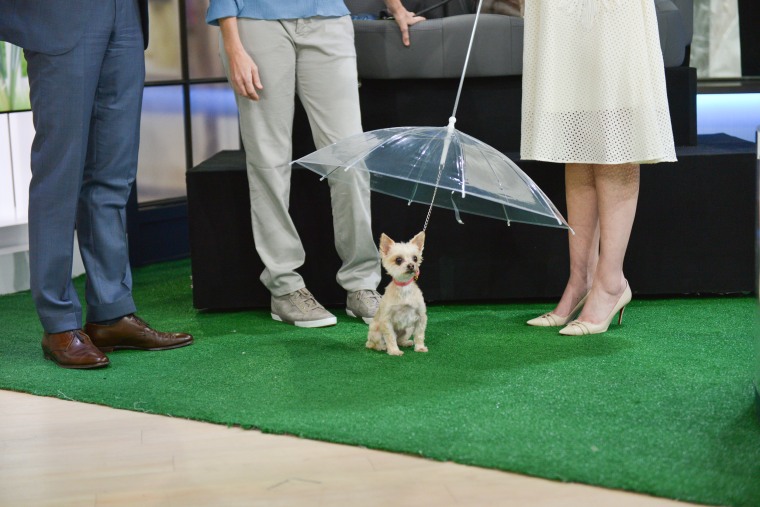 We have umbrellas to keep us dry, so why shouldn't dogs? The dog umbrella leash attaches to your pet's collar or harness to help them happy and dry on walks. It's worth noting that some dogs may need time to adjust to the umbrella being overhead, so plan on indoor training sessions beforehand.
3. Hurtta Sun & Bug Blocker
Amazon.com, $45.87
Modeled by: King Bentley @kingbentleythebulldog
Sure, it's a bit funny looking, but this bodysuit will protect your dog from mosquitoes, horseflies and ticks with this bug blocker that keeps critters from landing, thereby reducing stings and bites. It also protects from harmful UV radiation (UPF 40+) and retains efficiency even after washing.
4. Doggie sunglasses
Doggles.com, $19-$24
Modeled by: Chloe @chloetheminifrenchie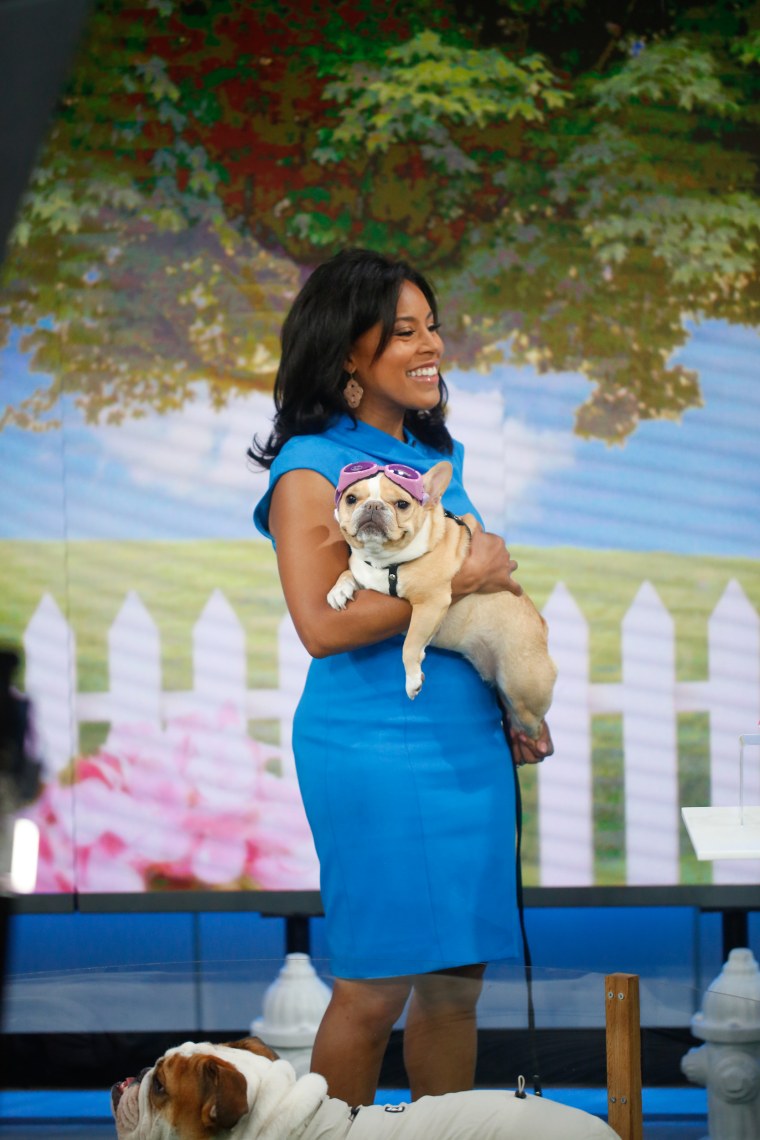 Doggles eyewear offers 100 percent UV protection with lenses made of shatterproof and anti-fog glass. Whether your best canine friend is sensitive to light or loves to hang out in the sun, Doggles will help keep their eyes safe. Plus, you'll be sure to bring your dog extra attention for their fashion-forward style.
5. Dog Sunmist and Wipes
Petkin.com, $4-16
Modeled by: TUNA @tunameltsmyheart
As mentioned above, dogs need protection from the sun, too. Petkin's Doggy Sunmist and Wipes is a gentle, non-greasy formula that was developed especially for dogs and compares to SPF 15 sunscreens for people. Simply spray or wipe on — especially the ears, nose, muzzle and sensitive pink skin areas.
6. Snack Duo
Dexas.com, $19.99
Modeled by: MOCHI @mochiandthecity
The Dexas Snack Duo delivers water and a crunchy snack with two side-by-side chambers for your dog when you are both on-the-go. Simply flip open the lid to dispense treats or kibble, then pop open the cap top to pour a drink of water in the attached collapsible cup. It's even dishwasher safe!
7. Travel Shower
Kurgo.com, $10
Modeled by: Riley Bean @rileybeann
We bet you haven't seen this one before! The Kurgo Dog Travel Shower allows you to turn any soda bottle into a portable shower for your playful pup. So go ahead, let them play in the mud.
8. Pool Float and Deck Lounger
GWlittle.com, $89.99
Modeled by: Chloe Kardoggian @chloekardoggian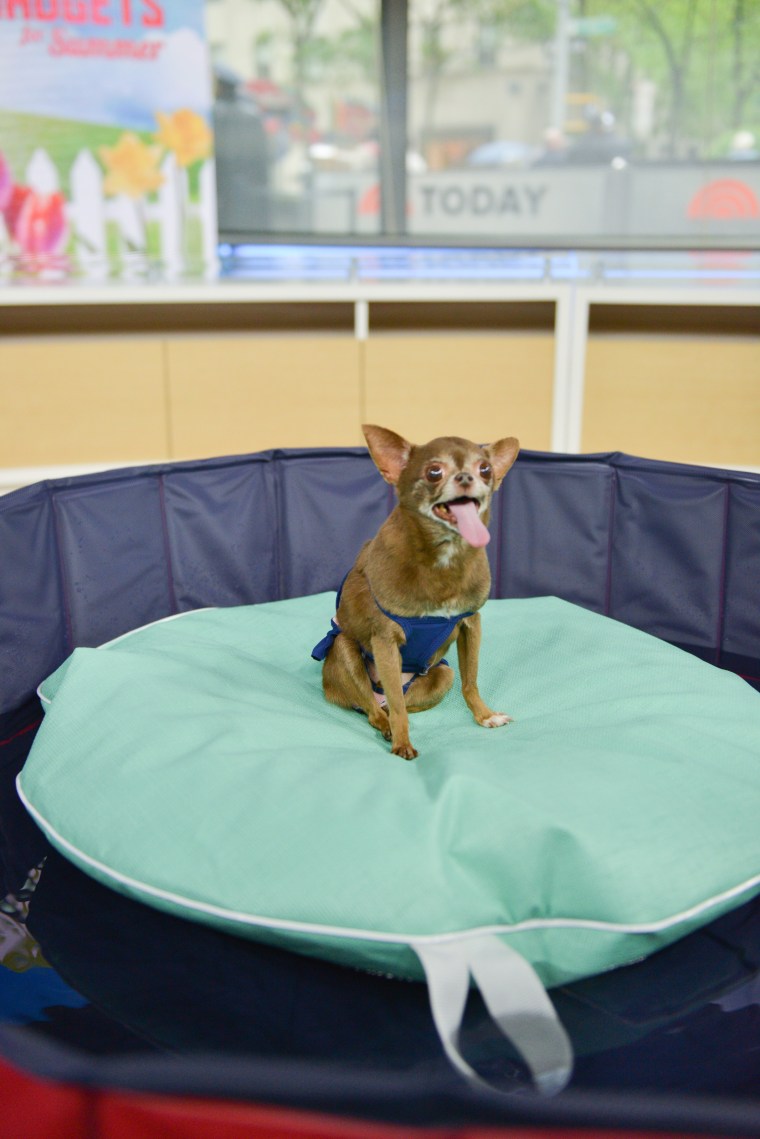 Why should humans have all the fun? These festive floats are just begging to be posted all over social media.