You might call this fluffy guy here the cluckiest rooster on earth.
Heather Bolint was not expecting to rescue a rooster while fulfilling her lifelong dream of hiking the Appalachian Trail. The rooster also couldn't have expected he'd find himself the absolute perfect rescuer.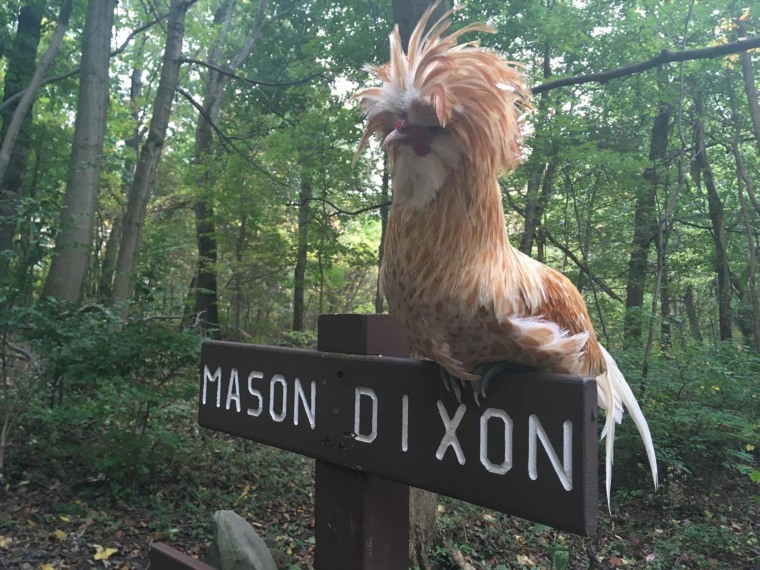 Bolint is an animal advocate. A few months ago, the 31-year-old left a job with The Humane League, working on farm animal protection measures, in order to hike the Appalachian Trail from Maine to Georgia. Still devoted, Bolint has been using this hike as a fundraiser for the animals.
By 9 a.m. on Oct. 10, Bolint had already hiked 4 miles that morning. She'd completed 1,124 miles of her hike altogether, and was in Pennsylvania, about a half-mile north of the Mason-Dixon Line.
That's when this very "fancy rooster," as Bolint describes him, appeared out of nowhere.
"I was completely incredulous when I found him," Bolint told TODAY.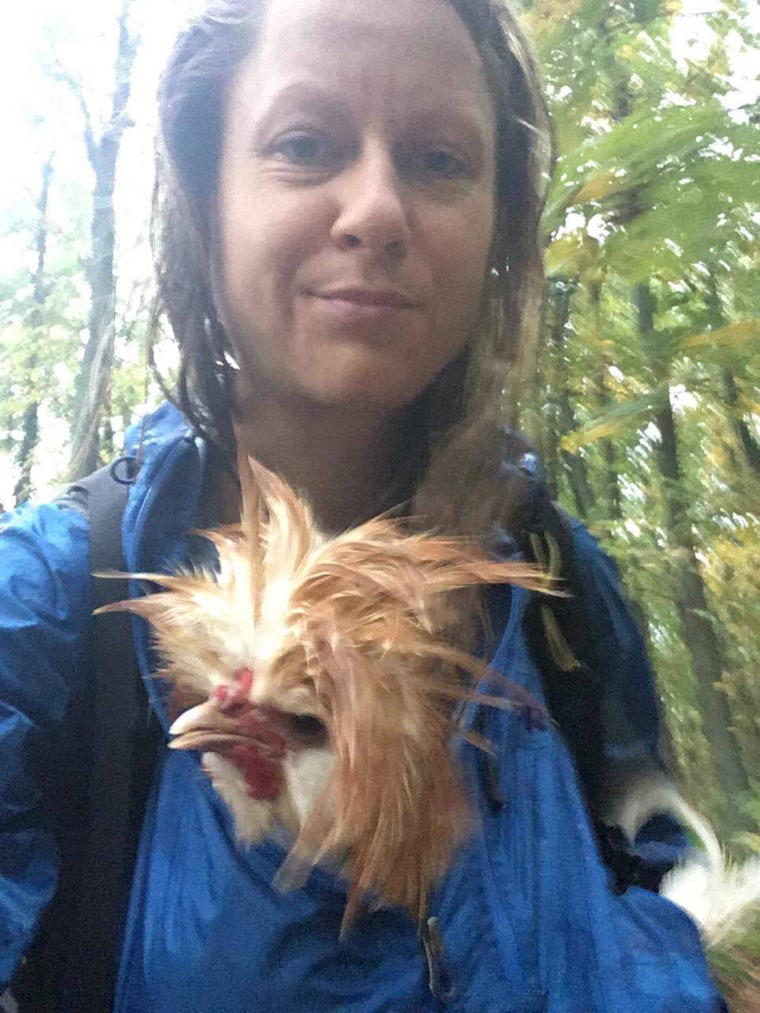 The rooster in question was hanging around on the trail, about 30 feet from a rural road, with no houses nearby. Bolint sat on a log, while eating some snacks and waiting to see if the rooster would depart on his own or if he'd be collected by another person.
"But he just stuck around," said Bolint.
She walked around for a good long while to see if there was any evidence of a home the rooster might belong to. There wasn't. It's possible the rooster, who seemed comfortable around people, had been left to fend for himself in an area with many predators. (He may have been there for some time; Bolint later heard that another hiker had seen the rooster there a couple of days earlier.)
"I was afraid that someone just dropped him off here because it was a quiet country road, and because he was a rooster, which people don't always desire," she said.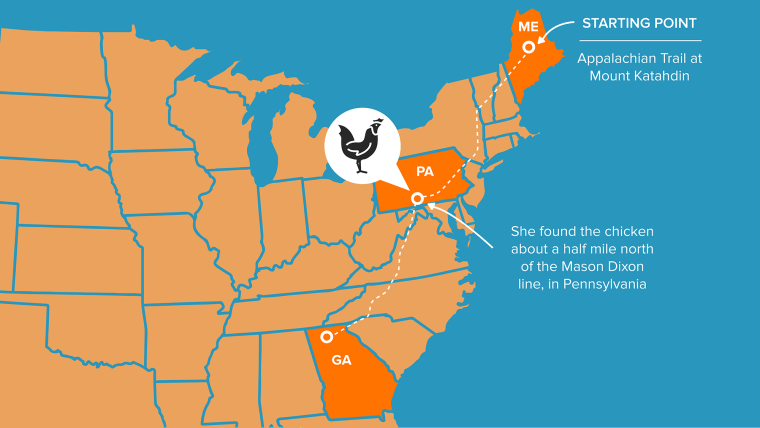 Given her professional background and passion for animals, plus having always taken care of creatures in need, what choice did Bolint have? Holding the rooster close to her body, she and he proceeded along the trail. Now familiar with one another, she called him Eddie.
Over the course of the next 24 hours, Bolint carried Eddie for 42 miles, from Pennsylvania to West Virginia.
Bolint mostly held Eddie in her arms, stopping about every hour so he could forage for insects and plants and drink some water while she contemplated how best to take care of her new friend.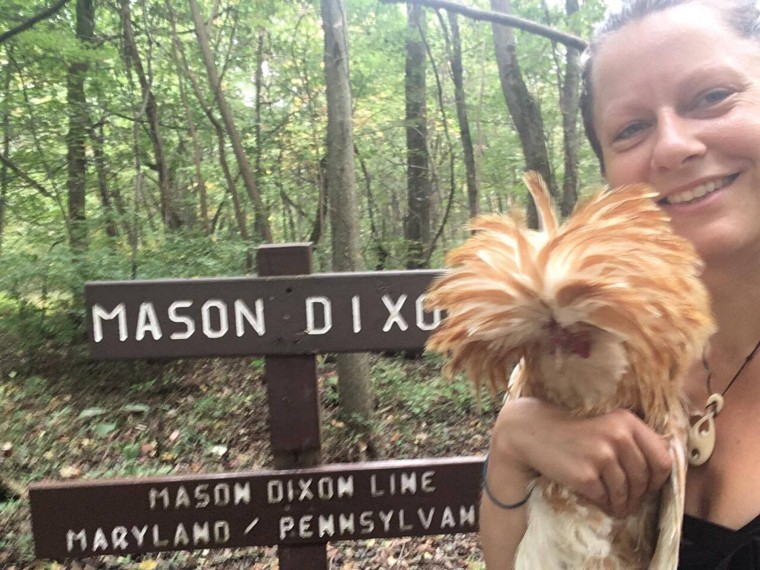 They slept just two hours that night in Bolint's tent. "He settled right down when it got dark and I set up my sleeping bag next to him sleeping peacefully. It was really funny to think that I would be waking up my rooster, instead of the other way around," she said.
The two reached Harper's Ferry, West Virginia, at noon the next day. Bolint's boyfriend, who works for another farm animal advocacy group, met them there with his car. He suggested reaching out to a farm animal sanctuary called Poplar Spring, located on 400 acres in western Maryland.
"We rescue farm animals from many bizarre situations, but this one was definitely unique," Poplar Spring co-founder Terry Cummings told TODAY. "I only hesitated for a minute, because we are very full for roosters. But his rescue was so miraculous that I knew we had to help."
Cummings renamed the rooster Mason, in tribute to the location where he was found. She said he is settling in well.
Mason's going through a quarantine period until the veterinarian can deem him safe to interact with the sanctuary's other animals, but "as soon as he is found to be healthy, he will be introduced to the other chickens, and he will have a wonderful, happy life," said Cummings.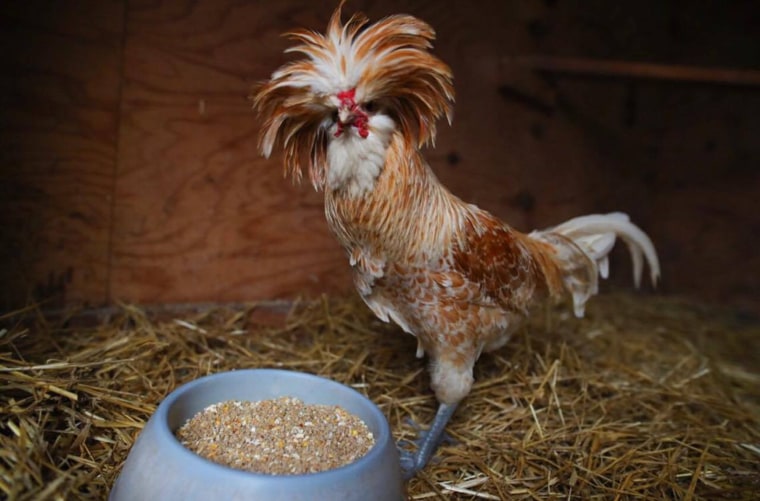 Bolint is back on the trail, with around 1,000 miles left to go. She expects to reach the end by Christmas. Bolint's glad Mason is in this ideal place now, though she also misses her unexpected hiking buddy. She's kept one of his feathers that fell off as a memento.
The whole rooster rescue resurfaced and reinforced so many things that matter deeply to Bolint: her commitment to caring for the creatures so many people think of as nothing more than food, and her belief that every person can and should make a difference in an animal's life.
She's not exactly hoping to find more critters requiring help over her remaining months on the Appalachian Trail. "But if there is another animal in need that I come across, I will definitely drop everything to do my best to help," Bolint said. "I somehow always do find myself rescuing animals."