Carrie Underwood has a new member in her family!
On Sunday, Feb. 12, Underwood, 39, shared a few pictures of a cute, golden brown puppy on her Instagram account and revealed she adopted the little girl, whom she named Charlotte Nilla Fisher. However, she noted that Charlotte goes by the nickname "Charlie."
"I met her in Charlotte when the lovely people at @pincdogrescue brought some puppies to the venue to make us all smile," Underwood shared. "We had been looking for the right pup for our family for a while and she seemed just too good to be true!"
"She is happy at home playing with her boys…and Penny and Zero have responded well and are getting to know their new sister…Thank you, Pawsitive Impact NC Dog Rescue for all the incredible work you do and thanks for bringing this sweet girl into our lives!" she continued.
On her Instagram story, Underwood also posted a photo of Charlie bonding with one of her other dogs.
On top of the pic, she wrote, "Getting along just fine..." with the relaxed face emoji.
Charlie joins Underwood's big family, which includes the singer's husband, Mike Fisher, their two kids, Isaiah, 7, and Jacob, 4, and the couple's two dogs, Zero and Penny.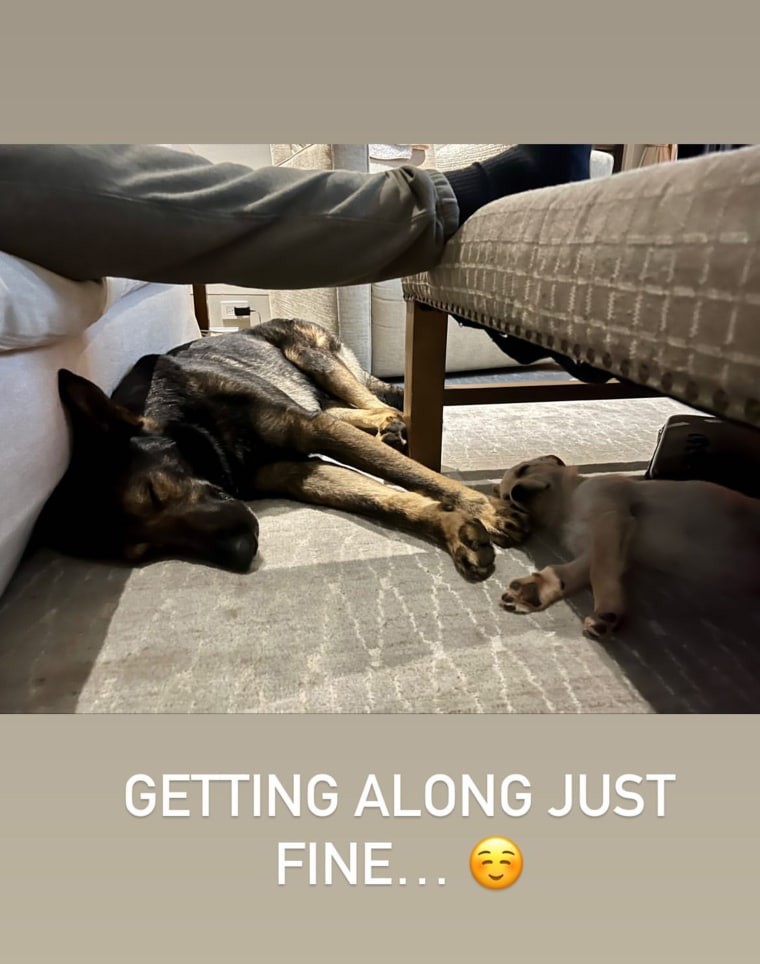 However, Underwood also had another dog named Ace, but the little guy died in April 2022.
The "Good Girl" singer revealed the news when she shared a few photos of Ace over the years, including one of herself giving him a kiss on his head.
"Last night my sweet Ace left this world…," she wrote. "He will forever live on in our hearts and be forever missed. He was there for me when I was on my own trying to figure out life when it was at its craziest!"
"He was with me through 3 houses, 6 tours and 2 kids…always ready to snuggle and play…through all the highs and lows. He was a true friend and a good boy till the very end," Underwood continued. "I love you, sweet Ace…see you on the other side…💔."