Parents may be more concerned with price than potentially bumpy skies when booking a flight, but two incidents of severe turbulence that injured passengers this week have renewed the debate over "lap babies" on airplanes.
Five people — including a flight attendant who received critical injuries — were taken to the hospital after a United Airlines jet encountered extreme turbulence on a flight from Denver to Billings, Mont., on Monday. The plane dropped so violently that an infant flew from its mother's arms and landed, unharmed, in another seat. On Tuesday, a high-altitude "roller-coaster" ride left eight crew and passengers hospitalized after a Cathay Pacific flight out of San Francisco hit a patch of rough air above Japan.
Such episodes may make many wonder why, if there are laws that require kids riding in cars to be buckled in, the rules are different for travel inside jets that can fly hundreds of miles per hour.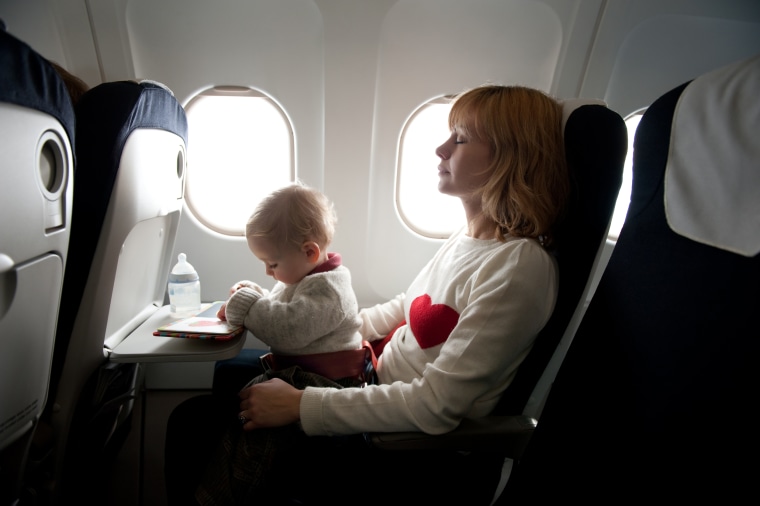 "We strongly urge parents to use a child restraint system," said Les Dorr, a spokesman for the Federal Aviation Administration. 

The agency also warns parents their arms aren't capable of holding a baby securely, especially during unexpected turbulence. While such incidents are rare, about 58 people in the United States are injured by turbulence each year while not wearing their seat belts, according to the FAA.
Still, the FAA allows children under 2 to be held in an adult's lap because it believes that requiring parents to buy tickets for infants "would significantly raise the net price of travel for those families," the agency said in a statement to TODAY.

"Such price increases would divert some family travel from the air transportation system to the highway system, and entire families would be subject to far higher fatality rates."
Lap children typically fly free within the U.S. and are charged 10 percent of the adult fare on international flights. 
But the FAA's policy has come under criticism.

The National Transportation Safety Board, which investigates airline accidents, doesn't feel the FAA guidelines suffice. It has recommended requiring separate seats for all passengers on planes and urges parents to use child-restraint systems when traveling with kids.
Former flight attendants don't agree with the FAA either.
Safe Seats for Every Air Traveler — an advocacy group founded by Jan Brown, a flight attendant who was on the United flight that crashed-landed in a Sioux City, Iowa, cornfield in 1989 — has been lobbying the FAA to end the practice of lap children. The death of a lap child in that accident prompted Brown to take action.
Beth Blair, also a former flight attendant, says she has never flown with her two kids without booking separate seats for them, though she understands that many parents just can't afford to buy an extra ticket for their infant.
Still, she's in favor of ending the current policy.
"It never made sense to me why they would allow a little precious baby to sit on a lap," Blair said.
Heather Poole, a veteran flight attendant for a major U.S. airline, says colleagues who have experienced severe turbulence have told her of babies being thrown like footballs.

"I don't know many flight attendants who'd travel without a car seat," said Poole.
Passengers have yelled at Poole when she asked them to buckle in sleeping children, complaining they might wake up. Poole, herself a mother, said she'd rather have a grouchy kid than an injured one.
Blair's advice for parents is simple: shop early for airfare to get the best deal and always make the effort to buy the seat for the child.
"Our children are priceless," she said.