"Selling Sunset" star Mary Fitzgerald experienced highs and lows in Season Seven.
In the premiere episode of "Selling Sunset," Fitzgerald finds out she and her husband Romain Bonnet were expecting their first child together. The real estate agent was already mom to her adult son, Austin, whom she had as a teen. Fitzgerald and Bonnet gleefully show their friends a positive pregnancy test and discuss parenthood. This time, Fitzgerald says, she won't be "on her own."
"I'm really excited for her to experience it the way she deserves to. She was a baby when she had Austin. She's traumatized from that experience," Amanza Smith tells the camera. "it's gonna be so good this time. It's gonna show her and help her believe that she's an amazing mom."
Episodes later, at a doctor's appointment, Fitzgerald learns no heartbeat was detected during the ultrasound. Fitzgerald, who had been through miscarriages before, knew what that meant: She had miscarried.
"It was heartbreaking to say the least," she tells TODAY.com of her miscarriage. "I was just in shock."
Fitzgerald shared the news with her followers in a tearful video on Instagram in March. She clarified that she had a septic miscarriage, and required surgery. According to the Mayo Clinic, a septic miscarriage occurs when an infection develops in the uterus after miscarrying. Symptoms include fever, chills and lower abdominal tenderness.
Fitzgerald tells TODAY.com that losing the child didn't cross her mind amid the excitement of the pregnancy.
"I honestly didn't consider that I could lose the baby. I was just so excited and so focused on this new future, even though realistically I always knew that there was that chance. I just never let my mind go there. I was just optimistic and positive about it."
An estimated one in four pregnancies end in miscarriage.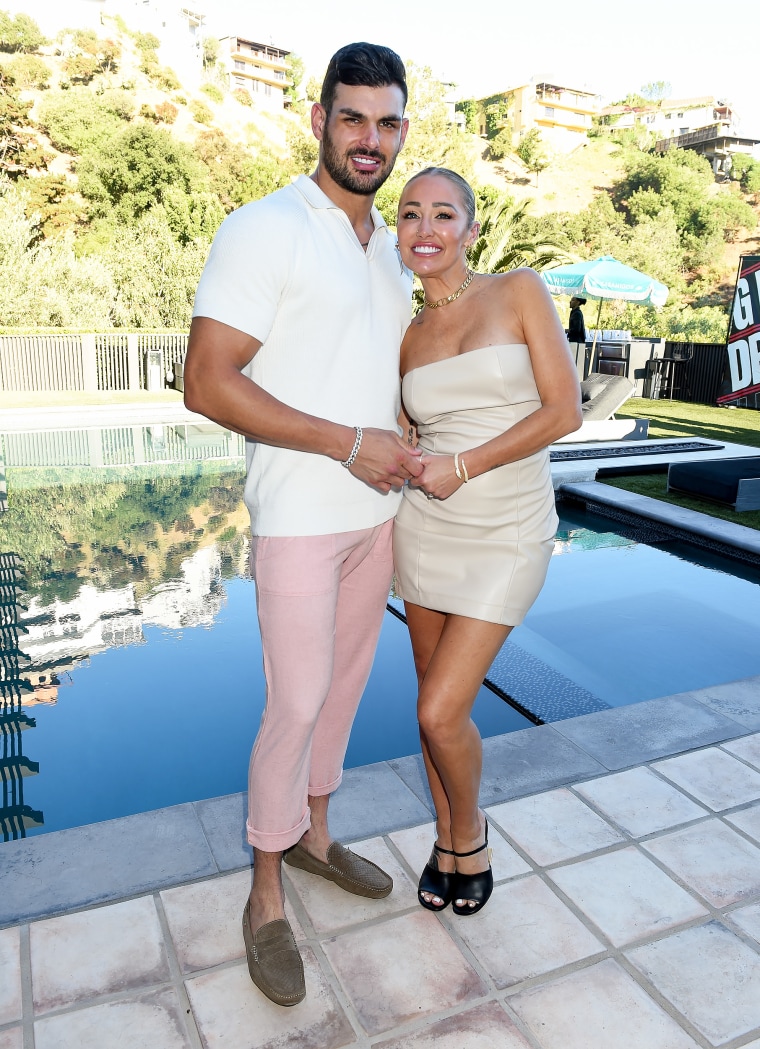 When the miscarriage happened, Fitzgerald says she waited to break the news to her son and father.
"I think guys handle things like that differently and I wanted to make sure I talked to them in the right way," she says. "So right when it was going on, they would have just been worried about me, and my son is in the military, so he can't really do anything about it."
"Selling Sunset" captures the conversations Fitzgerald has with her co-stars and friends. She tells Smith, who had been so supportive of her pregnancy, in tears, that she feels "so numb."
"I go from crying to just numb," she says as her husband comforts her.
I just feel numb right now.
mary fitzgerald
"I don't know what the normal timeframe is to get over something like this and I just keep moving forward and trying to put a smile on my face and act like everything's OK, but it doesn't feel OK," Fitzgerald adds in a confessional.
Fitzgerald, who is the Vice President of The Oppenheim Group, tells TODAY.com that she decided to take some time away from the show after she experienced her miscarriage, which explains why she doesn't figure into the season much.
She says producers "knew that I didn't need to be anywhere around the drama."
"They know how much I get stressed out from all the girl drama and it really just irritates me," she adds.
Fitzgerald also decided to step away from her position as manager of The Oppenheim Group, a title she's held since Season Five of the series, for that reason.
"I agreed to do it because I was under the impression that it was going to be more of like, helping with real estate needs and helping with deals and stuff like that, not mediating drama," she says.
"So, when I got pregnant, I just decided that it's not worth it. These ladies are adults. They're grown, they can handle their own issues or arguments. But for the sake of my health and the baby's health and my family, I decided to focus on my own clients because it did take a lot of time away from me focusing on my own career."
This season, Jason Oppenheim's ex-girlfriend Marie-Lou Nurk, who was dating him at the time of filming, confronts Chrishell Stause about why she isn't making more of an effort to be her friend. Nicole Young also creates ripples after calling fellow agent Emma Hernan a "social climber."
Fitzgerald says she wasn't keeping up with the latest updates in the office, focusing instead on her pregnancy.
"I heard stuff. I just wasn't really trying to get in the middle of it. I don't try to get involved in other people's business unless I'm mediating, so it was pretty interesting to watch," she says with a laugh.
Fitzgerald says she got a great deal of support from everyone in the cast, especially Stause, Hernan and Smith, who were all "amazing" to her.
She leaned on her husband most of all. "Romain has been extremely supportive. He always is," she says. "He's such a rock so he was really there for me when it happened and was making sure I was OK," she says.
"He's such a rock so he was really there for me when it happened and was making sure I was OK."
Now that Fitzgerald has taken some time off to grieve her miscarriage, she says she and Bonnet will "probably try again" for another baby in the future.
She would still detail their pregnancy journey on the show, as she has been.
"I'm pretty much an open person when it comes to myself," Fitzgerald explains. "But if it's someone else, like, in my family, I won't be open about it because that's not my place to just talk about somebody else. But if it's about me, I'm pretty much open."