Proud new mom Savannah Guthrie called into TODAY Friday morning to share details about the first few days since giving birth to her new baby girl, Vale Guthrie Feldman.

"When I look at her I'm so proud and I can't stop thanking God," she told her co-anchors.
Matt, Natalie, Dylan and Craig Melvin asked the questions TODAY viewers have been asking since news broke Thursday morning that Vale had arrived.
How different do you feel?
"I feel like life just started," Savannah gushed. "I can't get over the joy that she brings — it's kind of inexpressible. Honestly I think it is beyond words." 
Savannah's voice quivered as she described seeing her child for the first time.
"In the moment she was born, I cried a cry I've never heard come out of my own mouth," she said. "It was just this joyous explosion."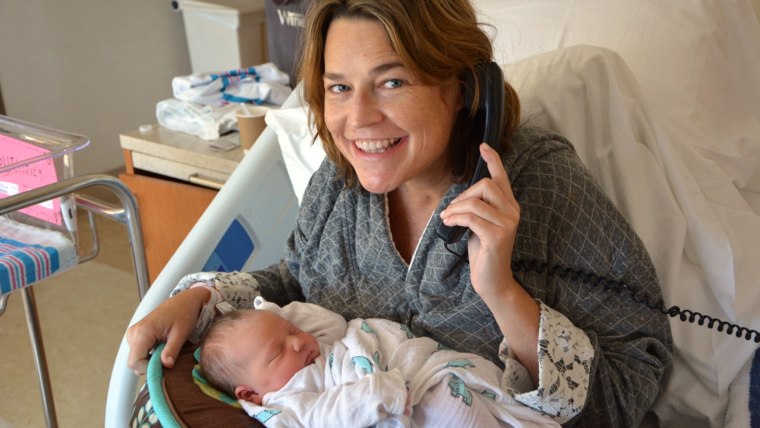 How'd you decide on the name Vale?
"TODAY viewers had totally convinced me we were having a boy!" she admitted. "I was really shocked when they said 'It's a girl.'"
She and husband Mike had the name Vale — which means "valley by a stream" — on their short list, but spent all afternoon deciding.
"We thought it was pretty unique but not kooky or so weird."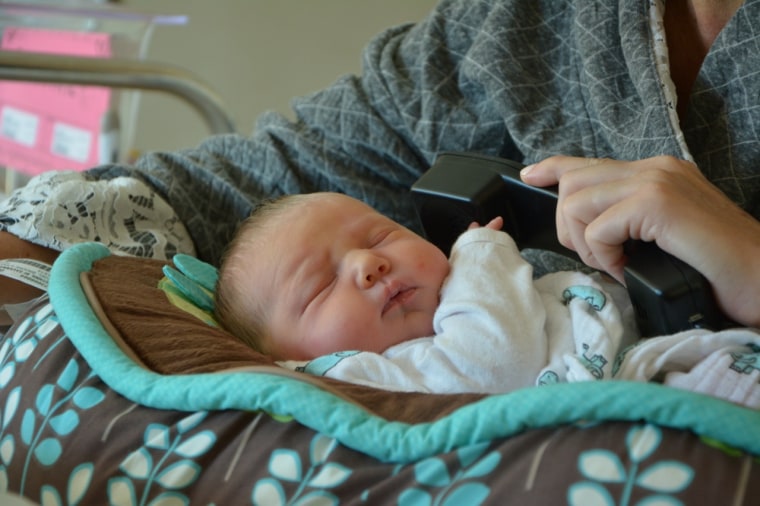 Are you sleeping?

"Good morning! Good night! Good afternoon! What is time?" Savannah laughed when she called in.
"I couldn't sleep last night I was so excited — they actually had to give me a little sleeping medicine," she said. "Vale slept like the true cherubic baby that she is, little angel baby."
How is your husband Mike handling fatherhood?
"Mike doesn't have hormones to blame, so I don't know what his excuse is!" she teased. "But we just cry spontaneously because we love her so much and we're so happy — I'm a big ball of mush."
Matt and Natalie visited the hospital Thursday afternoon to meet the latest addition to the TODAY family.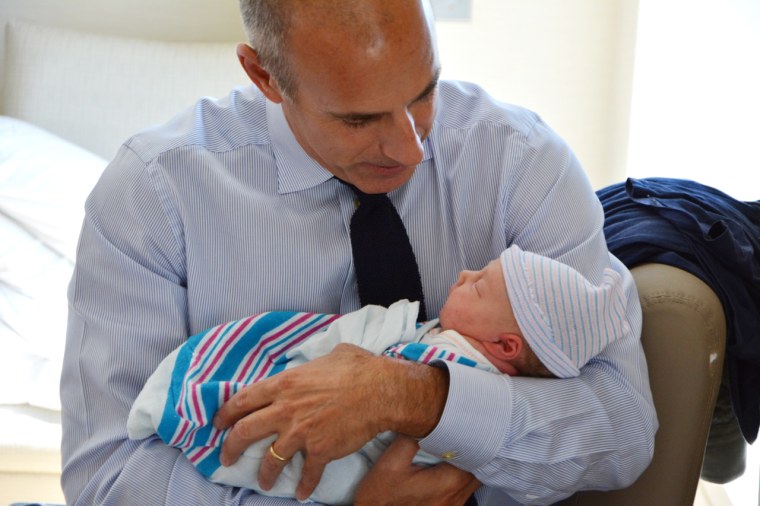 Little Vale Guthrie Feldman was born the morning of Wednesday, August 13, weighing in at 8 lbs. 5 oz., and measuring 19.5 inches long.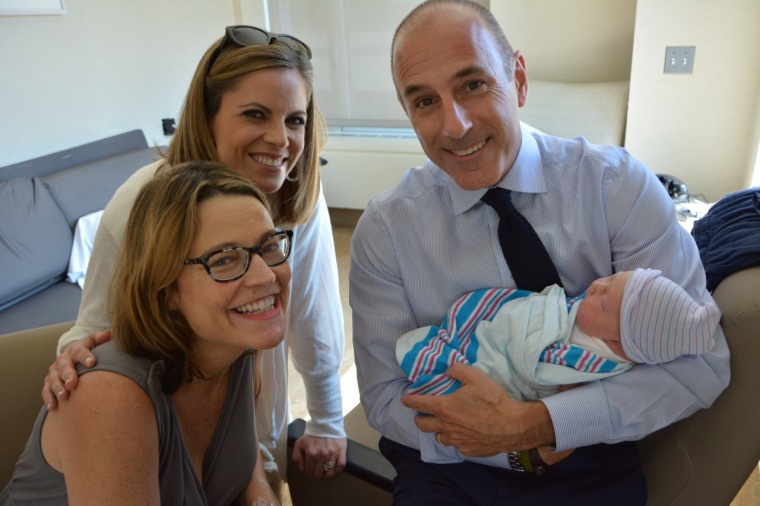 Hers were the cheeks heard 'round the world. The world of social media, that is.
"Most of us will never know what it's like to enter the world trending on Twitter," Willie joked from the Orange Room.
Vale even got her first marriage proposal. (Of many, we presume.)
"Any applicant — we've got to get them through the full Matt Lauer screening process," Savannah said during the call.
Savannah gave birth with Mike by her side, and announced her little one's arrival to the world on Thursday morning.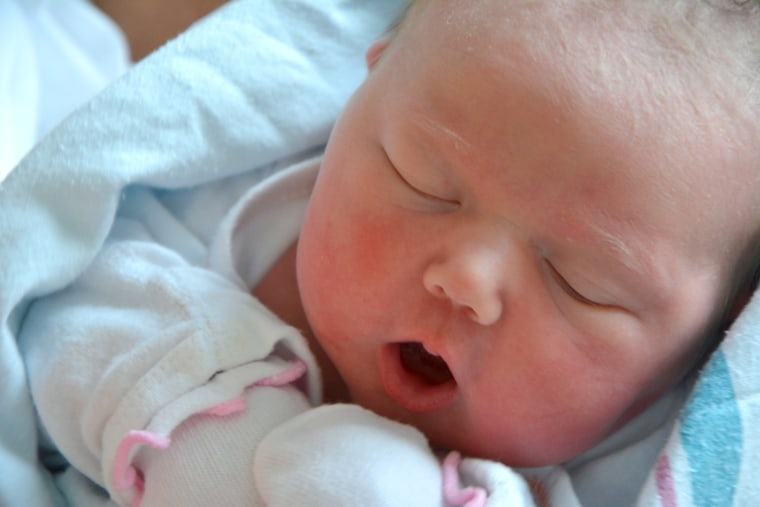 TODAY viewers learned about Savannah's pregnancy on the show on March 17, following another surprise announcement: that she and Mike had just tied the knot outside of Savannah's hometown of Tucson, Arizona.
Read how Savannah Guthrie revealed her pregnancy during weekend wedding
The newlyweds broke the news at a candlelit reception following an introduction featuring the NBC News "Special Report" music.
"I — well, we — are four months pregnant," Savannah announced to guests.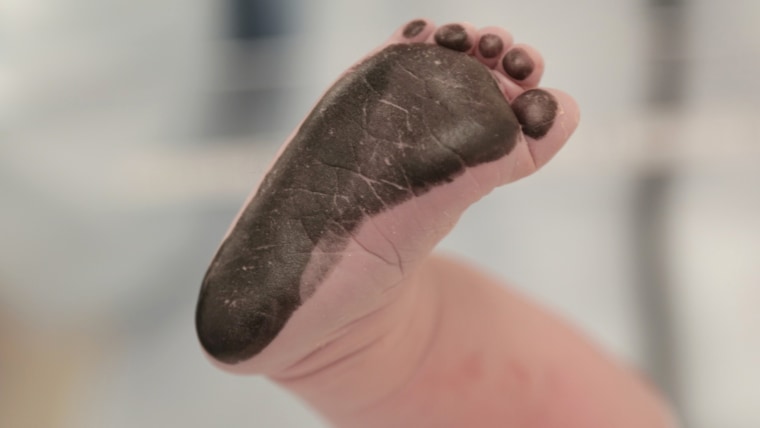 She then filled in details for TODAY viewers just days later.

"It's funny, 'cause we set the wedding date, I bought my dress, and then I found out," she said. "So I've been doing a little praying that I would fit in it, and it all worked out."
Savannah shared her pregnancy journey with viewers through her maternity blog on TODAY.com. She described how she and Feldman, 45, sifted through baby names, favoring traditional ones with historic or family significance but also appreciating uncommon ones like hers, which gave her "an ever-ready conversation piece."

She and Mike chose the name Vale.
Matt Lauer explained why on Thursday: "She was so calm and serene... They are overjoyed and everyone is doing great." 
As a first-time expectant mom at age 42, Savannah blogged about feeling incredibly grateful. "I know how lucky I am. For a long time, I think I was afraid to even let myself think about how much I hoped to one day have a baby," she wrote in April. "So that's my mindset as my hubby and I embark on this adventure: joy and profound gratitude for many blessings and for the kindness and support of all of you wonderful and loyal friends on TODAY.com."
Savannah also shared:
In her last blog post before going out on maternity leave, Savannah thanked the TODAY audience for their love and support.
"I want you to know I felt every hug and treasured every moment of kindness," she wrote. "There is something so amazing and uplifting about getting to witness how people can be so genuinely joyful for another human being — for no other reason than their goodness. ... In a society that can sometimes be cruel or caustic or cynical, what a ray of light."