Greg Pembroke is as patient a dad as he can be, but with two boys under 4, his fortitude gets tested quite a bit. Instead of letting those youngsters get the better of him, the Rochester, N.Y., dad decided to have a little fun.
Pembroke, 32, is the father behind the latest viral parenting blog, the Tumblr page aptly titled, "Reasons My Son Is Crying," a collection of photographs of his younger son, 20-month-old Charlie, in various states of distress.
"Kids have meltdowns 20, 30 times a day," Pembroke told TODAY.com. "You can drive yourself crazy or you can laugh and just accept it."
"I think every parent experiences meltdowns and I was trying to have a little fun with it," he added.
Pembroke shared photos of Charlie and his older son, William, who is 3 1/2, on Facebook, and posted the photos on Tumblr about a week ago at a friend's suggestion. As the Tumblr page made the rounds online over the last few days, drawing 3,000 comments on Reddit, Pembroke said he never anticipated so much attention.
"I was just trying to have fun with the kids and with my friends," he said. "I didn't expect people to relate to it as much as they did."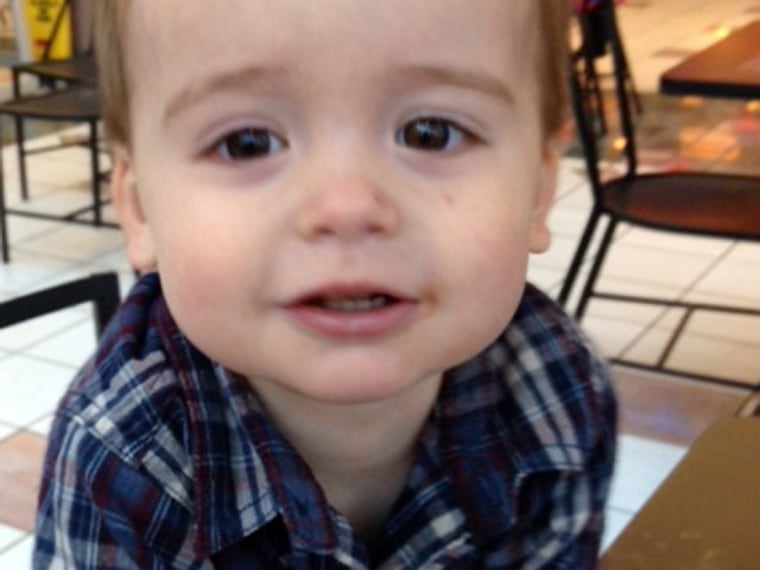 But what's not to relate to? Toddlers, as anyone who has had one can attest, can shed a tear or 20 over just about anything, from the absurdly silly to the downright dangerous and often to things their parents will never understand.
Little Charlie is seen on Tumblr crying over many of the things likely to upset a toddler on a daily, if not hourly, basis: food, clothing, siblings and the ever-dreaded car seat.
Even though the world is seeing a pretty unhappy boy on Tumblr, Pembroke says he has two good kids, and he loves being their father.
"They're really polite boys," said Pembroke, a part-time radio station account executive who is home with the boys part-time. "They just have their frequent meltdowns.
"It's trying to prevent them the best you can, try to plan your day the right way, stick to a schedule," Pembroke said. "You have to accept the fact that you're never going to prevent them."
The family has lots of happy times. "We have a lot of fun when we're home together," said Pembroke, whose wife is a physical therapist.