A viral photo showcasing six generations of women is giving one family an opportunity to share their matriarch's story.
Seven weeks after 98-year-old MaeDell Snow Taylor's great-great-great granddaughter, Zhavia, was born, six generations of women came together to celebrate the new addition.
"We spent three hours with her — she had the baby pretty much the entire time," Gracie Snow Howell, MaeDell's 58-year-old granddaughter, tells TODAY.com. "The baby was fussy and she was like: 'Here, give me that baby.' She's just a natural, and she was so excited to see us and spend time with us and hold that baby."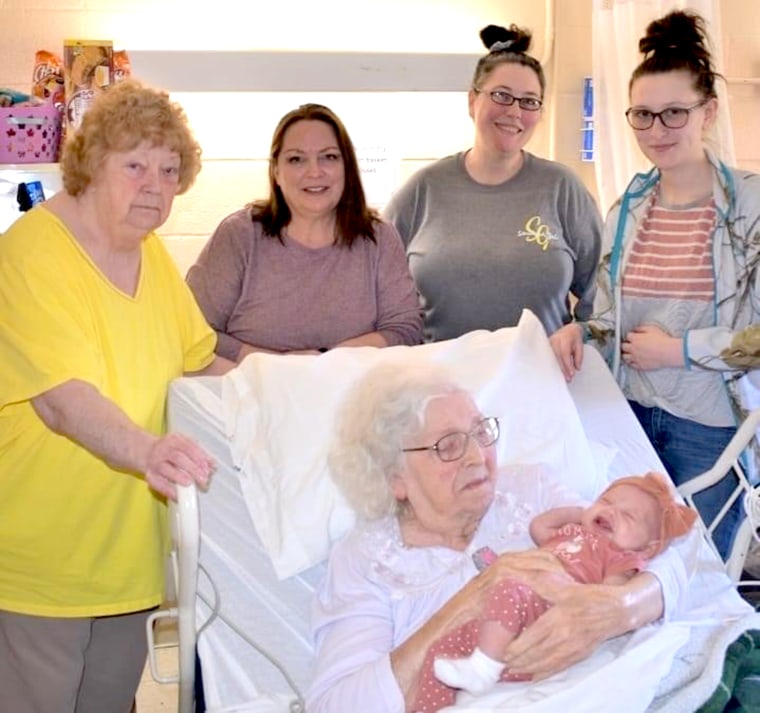 To commemorate the moment, Gracie's sister snapped a photo of all the women in attendance: MaeDell; Gracie; Gracie's mother, Frances, 77; Gracie's daughter, Jacqueline, 39; Gracie's granddaughter, Jaisline, 19; and Zhavia, now 9 weeks old.
"We're very blessed that we had the opportunity to get together with grandma and just spend time with her," Gracie says of the six-generation family reunion. "Not everybody gets that opportunity — to have that many generations together."
The photo went viral almost instantly. Gracie says she knew "six generations is rare" and "six generations with all girls is rare," but was still surprised by the public's reaction.
"I just didn't expect it to have the outcome it's had," she adds. "I mean, it's everywhere."
The only person who wasn't surprised, perhaps, was 98-year-old MaeDell herself.
"My cousin went to the nursing home and told her: 'You know grandma, you've been on the news! Everybody is seeing you!'" Gracie says. "She was eating her cheese puffs and got a big smile on her face. He said: 'Yeah, all the men are just looking at you and think you're so pretty and that you don't look your age.' She said: 'And they blow me kisses, too!'"
Gracie says she's using the attention as an opportunity to share MaeDell's story, adding that her grandmother "had a hard life."
"She was 16 when she married my grandpa, and he was 50," she says. "His first wife died having twins at home."
Gracie's grandfather, Bill Taylor, had 10 children with his first wife. Seven of the children were still at home when he re-married —MaeDell took care of them all, at 16, while going on to have 13 children of her own.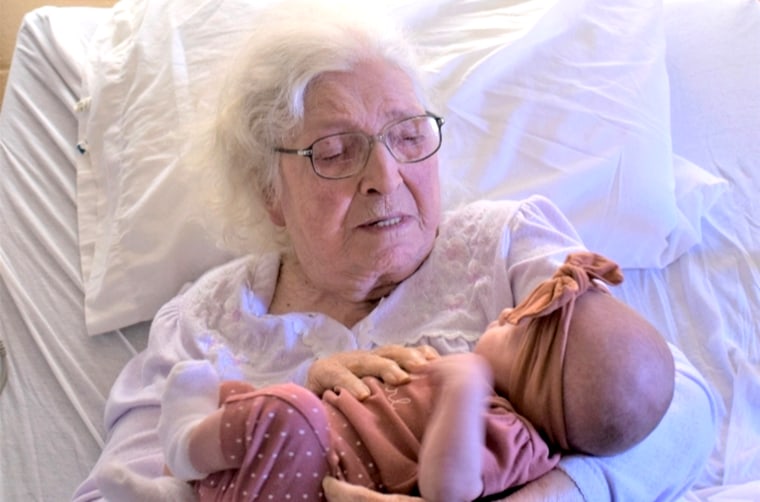 "Girls back then, they were married at 14 — they married young and had babies young," Gracie says. "She had it so hard because she didn't have a washing machine or a dishwasher; she couldn't just get in her car and get groceries. She took the clothes down to the pond and got the washboard out. She got up in the morning to get eggs and a couple chickens and wring their necks — she had breakfast ready by the time they went to school and had a hot dinner ready when they came home from school.
"She had a really rough life, but she never complained," she adds.
Gracie, who has given birth to three children and has two step-children, says she has a hard enough time taking her 3-year-old granddaughter to and from daycare every day — she says she can only imagine what it was like for her 16-year-old grandmother to care for so many children while her grandfather worked outside the home.
"She had to make do with what was around her," Gracie says. "We're all so proud of her. We wish someone would write a book about her, because she's so strong. I look up to her. She's an amazing, amazing woman."
Gracie says that despite her MaeDell's marriage to a much older man, her family has "never been ashamed" of her grandmother's story.
"I had my daughter right before I turned 18, but I was married. My mother was the same age I was when she had me — we've never been ashamed of that. MaeDell has never been ashamed of that. That was her life — that's where God put her and that was her path."
That path has left MaeDell with 621 descendants, including 13 biological children, 47 biological grandchildren, 104 biological great-grandchildren, 63 biological great-great grandchildren and two biological great-great-great grandchildren.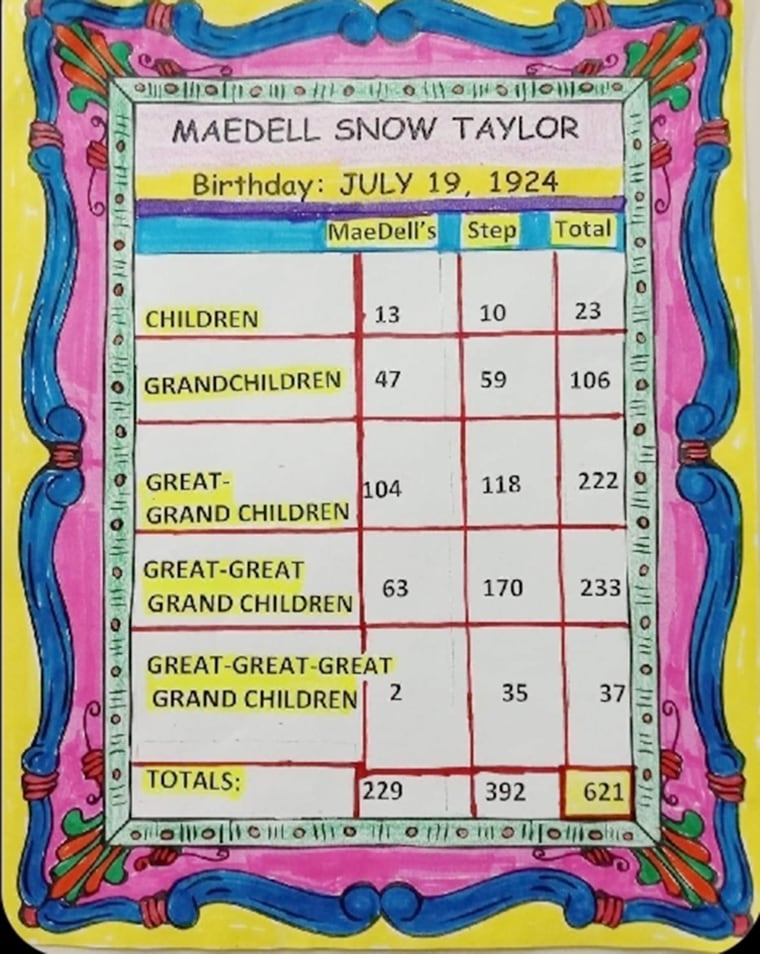 Gracie says the women in her family have learned from MaeDell, primarily the importance of being present for one's children and having a strong work ethic.
"My mom said she doesn't remember (MaeDell) sitting down and eating," Gracie says. "She was always doing something, never idle. My own mother, she stayed home with us, she cooked our breakfast in the morning, she made sure we had supper at night and she cleaned our clothes.
"I think all of that has been passed down through the generations because of grandma," she adds.
Gracie says MaeDell is now waiting for the birth of her third great-great-great grandchild — a boy.
Until then, the family is holding onto the memories of six generations being together.
"One day, Zhavia will have her own family and will know the stories, and that she comes from a strong line of women," Gracie says.
Throughout the month of March, TODAY.com is celebrating women across generations who have made history and continue to move the conversation forward by breaking stigmas, sparking dialogue and inspiring the next generation.Related video: