One of the first things neonatal nurse Katrina Mullen noticed about the 14-year-old who gave birth to triplets in her Indiana hospital was that the teen mom always seemed to be alone.
"She'd be there alone for days at a time sitting at her babies' bedside," Mullen, 45, tells TODAY.com. She wondered why Shariya Small never came with a packed lunch or snacks to eat. Was anyone looking after her at home? Did she have support?
But Mullen didn't push. Small, then in 8th grade, made it clear that she didn't want to share details about her personal life.
"I knew if I gave her time, she'd likely open up to me," Mullen says.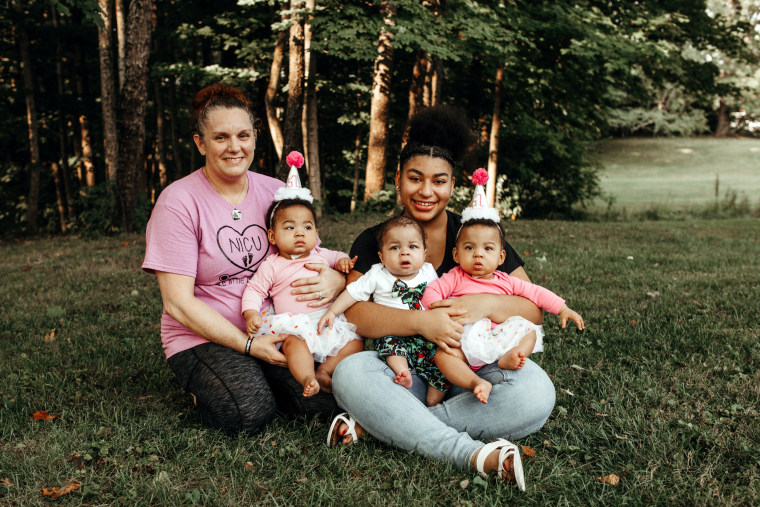 Triplets Serenitee, Samari and Sarayah, who were born at 26 weeks gestation in 2020, spent more than five months in the neonatal intensive care unit (NICU) at Community Hospital North in Indianapolis. 
Mullen taught Small about newborn care, and Small taught Mullen about TikTok. But the walls didn't start to come down until Mullen revealed to Small that at age 16, she placed a son for adoption.
"Something shifted after I told her that I was a teen mom," Mullen says. "That's when we really developed trust."
Small confessed to Mullen that she felt as if people were judging her.
"I never judged her," Mullen says.
Before the triplets were discharged, Mullen gave Small her cell phone number. At that point, Small still hadn't shared information about her family.
"I said, 'If you need anything, you just call me. If you need to talk, or you have a question, I'm here," Mullen recalls. 
Small began texting and FaceTiming Mullen regularly. 
"I'd help her when she was crying and overwhelmed. I couldn't fix it, but I would listen and support her and be like, 'You can do this,'" Mullen says. "But I was becoming increasingly concerned about her support system. I couldn't figure out why she was calling me so often."
On her day off, Mullen drove an hour to Kokomo, Indiana, where Small was living with a relative. Mullen was alarmed by what she saw: The triplets were sleeping together in an infant playpen, and Small was relegated to a couch.
"It was not a place for her to raise babies," Mullen says. 
Mullen was also concerned about Small's son Samari, who has had digestive problems since birth. He looked "extremely skinny" and was covered in eczema, she says. 
Small explained that a doctor had switched Samari's formula, but he was still throwing up and losing weight.
Samari was admitted to a nearby hospital, where he was diagnosed with failure to thrive, which is when a child's weight measurements fall below the third or fifth percentile due to inadequate nutrition, according to Children's Hospital of Philadelphia. The Department of Social Services (DSS) was notified of Samari's diagnosis.
Shortly after, Mullen received a call from DSS.
"The caseworker said that Shariya and her babies were being removed from their home," Mullen says. "And then she goes, 'Shariya said she'd like to come live with you. Would you be willing?'"
Mullen already had three kids at home, SeQuayvion, 16, ShaKovon, 14, and JJ, 7. She is also mom of Sevonté,' 23, and Shai, 22. But she didn't hesitate.
"I knew it would be impossible to find a foster home that would take all four of them. No one was going to take a teen mom and her preemie triplets," Mullen says. "I just kept thinking, 'I have to do this.' I knew Shariya was intelligent and resilient and she just needed a safe place to put her roots. I knew it would be hard, but we'd figure it out."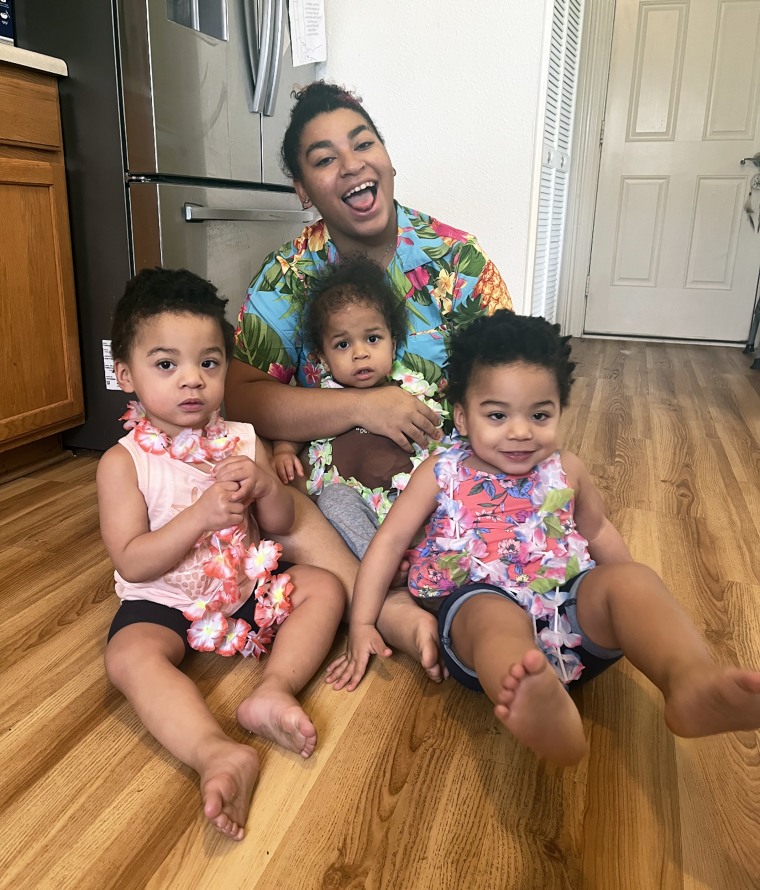 Mullen, who was not yet a foster parent, took all the classes to become certified. Friends and relatives donated cribs, strollers, clothes and bouncy chairs.
"It was like a baby bomb went off in my living room!" Mullen says, with a laugh.
Mullen fostered Small and the babies for 668 days. During that time, Small graduated from an alternative high school with an A- average, and is now touring nearby colleges. She plans to pursue a career in social work.
Mullen marvels at how far Small , who turned 17 last month, has come. She's learned how to manage difficult emotions, is working on her communication skills in therapy,  and always puts her children's needs first, Mullen said.
"In the beginning, it was me pretty much doing everything for the babies and her observing and participating when she felt confident. And now she's in charge," Mullen says. "I'll watch them if she wants to go hang out with her friends and stuff that teenagers do."
"But I'm just her backup," she notes. 
Mullen is also officially Small's mom, after adopting her on Feb. 6. After Mullen shared an adoption day photo on a Facebook page for foster parents, the story went viral and was first reported by the Indianapolis Star.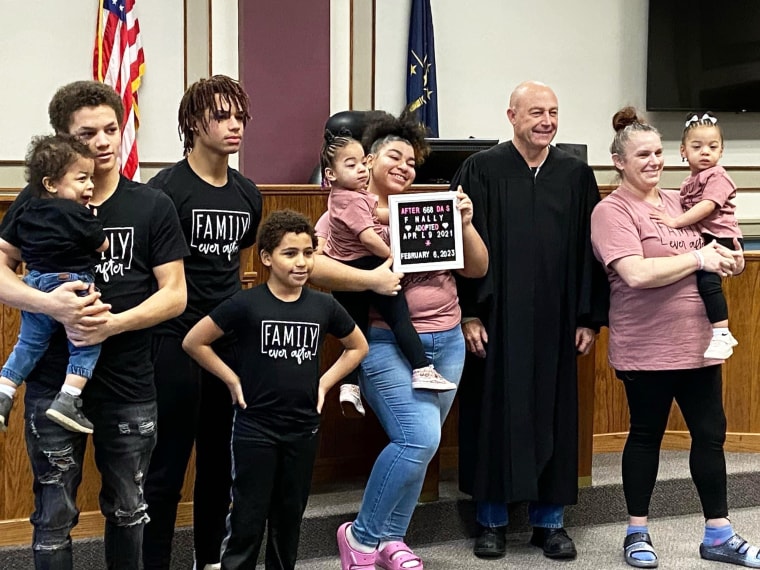 "I'm so proud to be Shariya's mom," Mullen says. "She just amazes me every day. When she's frustrated with the babies, she never raises her voice. She's just blossoming into this incredible woman."
Mullen has set up a GoFundMe to help "build a financial cushion" for Small and her babies.
Serenitee, Samari and Sarayah, now 2, can count to 20 and are "learning new words" every day in English and Spanish. They call Mullen, who is officially their grandmother, "LaLa."
"Has it been easy? No! She pushes limits just like any other teenager," Mullen tells TODAY.com. "But I love her. I'm her mom — and I'm never going anywhere."