/ Source: TODAY Contributor
Oh, Momma Pilling!
Deanna Pilling admits that she's "kind of a dorky mom," the type who isn't so great at technology, forgets to cut the price tag off clothing and is apt to get lost.
"Imagine 'The Absent-Minded Professor,'" she told TODAY. "I'm a little bit like that, with a big heart. I get myself into weird situations sometimes, unknowingly."
It's a good thing this fun-loving New York City mother of four can laugh at herself after a funny exchange with her daughter went viral.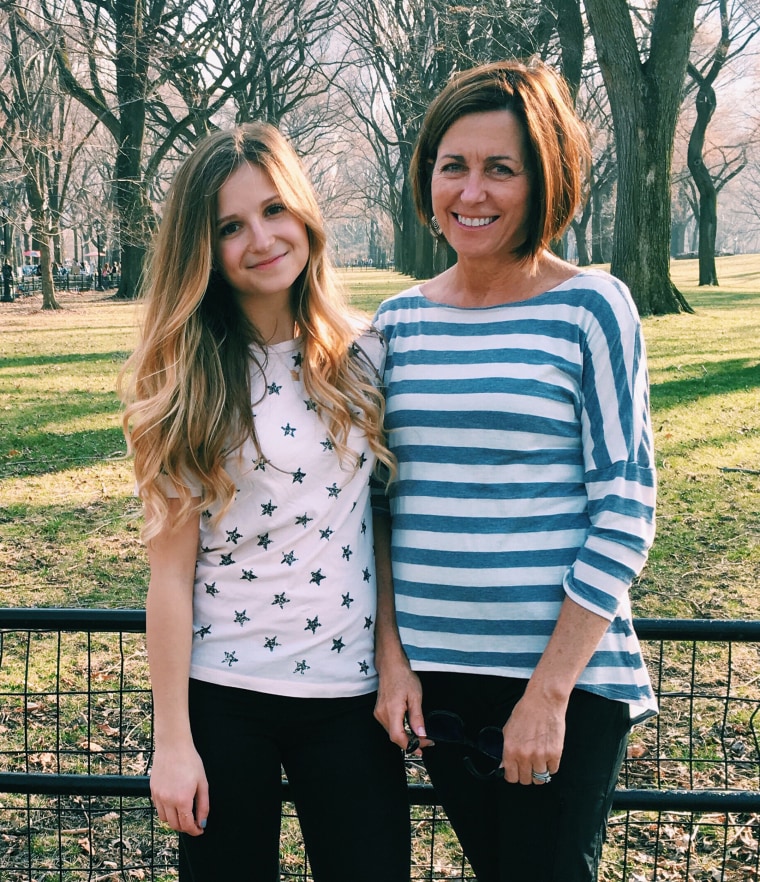 Deanna surprised her daughter, McKenna Pilling, by arriving a day early to help her pack up her dorm room at Utah State University on Thursday.
But when Deanna walked into the room, with decorations stripped off the walls and boxes everywhere, nobody was there.
Can't understand mom's texts? This app will 'decode' her puzzling messages
"Instead of standing there and waiting, I thought, 'Oh what a comfortable bed. I'll lay on it and wait for her,'" Deanna said. "Every dorm room looked exactly the same. In my mind, I was perfectly confident this was her bed."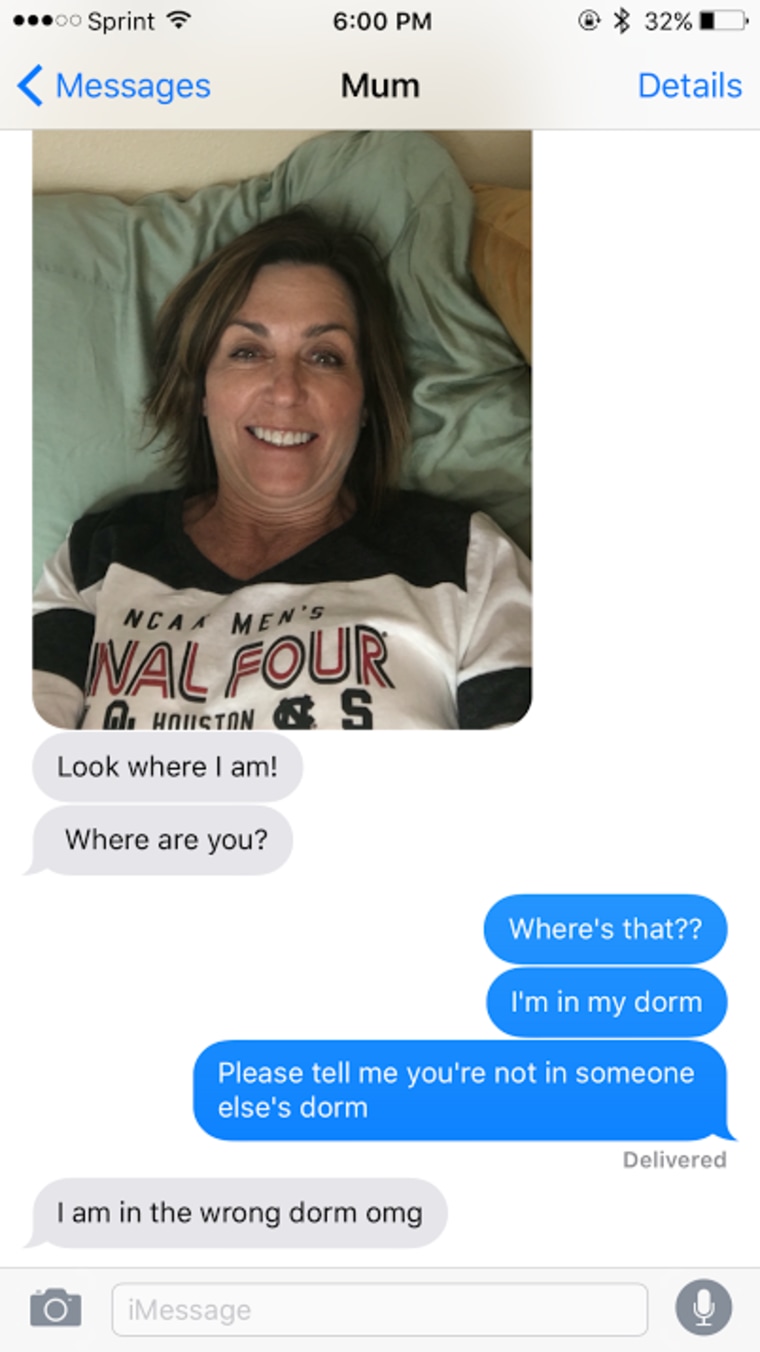 Except that it wasn't. A few minutes passed and no McKenna. Deanna snapped a selfie from bed and texted it to her daughter, and a hilarious conversation ensued.
A screenshot of the back-and-forth has been liked 35,000 times on Twitter.
Deanna, 57, was in a room on the wrong floor. When McKenna, 18, replied that she was in her own room, Deanna realized the mistake.
"I felt sick to my stomach," Deanna said. "Oh my gosh. I'm in the wrong place."
McKenna had been lying on her bed, recovering from her last exams of freshman year.
"I was just confused at first and then I immediately figured out what had happened," McKenna said. "I was in a panic of where she was. I was scared of whose room that was. I didn't want her to embarrass me."
They both ran out of the rooms to find each other and were hysterical when they reunited.
'Gone are the days': A mom reflects on how life changes after kids
"I just could not stop laughing at her," McKenna said. "I thought she was such a dork and it's just something she would do."
"She's funny and quirky and does silly things all the time," McKenna added.
Deanna, an interior designer who many call "Momma Pilling", described herself as smart and educated but also "kind of a dorky mom" who just gave her daughter and three older sons another good laugh.
"When your kids get older, you're the brunt of their jokes and it's fine and it's fun," she said. "I adore my kids, so it's all good."
"For them, this was just another goofy thing that mom did," she added.
She may be a goofball, but she's also there for her kids.
Dad dresses as Darth Vader to wake up son; see son's adorable reaction
Deanna went to Utah early because McKenna was stressed about studying for finals and packing for a four-month trip to Romania.
The occupational therapy major will be volunteering at an orphanage and hospital.
McKenna says she's grateful her mom arrived early, even under the embarrassing circumstances.
"She's a great mom," McKenna said."I'm so thankful for her. She's helped me so much and she's such a good sport."
TODAY.com contributor Lisa A. Flam is a news and lifestyles reporter in New York. Follow her on Twitter and Facebook.