Graduation Day brought a mixture of mourning and celebration for one Illinois high school, which lost its homecoming king and star quarterback just days earlier in a car crash.
But as students grieved 18-year-old Aaron Dunigan, they also paid tribute to him as his mother walked across the stage wearing her son's cap and gown to accept his diploma.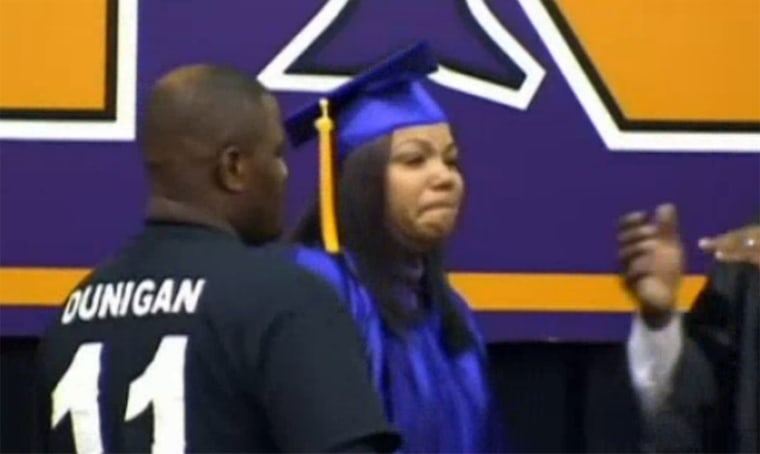 "He knows his mom never walked the stage," Katherine Jackson told NBC affiliate WMAQ moments before the ceremony Wednesday at Thornton Fractional North High School in the Chicago suburb of Calumet City. "I'm going to be his legs and he's going to be my wings, and we're going to go up there and get our diploma."
Dunigan was heading home after prom early last Saturday morning with two classmates when their car crossed a median and crashed into another vehicle, killing its 56-year old driver. Dunigan also was killed, while the driver of his vehicle, David Peden, 18, has been charged with DUI causing death and reckless homicide with a motor vehicle. A third teen suffered a broken jaw and other serious injuries.
Dwayne Evans, principal of Thornton Fractional North High School, said the past four days on campus have been difficult.
"It's been a very tough week," he told TODAY.com on Thursday. "It was tough for the family, as well as for the school family."
Dunigan played quarterback on the school team and hoped to play football for Southern Illinois University in the fall as a walk-on player, Evans said.
"He was a great young man," he said. "He had a great smile, a great presence in the building. Homecoming king. He was well liked and well known."
Evans said Jackson, Dunigan's mother, had informed the school earlier that she still planned to attend the school's graduation ceremony. On Wednesday, after students paid tribute to Dunigan, the young man's name was called and his mother walked across the stage in a blue cap and gown. She was accompanied by Dunigan's father, who wore a black shirt with his son's name and football number on the back. The crowd received the parents with a standing ovation.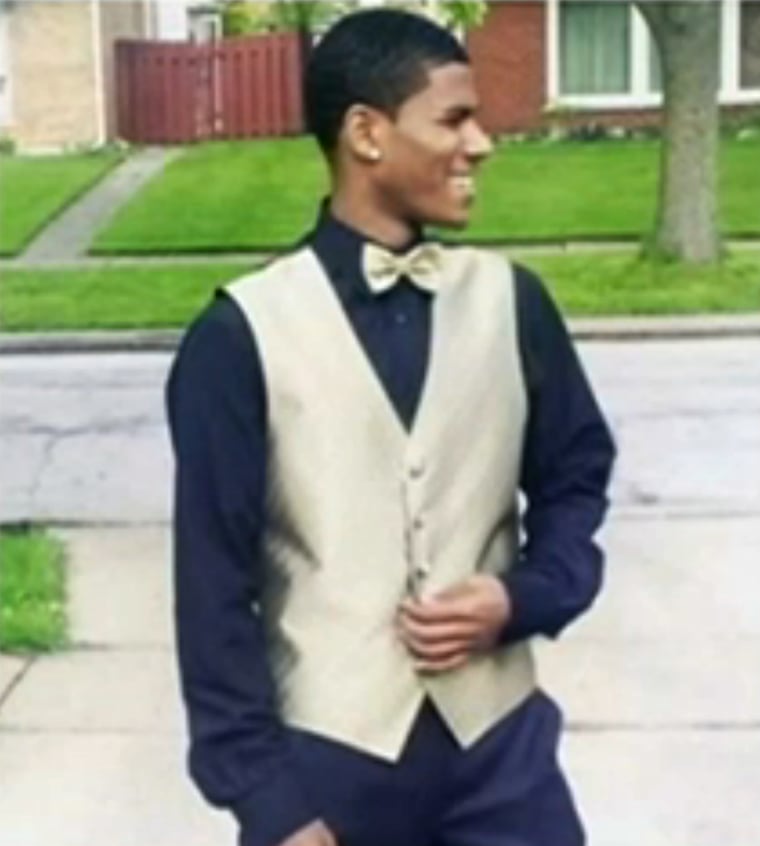 After the ceremony, Jackson stayed behind to cry with her son's classmates and give many of them hugs.
"My son has left a piece of him inside all of them," she told WMAQ. "And every time I hug one of them, I get a little piece of my baby back."
Evans said students have absorbed a lot this week. In addition to honoring Dunigan's life, they also have been reminded of lessons parents and educators often try to drill into them.
"It's the same message we say to our kids all the time actually, that life is not guaranteed," he said. "And they've got to make good choices. We know what adolescent behavior is, but we really want them to make good choices."
Follow TODAY.com writer Eun Kyung Kim on Twitter.