Luke Russert was thousands of miles from home on the latest leg of an odyssey that took him to more than 65 countries when he saw a sign that let him know his late father was with him.
The son of NBC luminary and former "Meet the Press" moderator Tim Russert was on hallowed ground at the Church of the Holy Sepulchre in Jerusalem when a particular moment hit home.
"There's the Tomb of Christ. I have this very deep meditative state that I go into," he told Savannah Guthrie on TODAY on May 2. "I'm kind of shaking. So I walk out, and I don't know what to do, and I started looking for something. And I see a Buffalo Bills yarmulke."
The elder Russert, who died in 2008, was raised in Buffalo and was a passionate Bills fan. He shared that passion with his son.
"Now I'm not Jewish, but my father loved the Buffalo Bills," Russert said. "I was like, well, I have to get that. And I said, well, the Western Wall is open. I get this now. Dad's with me. He has been here every step of the way."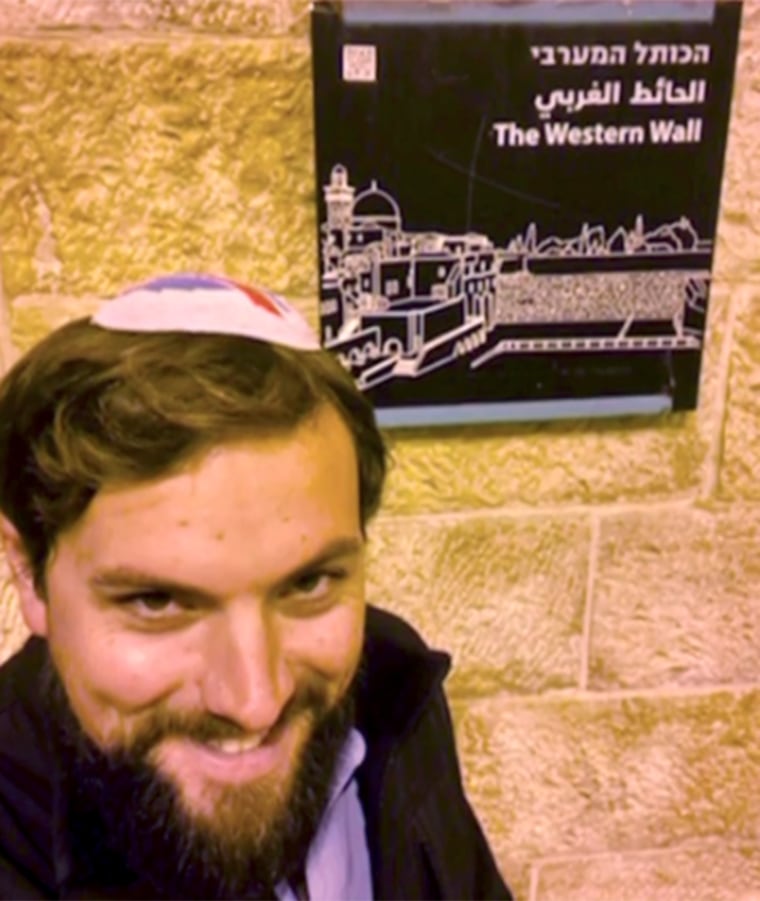 The moment is one of many captured in Russert's new book, "Look For Me There: Grieving My Father, Finding Myself," which was released on May 2.
The book details Russert's travels to six continents over three years after quitting a successful television job and trying to come to terms with the death of his beloved father.
Russert, 37, describes how he dealt with his father's sudden passing from a heart attack at 58, just two days before Father's Day in 2008.
"It was soul-crushing," he told Savannah. "It was such a whirlwind."
He was only 22 when he delivered his father's eulogy in front of a crowd of mourners that included then-Vice President Joe Biden, former President Barack Obama and late Sen. John McCain.
"It was quite nerve-wracking to be up there," he said. "And I felt my father there, too. So I knew I couldn't let him down."
The younger Russert was hired by NBC shortly afterward and covered the 2008 presidential campaign and politics in Washington, D.C.
He shared an office with Savannah back when she was an NBC News correspondent in Washington. They also both experienced losing their fathers at a young age, as Savannah was 16 when her father died.
Russert worked to prove himself despite criticism of nepotism in being hired by NBC at such at a young age.
"It was hard," he said. "OK, I'm going to take this criticism, but that means I have to work 10 times harder to prove myself."
However, he walked away from it all in 2016.
"I liked the work, but some days it left me empty," he said. "And I had to get away from my last name. I had to get away from the world that I knew."
His soul-searching journey took him to dozens of countries, from Vietnam to Bolivia. It also led him to a better understanding of his mother, Vanity Fair correspondent Maureen Orth, who is a prominent journalist in her own right. He writes that the two admittedly had some tension between them.
"I did some traveling with her, and I began to understand her," he said. "I began to realize, 'Wow, this was somebody who was not given anything, had to work so hard for every single thing she had.' I get why you were pushing me so much."
It was one of many emotional revelations for Russert that changed his life over his three-year trek.
After the serendipitous Buffalo Bills moment in Jerusalem, he made sure to tuck a prayer into the Western Wall for his father.
"It's his favorite verse," Russert said. "'I have fought the good fight and keep the faith.' I miss him every day, but I know he loves me, and I know he's happy."