Jimmy Fallon is a busy man thanks to his high-energy "Tonight Show" hosting gig five nights a week; plus, he's a dad to two adorable girls (Winnie, who is nearly 2, and 5-month-old Frances).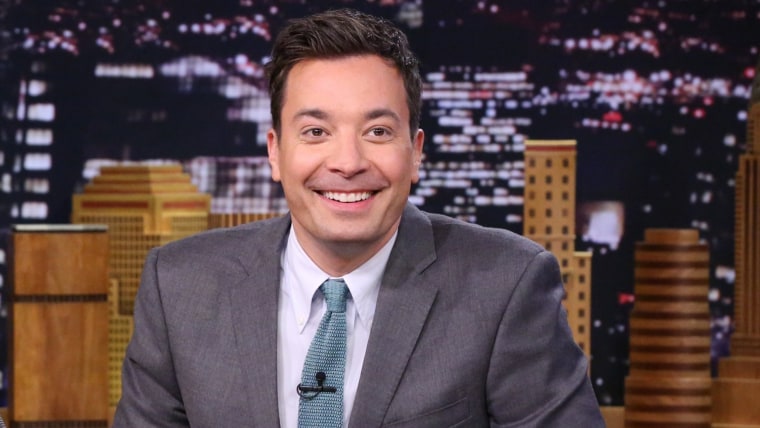 But being a dad has made a little magic in his life, by first providing him with a ton of funny, fresh material and by inspiring him to write his first children's book, "Baby's First Word Will Be Dada."
Fallon shared some of his dad insights with Parents online, and here's five irresistible quotes on dad-hood:
1. He'd like Will Ferrell to babysit his girls
"He's a good dad with great kids and he'd be a super-fun babysitter," said Fallon.
2. Baby girls are kryptonite to even the toughest of dads
"Moms should know that even the manliest guys will become softies when they have daughters," he said. "Dads immediately fall in love with their little girls, and will let them get away with everything. So moms are going to have to be the disciplinarians when it comes to daughters." So that's how it works!
3. Having daughters means he's discovered new skills
That includes making a "beet and Swiss chard pudding" flavor of homemade baby food and being the guy who can't resist sharing baby photos. "I thought I'd never be that annoying person, but as soon as Winnie was born I was showing iPhone snaps to a cab driver," he said.
4. Being a dad has also expanded his conversational topics
"People think they can talk to you about poop," he said. "'Oh, you have a new baby? Is she sleeping? Is she pooping?' Normally I'd be blushing, but as a parent you just get used to it, and pooping is just another verb in your vocabulary."
5. The title of his new book comes from a deep-seated ambition
"A the time I came up with the book it was important to me that [Winnie's] first word be 'Dada.' I went as far as to try to trick her into saying 'Dada' by calling everything 'Dada' from her bottle to diapers to strawberries."
"Baby's First Word Will Be Dada" will be published on June 9.