A joyful photograph of two best friends, smiling and strolling next to each other turned into a lesson on self-acceptance for one of the young women it features. 
"I initially loved it. Thought it was a great picture, very fun. Captured a great moment in time," Victoria Erickson said Tuesday on TODAY.

But then the nit-picking started.
"I just really let my mind get away with myself. I zoned in on myself, my imperfections, my flaws, the things I didn't like," she said.
So the University of Iowa journalism sophomore wrote about her obsession, and how she silenced her internal critic, in a blog post titled, "I Like This Picture of My Cellulite: A 19-Year-Old's Journey to Self-Acceptance."
The post struck a chord with a nation preoccupied with appearance and familiar with the struggle to accept personal "flaws."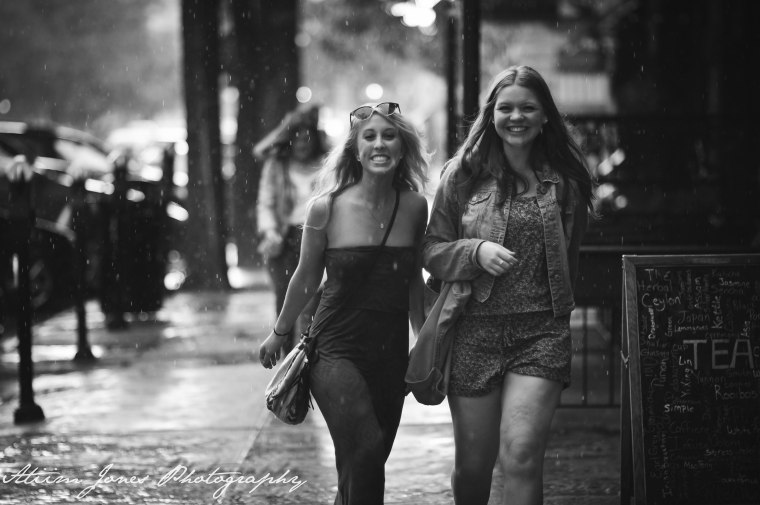 "The thing I thought of when I saw this picture was how HAPPY I look: I'm jubilant, radiant, fresh home from my first year of college and ready to celebrate with my hometown best friend," Erickson wrote in the June 4 blog post. "And I should've stopped there." 
Instead, she describes how she let her subconscious take over, telling her she wasn't good enough and sinking her spirits.
"My mentality went from 'You look HAPPY!!' to 'Yeah, you look happy... but why? You're fat.' Followed by, 'Don't believe me? Just look at that lump of cellulite you call a leg take over the shot and deplete the image of any beauty there may have been,'" she wrote.
Erickson told TODAY's Savannah Guthrie she initially wondered why the photographer, a professional taking random shots of people in Omaha, Nebraska, didn't just edit her imperfections out of the picture.
"That's kind of what inspired me to write the piece is because that was my first reaction," she said. "I'm so used to things being Photoshopped and airbrushed that I was like, 'It would have been so easy to fix that, why didn't he?' And then I kind of had to take a step back and be like, 'Why is that the new normal?'"
In her post, Erickson said she finally fought the distress she felt over "preconceived notions of body image" and embraced the picture.
"It was a wonderful snapshot of my friendship and that image truly captured the essence of a rain kissed stroll — flaws and all! And most boldly, I decided to share it," she wrote.
Erickson described her reaction to the photograph as "irrational."
"I was going too far with it, so I kind of took a step back and re-looked at the image." She said she never expected that writing about her emotional journey would create such a widespread reaction online.

"This has gone way above and beyond my wildest expectations," she said, adding that she she understands the nerve she struck.
"I'm my own worst critic and I think that's the same for a lot of other people also," she said.
Erickson said she still struggles with self-acceptance but is happy with the progress she has made.
"It's a journey, and you have to take it in stride," she said. "I don't see a picture of myself and go like, 'Wow, this is great.' It's day by day but I think with the right mentality, it gets so much easier."

Follow TODAY.com writer Eun Kyung Kim on Google+ or on Twitter.