/ Source: TODAY Contributor
Omete Anassi at home in California last week when he received a hilarious group text from his father, Enock Anassi.
"In class called oral history at new school," the text read. "Kerubo behind me."
Omete's older sister, Kerubo Anassi, quickly responded, "Get out before we start please! Go. Mommy, come get him."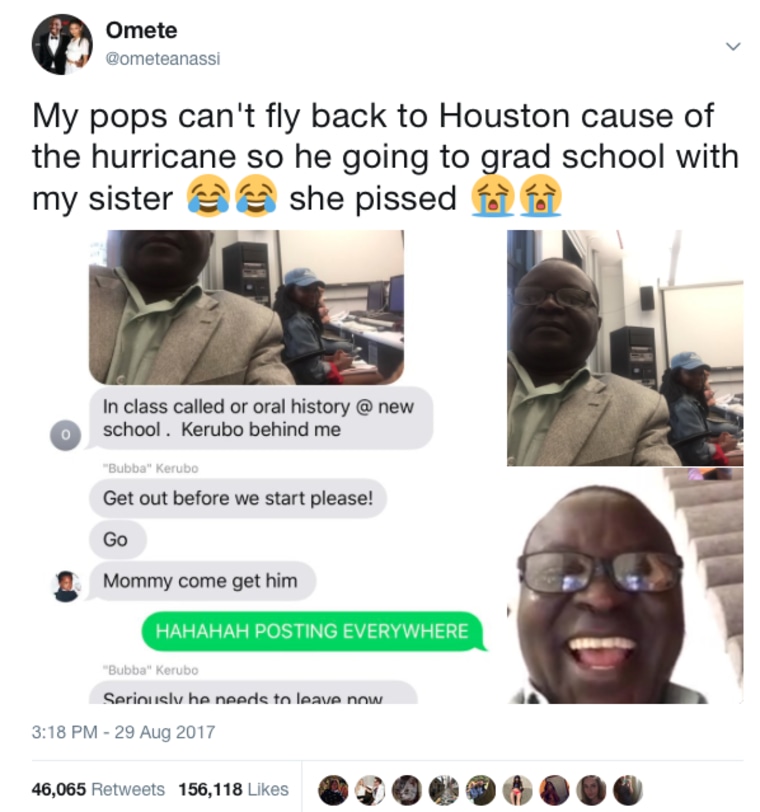 Omete tweeted the exchange, which includes a series of selfies taken by his father, with an explanation: "My pops can't fly back to Houston cause of the hurricane, so he's going to grad school with my sister."
Omete says his entire family was in New Hampshire for a wedding before Hurricane Harvey hit his parents' home in Houston. When his parents could not fly home due to the storm, they traveled to New York City with their daughter, to help her get settled at The New School, where she is beginning graduate school this year.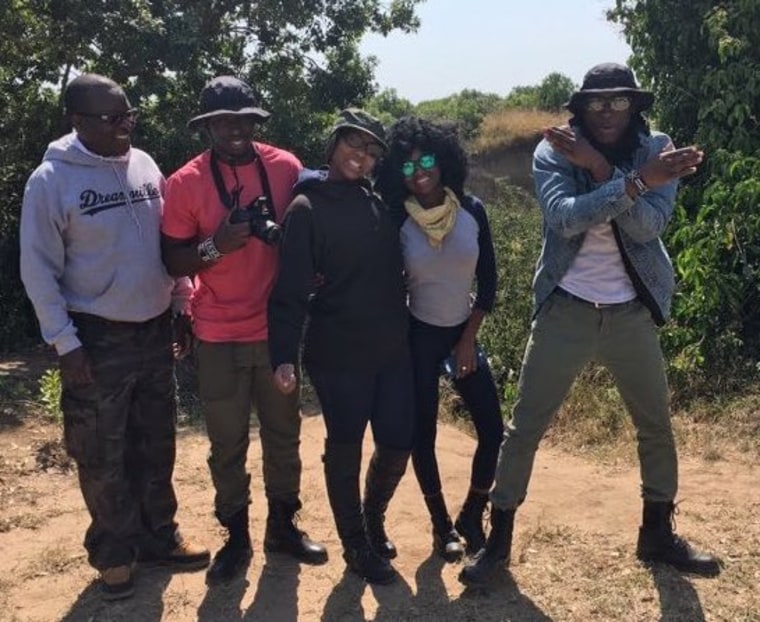 "The plan was for them to wait outside her class until she finished, but my father proceeded to follow my sister into the elevator and to her oral history class," said Omete. "Initially, my sister thought it was funny, but then got very embarrassed when the joke didn't end and our father didn't leave."
Instead of leaving, Enock remained for the entire class, grabbing a syllabus and taking selfies throughout the lesson.
Never miss a parenting story on TODAY.com! Sign up for our newsletter here.
Enock and his wife, Josephine Anassi, were born in Kenya, and raised their three children — Omete and Kerubo have an older brother, Atunga — in Houston.
"There is a natural disconnect by way of a cultural and generational barrier that has always existed in our household," explained Omete. "Sometimes, it is incredibly frustrating, but sometimes incredibly hilarious. This isn't the first time I've tweeted my father's antics."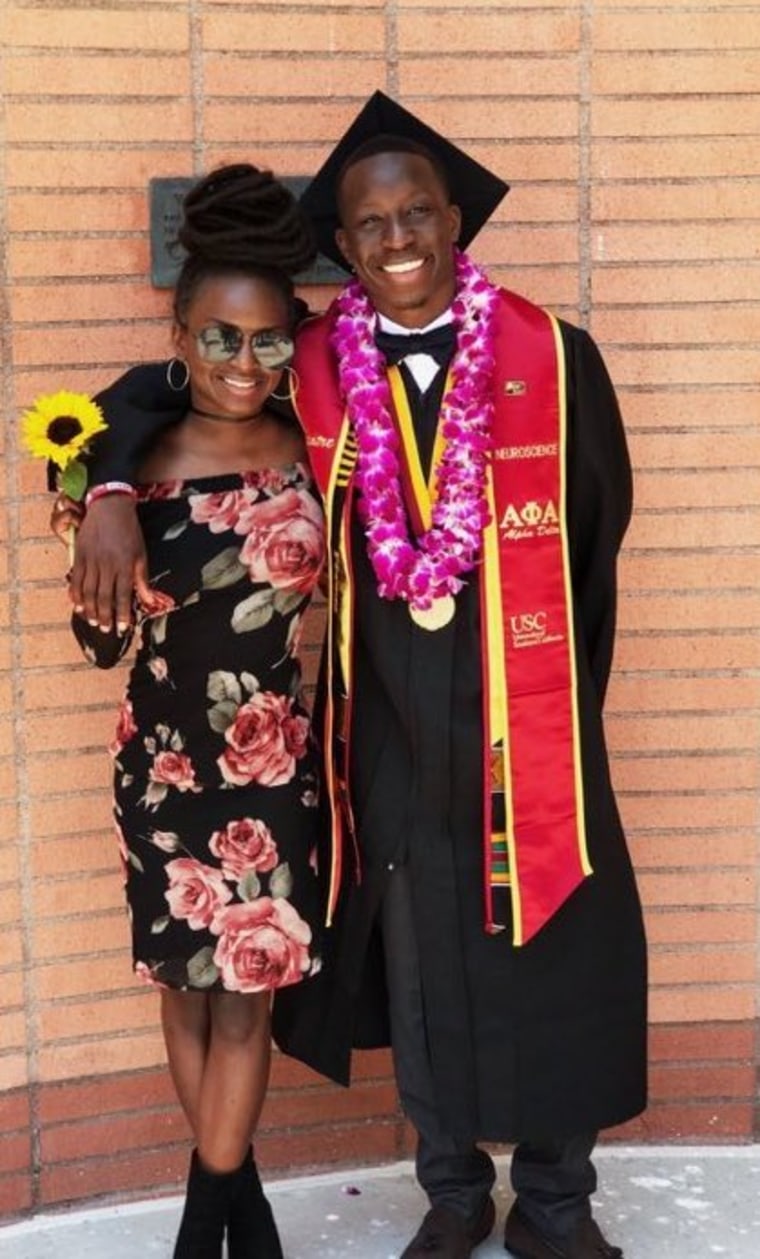 "He was taking selfies without turning his phone on silent during the lecture," Kerubo told TODAY Parents. "The camera noise kept going off. I was already mortified that he was there, and he was continually drawing attention to himself."
Kerubo says while she was embarrassed by her dad's presence in the classroom, she is grateful for the strong support system she has in her family.
"In the Kenyan community, fathers and daughters don't always have the closest of relationships," said Kerubo. "This situation has shown me truly how amazing my dad is, and has brought us even closer together...we were reminded of how amazing our family was and how we were making people happy during such a devastating time."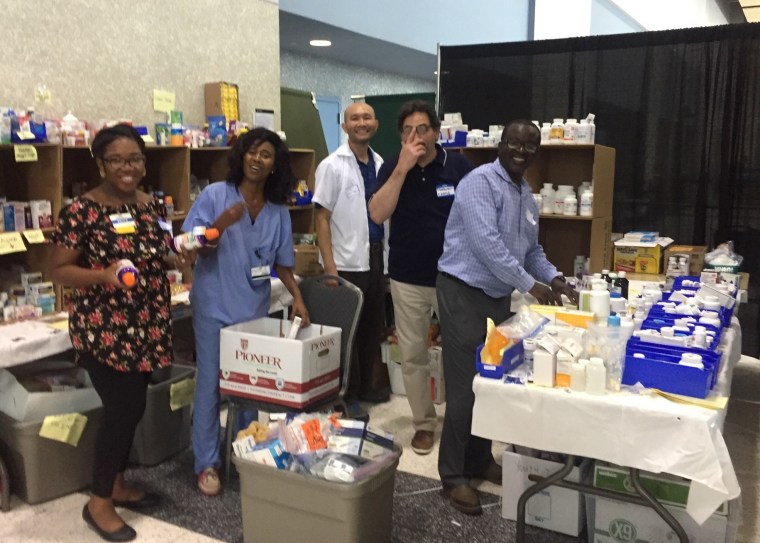 Enock has since returned to Houston, where after work he has been volunteering as a pharmacist at NRG Stadium, the largest evacuation center for Hurricane Harvey.
"I loved going to graduate school with my daughter — my smile tells it all," said Enock. "The more she wanted me to get out, the more I resolved to stay. However, I wish it was caused by circumstances other than Hurricane Harvey — I would have enjoyed the moments better."