Former NFL quarterback Philip Rivers has a new player on his team.
The longtime San Diego Chargers quarterback and his wife, Tiffany, welcomed their 10th child, Andrew Joseph Rivers, on Oct. 30, he told AL.com in an interview earlier this month.
"It's awesome. Tiffany is awesome," Rivers said. "It doesn't matter if it's the first child or the 10th child. It's an awesome miracle every time. Everyone is home now, and everyone is good."
Aside from Andrew, the Riverses are parents to seven girls — Halle, 21, Caroline, 18, Grace, 17, Sarah, 14, Rebecca, 10, Clare, 8 and Anna, 4 — and two boys, Gunner, 15, and Peter, 13.
Gunner seems to be a chip off the old block, too, playing quarterback for St. Michael Catholic High School, in Fairhope, Alabama, where his father is in his third season as head coach.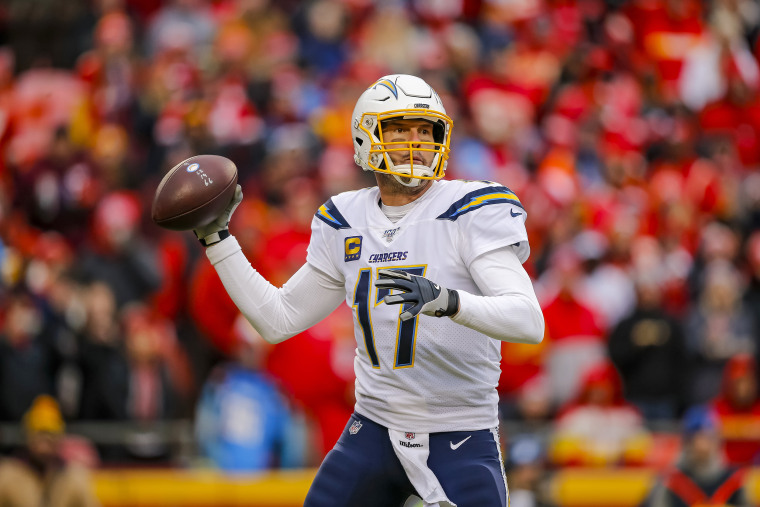 "There is a chance for a Rivers to be throwing it around or catching it or tackling or doing something for the Cardinals for a long time," Philip Rivers said. "I'll be 60 when this one (Andrew) has his Senior Night."
Rivers had expressed his excitement over expanding his brood when he announced he and his wife were having another child.
"We've had one pretty much every two years and now this is the longest gap," he told AL.com in July. "We are all fired up. Everyone was pulling for a boy. Even our girls wanted a boy."
Rivers said his mother and father each came from a family of nine kids.
"We thought we would be the third generation of nine, but we decided to go double digits — or I should say we didn't decide it. God decided," he said.
Rivers enjoyed a stellar NFL career, playing 16 seasons with the Chargers from 2004 through 2019 before playing one season with the Indianapolis Colts in 2020. An eight-time Pro Bowler, he ranks sixth all-time in touchdown passes thrown and passing yards.