When Kendall and Julianne Scavo were 8 years old, their parents, Tina and Ken, gave them a truly life-changing Christmas gift. 
"They told Kendall and I that they had one present left for us, and it was the kind of present that cannot be wrapped in a box," Julianne, 32, told TODAY co-hosts Hoda Kotb and Savannah Guthrie on July 27. 
That was the night when Julianne and Kendall learned they weren't actually twins — that they had another sibling, and they're triplets. Their sister, Rikki Jump, also lived in Colorado, just 40 miles away.
The story begins in 1991, when a pregnant mail carrier named Kathleen learned she was expecting triplets.
According to Rikki, Kathleen was terrified.
Kathleen's husband Lee was 58, and had two grown children from a previous marriage. Since Lee had undergone a vasectomy prior to meeting Kathleen, the couple used donor sperm.
"He reluctantly agreed that yes, I could have a baby," Kathleen revealed in an interview with TODAY.com. 
Rikki added that Kathleen and Lee, "were not prepared financially to raise triplets," and made the difficult decision to place two of their daughters for adoption.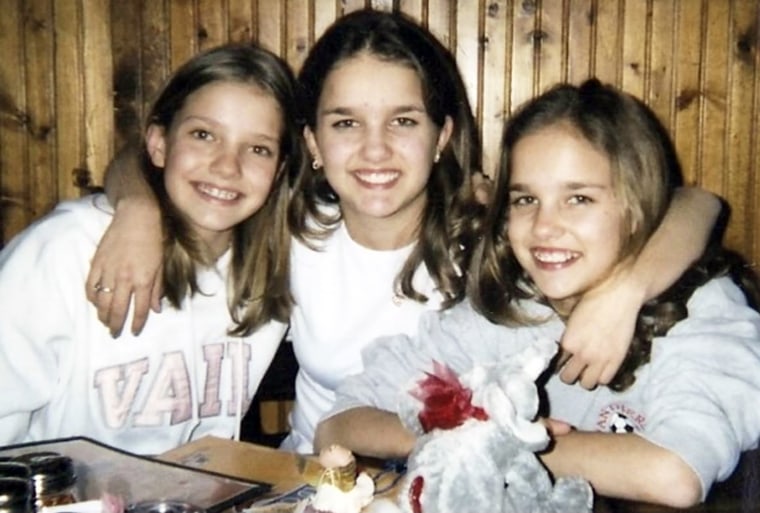 Kathleen and Lee left the hospital with Rikki, while Kendall and Julianne went home to begin their life with adoptive parents Ken and Tina Scavo. At the time, no one knew Rikki and Julianne were identical twins.
After Kendall and Julianne learned of Rikki's existence, the girls became pen pals. In one letter, Rikki wrote, "All I've ever wanted is to run up to you and embrace both of you in my arms."
A few years later, Rikki finally got that chance to hug her siblings. As for why the reunion took so long, Kendall said her parents, Tina and Ken, "had to overcome a lot of fear."
"I think they just always had that inherent fear that we would like see our birth mom and feel like a biological pull, but that was just never the case," Kendall explained. 
When Rikki, Kendall and Julianne finally came face-to-face at the mall, everything just clicked.  
"It was like we'd known each other forever," Kendall said during her joint appearance on TODAY with Julianne and Rikki. 
Rikki, who grew up knowing about Julianne and Kendall, said meeting them felt "a lot like a puzzle piece sliding into place."
Julianne couldn't stop staring at her identical twin.
"It was like looking in a mirror ... it was a little jarring!" she recalled, with a laugh. 
"We talk about nature versus nurture all the time," Rikki noted. "Julianne and I especially — we speak exactly the same ... and have the same hand movements." 
The three sisters are now closer than ever, and even live minutes away from each other in Austin, Texas. They co-host a podcast called "Luke, Who is Your Father," and go on group dates with their partners.
"The more time we spend around each other, the more we start to sound like each other, and act like each other," Kendall shared.
"They are the most important people to me," Julianne said, through tears, to which Savannah replied, "It just shows that family transcends all of our definitions."