Long Island mom Joceline Martin couldn't wait to watch her daughters, Delaney, 9, and Drew, 5, react to a surprise trip to Disney World. 
Martin had been planning the vacation for months.
"I thought they would see their suitcases and just lose their minds," Martin tells TODAY.com.
They lost their minds, alright.
In footage shared on TikTok, an unsuspecting Delaney and Drew are seen coming home from school. When Martin announces that they're going to Disney World, Delaney looks absolutely horrified and begins to cry. Then Drew begins to sob. And no, these are not happy tears.
Martin's 11-year-old son, Oliver, who is not seen in the video, was in on the secret.
"They'd been talking about wanting to go to Disney for like, three years. It was 'When are we going? When are we going?'" Martin says. "I was expecting this sweet, heartwarming moment."
Though Martin is heard laughing in the background, she says she "felt terrible" that her kids were so scared.
"They're both terrified of heights and that's what set them off," Martin says. "I think it was like, 'I want to go to Disney — but not on an airplane.' They were also feeding off each other."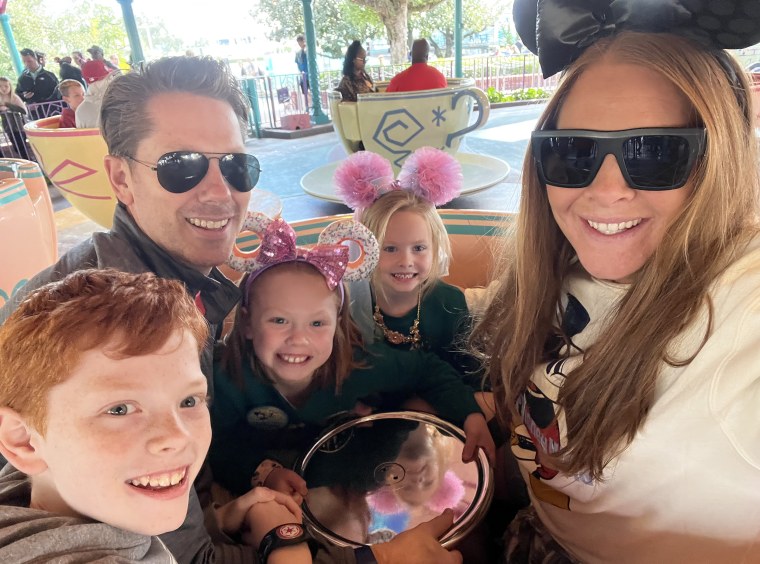 In the clip, the sisters start to perk up when Martin explains that their grandma will be meeting them at the airport in Orlando, Florida. Delaney is also excited about the Disney T-shirts that Martin and her husband, James, bought for the girls to wear on the flight.
Martin says Delaney and Drew were "nervous" on the plane, but noted that they held it together. 
"We ended up having a beautiful trip," Martin tells TODAY.com. "They were so overly thankful. Our next stop is a Disney cruise!" 
Martin is in good company.
"Mine cried too about the plane. We had a big elaborate reveal that was met with tears," one person wrote in the comments on TikTok.
Added another, "Emotional roller coaster here 🤣 🥰🥰."
Related video: