Heidi Powell has shared a glimpse into what is carrying her in the wake of losing Dave Hollis.
On Feb. 21, the fitness instructor shared to her Instagram stories for the first time since Hollis died Feb. 11 at age 47.
"Trust and thankfulness will get you safely through this day," a snap of what appears to be a daily devotional for Feb. 21 reads. "Trust protects you from worrying and obsessing. Thankfulness keeps you from criticizing and complaining: those 'sister sins' that so easily entangle you."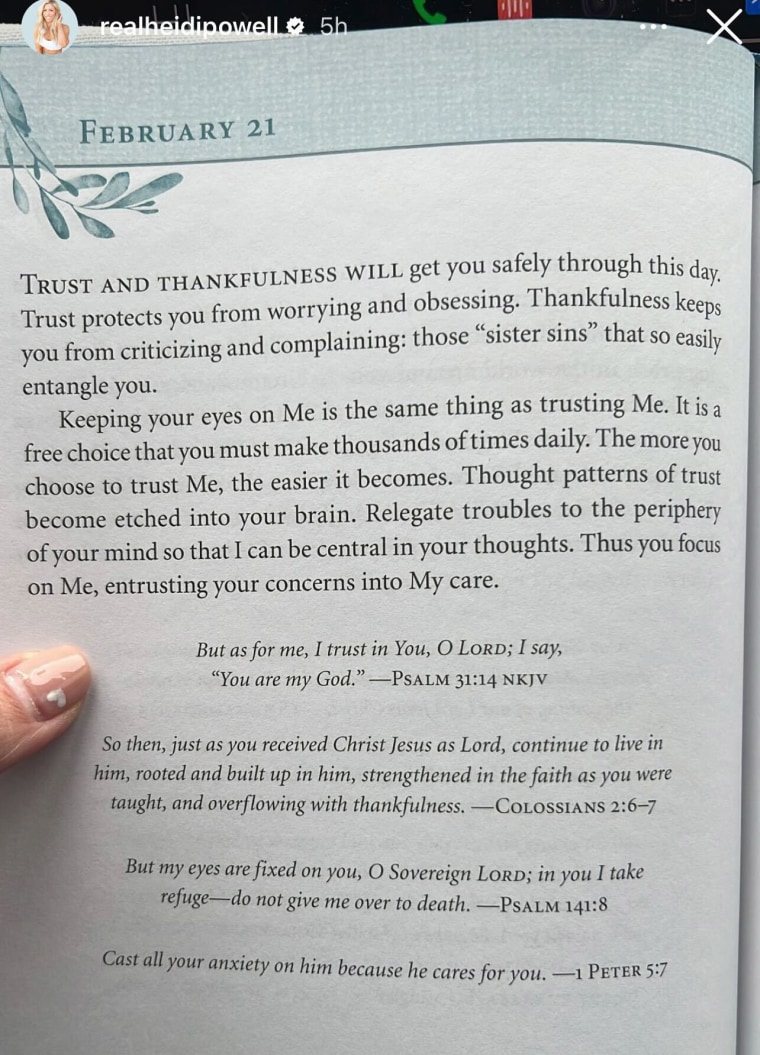 Powell, 40, holds the page in her hand, where only a thumb bearing a tiny white heart on the nail, can be seen.
The devotional continues with religious messaging encouraging the devotional reader to trust in God, before quoting biblical verses, including Psalms, Colossians and Peter.
Powell and Hollis began dating after he split from ex-wife "Girl, Wash Your Face" author Rachel Hollis in 2020, although their relationship status at the time of his death is unconfirmed.
While Dave Hollis' cause of death has not yet been determined, a family representative confirmed to TODAY.com that he had been recently hospitalized for heart-related health issues, and that he died at home in Austin, Texas.
Hollis is survived by his four children — Jackson, Sawyer, Ford and Noah — and would have turned 48 on Feb. 14, 2023.
Following his death, Powell shared a tribute to the late author to social media.
"This isn't the way it was supposed to end," Powell captioned, in part, a carousel of 10 photos featuring the couple together. "When we posted this photo 2 years ago today to announce our love and to celebrate your birth, I think we both had a different idea of how our story would play out. It didn't look like this.
She continued, "I'm heartbroken and totally devastated. I'm sick. My kids miss you so much. Our world is rocked. I will never be the same. I'm not sure how forward looks without a piece of your love. The best love I've ever been given. Other-worldly kind of love. I cannot believe this is real."
Related video: